Southern NJ Commercial Real Estate
---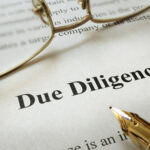 How do you know if you have done Due Diligence for Commercial Properties? I hear statements like the one below all the time. "I'm buying a commercial/industrial property; I need a […]
Read More....
---
Tom Bove to Expand WCRE's Relationships in Professional Service Sector Wolf Commercial Real Estate (WCRE) is pleased to announce the hiring of Tom Bove, who will serve as Business Development […]
Read More....
---
WCRE ADDS SENIOR ASSOCIATE Ryan Barikian to serve expanding roster of clients at regional commercial real estate firm Ryan Barikian Release PDF August 10, 2016 – Marlton, NJ – Wolf […]
Read More....
---
Philadelphia Continues its Strengthening Trend Q1 2016 Press Release in PDF April 7, 2016 – Marlton, NJ –Commercial real estate brokerage WCRE reported in its latest quarterly analysis that 2016 began […]
Read More....
---
Funding Project Infrastructure Application Period Open for Commonwealth Financing Authority Multimodal Grants. In 2013, Pennsylvania passed Act 89, legislation that created new funding for investment in transportation projects statewide. One […]
Read More....
---