WCRE Company Background
Wolf Commercial Real Estate l CORFAC International is a full-service commercial real estate brokerage, property management and advisory firm specializing in office, retail, medical, industrial, and investment properties in Southern New Jersey and the Philadelphia region. We provide a complete range of real estate services to commercial landlords, tenants, investors, developers, banks, commercial loan servicers and companies, guided by our total commitment to our clients and our community. Our team is devoted to building successful relationships, and we provide each client the highest levels of responsiveness, attention to detail, and communication even after the transaction is complete.
Watch Our Video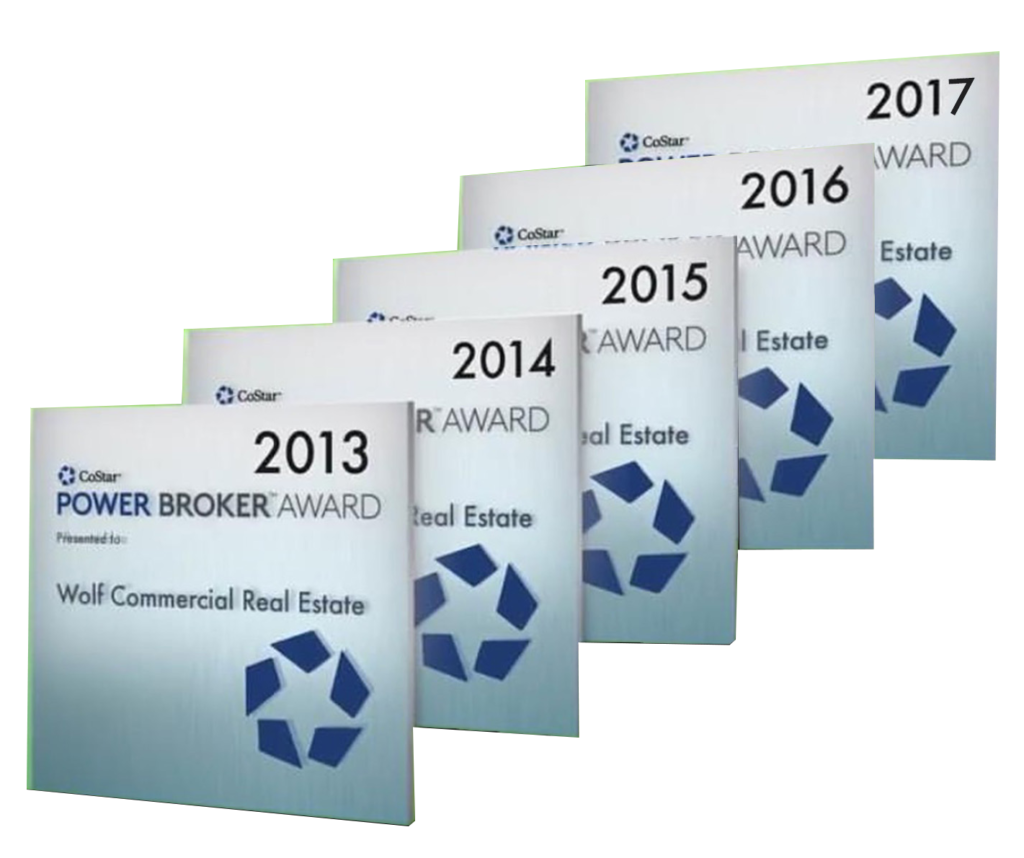 Managing principal Jason Wolf founded WCRE in early 2012 after 17 years of steady growth and success at a top two national commercial real estate firm. Since the earliest days, WCRE has been setting new standards and breaking new ground. We combine the market knowledge and national resources of a large firm with the personal attention and commitment to clients' goals that are more characteristic of a boutique.
In 2013, 2014, 2015, 2016 and 2017, WCRE was selected by CoStar Group, Inc. (NASDAQ: CSGP), the leading provider of commercial real estate information, analytics and online marketplaces, to receive a CoStar Power Broker TM Award. This annual award recognizes the "best of the best" in commercial real estate brokerage by highlighting the firms and individual brokers who closed the highest transaction volumes in commercial property sales or leases within their respective markets. WCRE received the Top Brokerage Firm award for their region.
Our rapid growth is proof that our approach works. We now oversee more than 200 plus properties comprising 4.8 million square feet under our exclusive representation and management. But while these numbers are impressive, we know that numbers are only part of our story. We are even more proud to have built a company that has become an indispensable part of our community and earned the trust of many of the most influential players in our region.
Jason Wolf's vision and values are the foundation on which WCRE is built, but every member of our team contributes his or her own vision for success and embodiment of our values. Each WCRE client is treated as though they are our only client, no matter their particular need. Your goals become our goals. We understand how to think like investors, owners, and tenants, and we leverage our deep roots and extensive experience in Philadelphia, Southern New Jersey, and throughout the United States to connect our clients with the properties, resources, and opportunities they seek.
Integrity, Quality, Teamwork and Focus are our Values.
"BUILDING SUCCESSFUL RELATIONSHIPS" is our Mission
Locally Owned. Globally Connected.
Be sure to follow WCRE on our social media platforms Facebook, Instagram, Twitter, LinkedIn and YouTube.