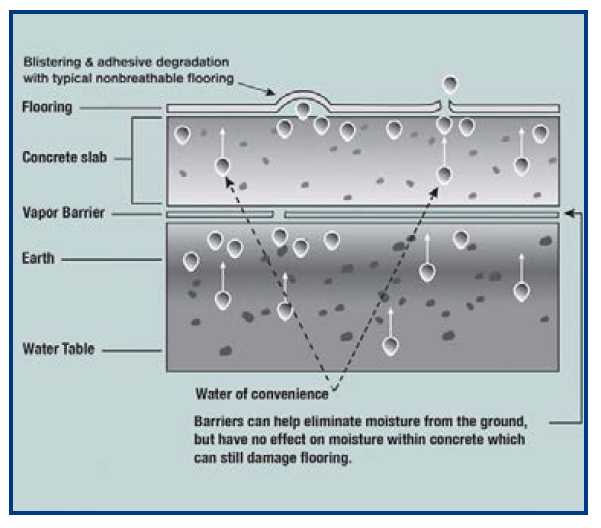 Flooring moisture usually comes from a concrete base. Concrete slabs are the most common flooring base used in a range of buildings. Unfortunately, excessive moisture found in concrete slabs prior to a flooring installation can cause significant floor covering system failures such as:
• debonding of coatings
• microbial growth
• flooring expansion
• high pH attack on floor finishes
• release of adhesives
Download Full Printable Article PDF>>>
There are, however, several steps that can be taken to mitigate and potentially prevent flooring moisture issues before a floor covering is installed. These steps can be taken for either new or remodel projects.
The first step is to conduct flooring moisture testing. Substrate surfaces must be tested for moisture emission prior to starting the installation. Most manufacturers and flooring installation contractors recommend Relative Humidity probe moisture testing, as the results of this type of test are typically more accurate, reliable and consistent than other testing methods.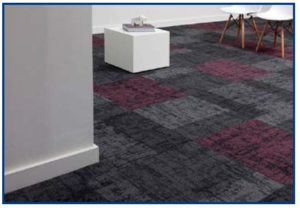 If flooring moisture emission is discovered, then proper precautions, such as the use of several topical applications prior to the flooring installation, can be used for moisture mitigation. Some of these topical applications include using reactive penetrants and moisture retarding coatings.
Finally, consider selecting a floor covering that has a higher tolerance for flooring moisture and can perform in concrete slabs with elevated relative humidity levels. Some flooring options, such as a textile composite flooring with pre-applied adhesive backing, perform in areas with elevated moisture. The breathable nature of these flooring products allows moisture to pass through the backing rather than trap it underneath. This method of vapor transmission enables the flooring to be installed with no moisture mitigation.
Taking these steps prior to installation can save money and mitigate potential flooring system failures.
About J+J Flooring Group:
For 60 years J+J Flooring Group has crafted intelligent and beautiful commercial flooring products for diverse
applications. As a division of Engineered Floors, LLC, we have proudly grown to be the third largest carpet company in North America. We engineer all of our flooring solutions with a steadfast commitment to design, quality, service, integrity and sustainability.
J+J Solutions for High Moisture Concrete:
J+J Flooring Group offers Kinetex – an advanced textile composite flooring that combines key attributes of softsurface floor covering with the long-wearing performance characteristics of hard-surface flooring. Kinetex textile composite flooring will perform in elevated RH slabs up to 99% when using PreFix pre-applied backing. The breathable nature of this product allows moisture to pass through the backing rather than trap it underneath. This method of vapor transmission allows Kinetex to be installed without costly moisture mitigation as long as the Relative Humidity Test reads 99% or below.
For more information on flooring moisture solutions for high moisture concrete slabs contact: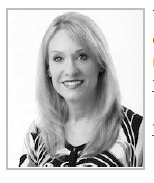 Tina Vilic, Sales Representative
o: (800) 241-4586 x7811
m: (215) 444-6421
tina.vilic@jjflooringgroup.com
www.jjflooringgroup.com