Tag Archives:
commercial buildings
---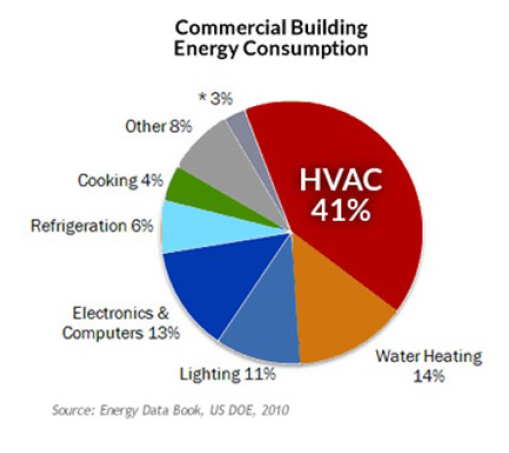 Let's look at why smart buildings matter to commercial real estate owners. Energy cost savings are top of mind for every commercial building owner, operator, and facility manager, but it's time to be proactive. On average, a U.S. office building spends nearly 29% of its operating expenses on utilities, and much of this expenditure goes toward HVAC operation.
Download Printable Article (PDF)
Researchers at Massachusetts Institute of Technology (MIT) estimate commercial buildings account for 20% of all the energy used in the U.S. and conclude that as much as 30% of that energy is wasted. Wasted energy will only increase over time without intervention. Imagine a solution that prevents waste and saves 15-30% on energy expenses? That's possible to achieve with smart buildings.
Smart buildings are any facility that have complete automated controls and systems in place that are integrated together to form an intelligent data collection application, usually via a building automation system (BAS).
BAS offers reduced operation and energy consumption, improved building efficiency, preventative maintenance, comfort for workers and building occupants, and better use of resources.
At Pennoni, we offer our Utilities Watch (UW) solution, a combination of best-in-class energy analytics/fault detection software and engineering expertise that optimizes buildings, reduces costs, and minimizes environmental impact.
Through UW, our software continually analyzes data from diverse systems: BAS, energy, water, and other resource metering systems to identify opportunities for cost reduction. The fault detection and diagnostics application within the software drills down into patterns to identify issues, deviations, and opportunities for operational improvements and cost reduction.
Utilities Watch Key Benefits
Reduce costs
Optimize buildings and reduce energy consumption
Increase control and visibility of energy budget
Decrease maintenance and capital costs through proactive and predictive maintenance
Increase lifespan and reliability of HVAC systems
Validation and M&V
Performance goals
ECM's, LEED
Commissioning
MBCx – automated ongoing commissioning
Risk Management
Disaster recovery (information supports better identification of issues)
Improve sustainability strategies, goals, and metrics
Full integration to EnergyStar Portfolio Manager
Earn additional LEED points for existing buildings
Improve portfolio management
Benchmark buildings and compare performance
Performance accountability
Deploying smart buildings software is only half of the equation. Our energy analysts and engineers write custom algorithms to automate analyses that traditionally required constant manual effort. From there, our team of engineers interprets the data to make it meaningful and actionable with custom dashboards and notifications that ensure the facility manager has full visibility and can readily prioritize activities, ensuring much greater efficiency.
For more on smart buildings and Utilities Watch, contact Tony Lepre at (609) 214-5520 or TLepre@Pennoni.com.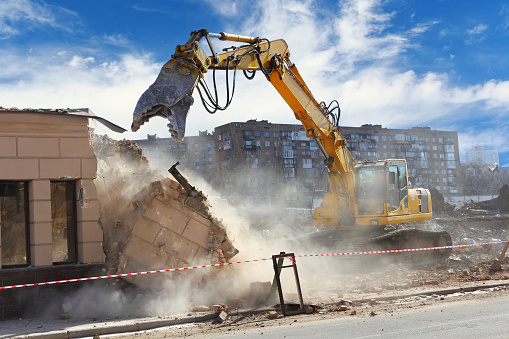 Building life expectancy isn't what it used to be. What to do with obsolete commercial buildings and how to prevent your portfolio from falling into the trap. Buyers, owners, investors and developers of real estate are facing questions regarding how properties are valued in the current market, especially where there are problems appraising a property's highest and best use. More specifically, this question focuses on reversion value.
Download Printable Article (PDF) >>>
Commercial Building Life Expectancy – Multiple Cases
Recent Class B or lower valuation projects (as well as some lower level Class A properties) have presented serious, widespread questions from a valuation standpoint. The main question is simple: What should be done with "obsolete" buildings?
Historically, such a question became pertinent only after 50-100 years. Buildings were "built to last," and most were designed to be updated over time. Part of the reason for that long horizon was that ample land was available for expansion. Another was that zoning was very prescriptive and clearly defined in many ways. Lastly, fixed real estate was a capital-intensive asset class.
In the past five years alone, that question, however, is now being asked about buildings that are only 20 to 30 years old. Many buildings that have been constructed in the last 30 years or so, like suburban office buildings and parks, retail centers and malls, some well located industrial parks and even sports stadiums, now face the wrecking ball because they are, effectively, obsolete. Some investors report that many U.S. submarkets, for a variety of uses, are "under-demolished."
What is driving Decreased Commercial Building Life Expectancy?
The short answer is technology. The longer answer is human interaction with technology.
Historically, most companies had fairly simple operations and spatial needs, so real estate decisions were driven by location and/or resources, with physical building changes limited by cost and location. The current digital revolution, however, is changing that—literally at the speed of light. Locations are not as "fixed" as they were previously, and businesses' physical space needs tend to change quickly due to technological shifts. Flexibility will be the key to long-term survival in all industries, including real estate.
Traditionally, real estate has been a fixed asset acquired at high prices compared to most assets. Such requirements mandated long lead times, high fixed costs, significant capital resources, segregation of uses, long-term contracts (i.e., leases and mortgages) and zoning. The industry faces the challenge of adapting fixed physical space needs, and all that goes along with it, to meet the new reality of demand for change at the snap of a finger, and how to underwrite office or other spaces that will likely shift to "creative space" when re-financed (at lower rents, not higher).
Possible Solutions to Decreased Commercial Building Life Expectancy
From a valuation standpoint, there are two traditional factors: zoning/legal issues and physical utility. To maintain real estate flexibility, underwriters, analysts, municipalities and all industries will have to consider:
1. Revised zoning codes that stress density/form over use. The economic lives of buildings are getting shorter and it may be necessary to re-configure space more quickly. This change, however, often runs afoul of local zoning ordinances, minimally, as it relates to uses. If structures in the future are more generic in form, site-specific codes may have to be revised to reflect multiple future uses. By "pre-coding" such code requirements, one of the major impediments to re-development (generically, all permitting costs) can be streamlined for material cost savings and faster re-use. Urban areas already have an advantage in this regard due to greater densities and uses. Suburban areas will need to adapt this concept, or face an even stronger "back to the city" trend than currently in the market. Otherwise, suburban office parks and similar "obsolete concepts" could risk vacancy. All jurisdictions, in order to retain and attract industry—their tax base—will have to re-write zoning laws to allow rapid flexibility.
2. In terms of physical utility, architects and engineers will have to design buildings that can be quickly adapted to alternate uses at a reasonable cost. Aesthetics will still be important. Those who are able to successfully design and build the most flexible buildings first will fare the best. Prime locations will also continue to have great importance. These locations, however, will not be limited strictly to traditional site selection parameters. The key will be how flexible the site and/or building improvements are perceived to be for needed changes due to technological shifts that dramatically alter market demand for that space.
The combination of these elements will require a shorter-term view, and investors and municipalities should incorporate some level of alternate use analysis, even from the original construction date. Underwriters would then have the benefit of downside underwriting (to consider future conversion costs)—on a current basis.
For many years, zoning and functional utility have simply been boxes to check during the valuation process. Moving forward, and given the rapid clip of technological change, it is now time to remove it from a box and think about a real exit strategy beyond the end of a lease or mortgage term.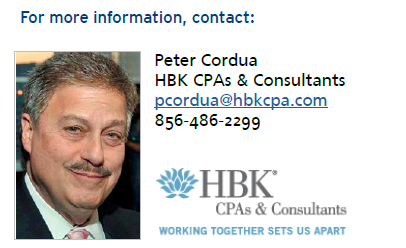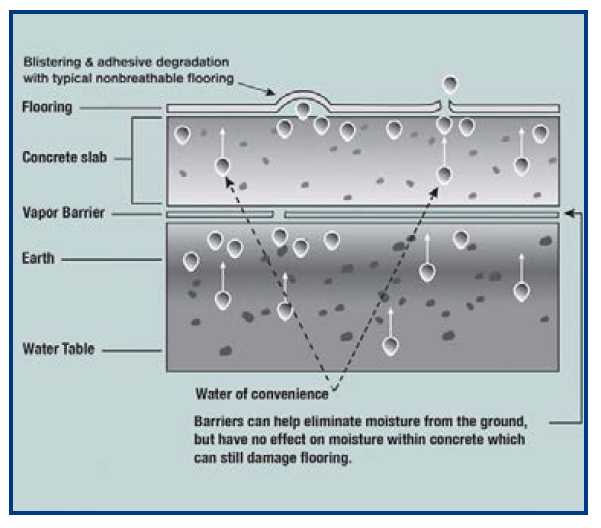 Flooring moisture usually comes from a concrete base. Concrete slabs are the most common flooring base used in a range of buildings. Unfortunately, excessive moisture found in concrete slabs prior to a flooring installation can cause significant floor covering system failures such as:
• debonding of coatings
• microbial growth
• flooring expansion
• high pH attack on floor finishes
• release of adhesives
Download Full Printable Article PDF>>>
There are, however, several steps that can be taken to mitigate and potentially prevent flooring moisture issues before a floor covering is installed. These steps can be taken for either new or remodel projects.
The first step is to conduct flooring moisture testing. Substrate surfaces must be tested for moisture emission prior to starting the installation. Most manufacturers and flooring installation contractors recommend Relative Humidity probe moisture testing, as the results of this type of test are typically more accurate, reliable and consistent than other testing methods.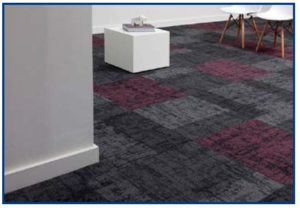 If flooring moisture emission is discovered, then proper precautions, such as the use of several topical applications prior to the flooring installation, can be used for moisture mitigation. Some of these topical applications include using reactive penetrants and moisture retarding coatings.
Finally, consider selecting a floor covering that has a higher tolerance for flooring moisture and can perform in concrete slabs with elevated relative humidity levels. Some flooring options, such as a textile composite flooring with pre-applied adhesive backing, perform in areas with elevated moisture. The breathable nature of these flooring products allows moisture to pass through the backing rather than trap it underneath. This method of vapor transmission enables the flooring to be installed with no moisture mitigation.
Taking these steps prior to installation can save money and mitigate potential flooring system failures.
About J+J Flooring Group:
For 60 years J+J Flooring Group has crafted intelligent and beautiful commercial flooring products for diverse
applications. As a division of Engineered Floors, LLC, we have proudly grown to be the third largest carpet company in North America. We engineer all of our flooring solutions with a steadfast commitment to design, quality, service, integrity and sustainability.
J+J Solutions for High Moisture Concrete:
J+J Flooring Group offers Kinetex – an advanced textile composite flooring that combines key attributes of softsurface floor covering with the long-wearing performance characteristics of hard-surface flooring. Kinetex textile composite flooring will perform in elevated RH slabs up to 99% when using PreFix pre-applied backing. The breathable nature of this product allows moisture to pass through the backing rather than trap it underneath. This method of vapor transmission allows Kinetex to be installed without costly moisture mitigation as long as the Relative Humidity Test reads 99% or below.
For more information on flooring moisture solutions for high moisture concrete slabs contact: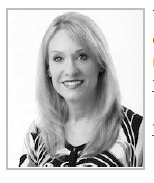 Tina Vilic, Sales Representative
o: (800) 241-4586 x7811
m: (215) 444-6421
tina.vilic@jjflooringgroup.com
www.jjflooringgroup.com