New York and New Jersey passed laws legalizing recreational marijuana roughly within a month of each other this year, moves expected to spur demand for cultivation sites, processing centers and retail dispensaries. But the initial rules for each state creates different opportunities and challenges for commercial real estate.
New Jersey has the jump on its neighbor, with legislation passed by state lawmakers in February, nearly four months after voters overwhelmingly approved legalization, 67% to 33%, in a November referendum. New York followed suit with legalization in late March.
Industry insiders are predicting both states, which already have medical marijuana programs, have the potential to be big markets for cannabis, with some analysts anticipating New York could end up with a bigger marijuana industry than California, one of the earliest states to legalize the drug. Those businesses will need real estate, to lease or own.
While the cannabis market offers great rewards for recreational marijuana operators and potential landlords in New York and New Jersey, there are also risks and uncertainties looming over the business. Neither state has promulgated the final detailed regulations that will govern the industry, for example. The number of licenses that will be issued is uncertain. Municipalities can bar retail sales within their borders or impose their own restrictions. And because operators can only sell marijuana produced within their state's borders, in some cases demand may outpace supply, stunting the industry's growth.
Curaleaf Holdings, which already has several sites in New York and New Jersey for medical marijuana, is expecting growth in the region's recreational market. The Massachusetts company operates dispensaries in other states. (Curaleaf Holdings)
Across the country, states that have legalized the recreational sale of cannabis, including Arizona, Montana and South Dakota, have run into various challenges. Similar to what's expected in New York and New Jersey, community-level regulations and restrictions on where cannabis can be sold or cultivated vary widely, with companies often competing for a limited number of operating permits.
And selling recreational cannabis in retail stores comes with a financial hurdle. Because cannabis remains illegal under federal law, transactions often cannot be conducted through bank-connected payment methods such as credit cards.
Still, many remain bullish. Curaleaf Holdings, the self-described biggest "seed-to-sale" cannabis company in the world, referenced the marijuana sales potential in its first-quarter earnings announcement.
"The recent approvals of adult-use cannabis in New Jersey and New York, which are states where Curaleaf has a leading market share, will unlock vast new markets, worth an estimated $2.1 billion and $5 billion in sales respectively," Boris Jordan, the company's billionaire executive chairman who has run businesses in Russia, said in a statement.
Bryan McLaren, CEO of Scottsdale, Arizona-based Zoned Properties, a cannabis real estate services firm, said he views New York as the most important state in terms of recreational marijuana because of its population and its status as an international hub for finance and culture.
"California holds the secrets of the past, but it is newly regulated powerhouse states such as New York and New Jersey that now hold the keys to the future," he said, adding legalization may open the door for heavily populated states such as Texas to follow suit.
Cannabis businesses large and small are looking to open or expand in New York and New Jersey, according to a number of consultants, lawyers, landlords and contractors who are busy fielding their inquiries.
"We have equal interest in New York and New Jersey," said Anthony Coniglio, president of NewLake Capital Partners, a real estate investment trust based in New Canaan, Connecticut, that owns 25 cannabis facilities in 10 states. "We think the tri-state area is going to be a significant part of the national cannabis industry with significant density. … We're looking at deals."
Licenses and Leases
There's a good reason for that flurry of activity: In order to obtain cannabis licenses in both states, businesses must demonstrate they have a location lined up by providing a lease, deed or sale contract.
"Finding the right property can be your ticket to that license," said Greg Huffaker III, director of client services for Boulder, Colorado-based Canna Advisors, a consulting firm.
So companies are jockeying to find industrial warehouses where they can cultivate or process cannabis or storefronts where they can sell marijuana on a retail basis or offer on-site consumption.
Because of that rush to find sites, at least during this initial stage, property owners and landlords in New York and New Jersey may have the edge when it comes to cutting deals with cannabis companies. The demand is there, based on a report released last month, in which the National Association of Realtors surveyed its members and found that in states where prescription and recreational marijuana use is legal, 35% to 36% had seen an increased demand in warehouses, 23% in storefronts and 18% to 28% in land.
"If I was owning land or I was owning buildings of a certain size I would be licking my chops because they're certainly going to be the first ones to go," Andy Poticha, a principal at Chicago-based Cannabis Facility Construction, said of New Jersey.
His design company recently remodeled a medical marijuana dispensary at 395 Bloomfield Ave. in Montclair, New Jersey, that Ascend Wellness Holdings, a Manhattan-based cannabis company, acquired. Ascend also said it will also be opening a new dispensary at 174 Route 17 N in Rochelle Park, New Jersey.
TerrAscend, a Toronto-based cannabis operator, is already expanding its New Jersey footprint in the wake of the new legislation. It just opened a 6,500-square-foot dispensary, part of its Apothecarium retail chain, at 1865 Springfield Ave. in Maplewood. The site features interactive product displays and a "bud bar" where customers can see and smell flower products before purchasing.
As for New York and New Jersey, it's too early to predict which state winds up having the long-term advantage and success in drawing marijuana businesses. Neither state has drafted actual detailed regulations yet for their legislation, and those rules are months away from being promulgated, with New Jersey in the lead.
"Definitely, we need to see what the regulatory commissions come up with," McLaren said.
Limit on Growing Operations
But some short-term implications of the legalization laws are apparent. As it stands now, New Jersey potentially won't be home to as many large cultivation sites, indoor growing facilities that typically run from 100,000 to 150,000 square feet, as New York. That's because the Garden State has capped those licenses at 37, a limit that expires in February 2023. By contrast, New York hasn't set a limit on its cultivation licenses, although it could at a later date when it issues regulations.
"We are actively talking to operators in both states," Coniglio said. "I would say that the dialogue in New Jersey is more advanced because some of those are the applicants that think they may soon be getting their license approved. So they've identified properties. They're getting ready to go. New York is definitely more of a wait-and-see approach. Some of the incumbents are certainly thinking about it, but until they truly understand if there will be caps placed on cultivation it's really hard to understand what group of real estate you'll need."
Columbia Care is among NewLake Capital Partners' tenants. The photo depicts one of the cannabis provider's dispensaries. (NewLake Capital Partners)
A good portion of New Jersey's licenses are already spoken for, for existing medical marijuana providers and those that had pending applications in that sector, leaving only about 16 available, according to attorney Jennifer Cabrera, a cannabis law expert at Vicente Sederberg.
"Getting a cultivation license in New Jersey will be incredibly competitive," she said.
Unlike the early laws legalizing cannabis, such as the one in Colorado, the new batch in states such as New York and New Jersey have social-equity elements that try to compensate communities, particularly those with high percentages of minorities, that were disproportionately impacted by the so-called war on drugs and the historic enforcement of marijuana laws.
So New Jersey will be awarding cannabis licenses — in all categories, from cultivation to retail and processing — to micro businesses, companies that employ no more than 10 employees and have an operation no larger than 2,500 square feet.
In New York, the goal is for 50% of cannabis licenses to go to minority- or woman-owned businesses, distressed farmers or service-disabled veterans.
Large cannabis firms looking for big warehouse space for cultivation sites in New Jersey face a challenge. The Garden State's industrial market, particularly in North Jersey, has soared and become pricey for tenants because of the demand created by the surge in e-commerce and the state's central location in the densely populated tri-state region. As a result, some cannabis companies may be priced out of the market or unable to find space. They will most likely have to seek sites in central or south Jersey.
"The industrial market in New Jersey has been on fire for a decade," said Nate Brzozowski, a managing director of real estate firm Savills' integrated consulting strategies group. "They [cannabis companies] will be competing with the Amazons of the world."
New York, much larger geographically and less densely populated than New Jersey, has more open and available land upstate for growing facilities, according to Jay Czarkowski, a Canna Advisors founding partner. He has been working with a brokerage in New Jersey for three years scouting sites for medical cannabis cultivation and dispensary sites.
"There is only so much land to go around, we all know," Canna Advisors' Huffaker said. "And in a competitive license application, when two competing companies are trying to get a limited number of licenses, that property part can be the differentiator. And not only do you need a great property to get the license, but all the great properties are going to go quicker and sooner for the people who are planning ahead."
Time is of the essence for cannabis companies, Poticha agreed.
Land Rush
"It's sort of a gold rush. … They're searching for land or they're searching for warehouse space in order to get facilities up and running as fast as they can," he said. "The thing about the cultivation is that you could do a dispensary in anywhere from four to 12 weeks, depending on the size and the complexity of it. A cultivation or a processing center takes months. And there's so much more infrastructure that goes into it. … It's a manufacturing plant, and a very specialized manufacturing plant at that."
Curaleaf, based in Wakefield, Massachusetts,already has several sites in New Jersey and New York for medical marijuana. And it plans to increase its capacity for adult-use recreational cannabis.
Last July, citing the then-looming cannabis referendum in New Jersey, Curaleaf CEO Joseph Lusardi in a statement said, "We are actively investing in the expansion of our market-leading position to better serve the more than 9 million residents of the Garden State with the quality cannabis products they rely on."
At that time, Curaleaf said it had secured a location for an additional cultivation and processing operation in Winslow, New Jersey. The company later told the Wall Street Journal that it is building a 120,000-square-foot indoor cultivation facility and plans to open a 500,000-square-foot outdoor operation in the Garden State.
Curaleaf declined a request from CoStar News to discuss its plans for New Jersey and New York.
As for dispensaries, the pandemic's devastating impact on stores and restaurants in the two states — and the vacancies COVID-19 created — may make it possible to strike a better deal for a lease at one of those retail sites, according to experts.
"All of a sudden we've got landlords who would not have considered cannabis two years ago looking to fill dark spaces. … The leverage here is much better for [retail] tenants today," Steven Katkov, an attorney specializing in cannabis law and real estate at Cozen O'Connor.
He's currently negotiating a lease for a 2,000-square-foot cannabis dispensary in the Union Square area of Manhattan.
But not all retail landlords will benefit. That's because the prohibitions on where cannabis dispensaries can be located will put a limit on permitted locations. New Jersey's restrictions are more stringent than New York's. For example, in New Jersey a retail cannabis site must be at least 1,000 feet from a school, whole in New York the required buffer is only 500 feet.
"That certainly makes more property available, especially in an urban environment where you can throw a stone and hit a school, which makes it challenging to identify the viable properties," Rob DiPisa, co-chairman of the cannabis law group at Cole Schotz.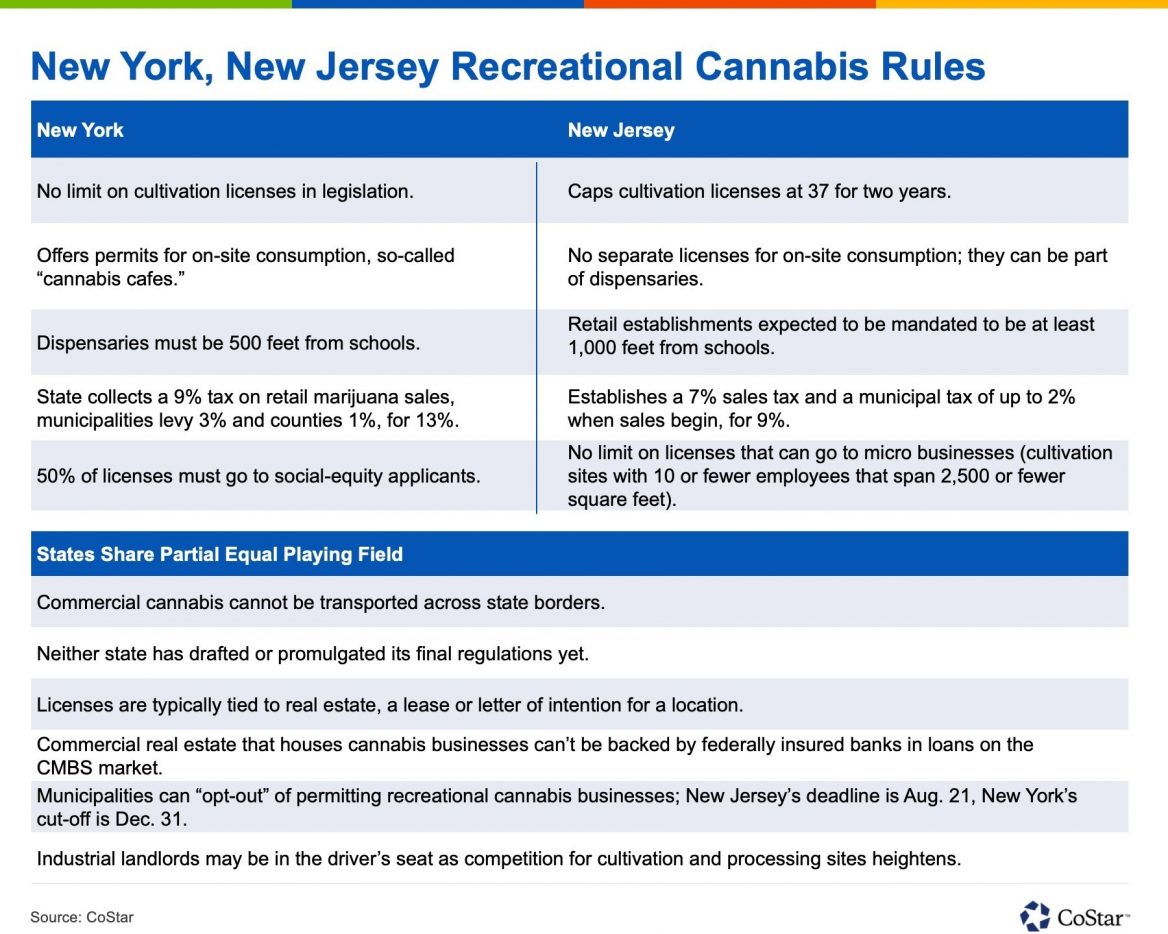 Cannabis Cafes
The Empire State will also be issuing a license for on-site recreational marijuana consumption, which is expected to spark a crop of so-called cannabis cafes, the marijuana equivalent of a bar serving alcohol. Many such cafes are expected to pop up in New York City. There is no such separate license in New Jersey. But a license for a retail location in New Jersey will allow an area within that location to offer on-site consumption.
"That's just an example of more opportunity [in New York]," said Rob Mejia, an adjunct professor in cannabis studies at Stockton University.
When it comes to regulation and cannabis, landlords in New York and New Jersey face not only state but federal and additional local restrictions, beyond zoning buffers. Because the U.S. government still characterizes cannabis as an illegal substance, a Schedule 1 drug, real estate properties with loans or mortgages from federally chartered banks are prohibited from leasing to marijuana dispensaries. That ban also means buildings with commercial mortgage-backed security loans can't rent to cannabis businesses.
In addition, because of the federal law, commercial cannabis can't be transported across state lines. It is an intrastate, not an interstate, industry at this point. In particular, that might slow the growth of New Jersey's cannabis industry and therefore inhibit its need for real estate. That's because the Garden State's supply of marijuana may not be able to meet the demand within the state, the most densely populated in the nation, because of the cap on cultivation licenses, according to experts. And cannabis can't be transported into the state from outside its borders to add to the supply.
"Current operators [in New Jersey] don't have enough product to serve the medical market," Cabrera said. "And the medical market is small."
Senate Majority Leader Chuck Schumer of New York and Sen. Cory Booker of New Jersey, both Democrats, have drafted legislation to end the federal ban on cannabis, citing the wave of states that have legalized its recreational use by adults.
"The speculation is that the federal government gets in line with the states that have already legalized cannabis and says, 'You know what it does not make sense, that making cannabis aSchedule 1 drug was a mistake that's 80-something years old and we need to correct it,'" said Ed DeVeaux, president of the New Jersey CannaBusiness Association.
"In three to four years, they may correct this entire situation and say it is now legal, period," he said. "So with real estate being a speculative market to begin with, people may say, 'Well, you know what? I'll buy the warehouse because I may be able to transport my product at some point interstate.'"
Equity, Not Debt
Because cannabis is illegal federally, and the constraints that puts on getting financing from a bank, some operators enter into sale-leaseback transactions for their facilities. NewLake, the REIT that is totally focused on cannabis tenants, typically does sale-leaseback deals with operators, acquires properties from third parties or funds build-to-suit transactions.
"We don't utilize debt," Coniglio said. "We purchase our properties using our equity capital. … We have a combination of individuals and investment firms [as investors]."
The federal issue, that cannabis is not legal, and the fact that neither New York nor New Jersey have regulations in place yet, aren't the only uncertainties hanging over real estate development and the recreational marijuana industry in the mid-Atlantic. Municipalities in both states can "opt out" and ban adult-use recreational cannabis sales within their borders. That would put the kibosh on retail dispensaries in those towns.
Despite their initial and long-term challenges, New York and New Jersey are both going to be huge cannabis markets, according to Czarkowski.
"Ultimately, we advise our clients based on their passions and access to resources, and both markets will have enough variety of licensure to satisfy many different goals," he said.
For more information about New Jersey or Philadelphia cannabis health care space, New Jersey or Philadelphia industrial space, New Jersey or Philadelphia retail space, and New Jersey or Philadelphia office space or other New Jersey and Philadelphia commercial properties, please call 856-857-6300 to speak with Jason Wolf (jason.wolf@wolfcre.com) at Wolf Commercial Real Estate, a leading New Jersey and Philadelphia commercial real estate broker that specializes in both New Jersey and Philadelphia cannabis healthcare space, New Jersey and Philadelphia office space, New Jersey and Philadelphia retail space, and New Jersey and Philadelphia industrial space.
Wolf Commercial Real Estate, a full-service CORFAC International brokerage, and advisory firm, is a premier New Jersey and Philadelphia commercial real estate brokerage firm that provides a full range of New Jersey and Philadelphia commercial real estate listings and services, property management services, and marketing commercial offices, medical properties, industrial properties, land properties, retail buildings and other New Jersey and Philadelphia commercial properties for buyers, tenants, investors, and sellers.
A New Jersey and Philadelphia commercial real estate broker with expertise in New Jersey and Philadelphia commercial real estate listings, Wolf Commercial Real Estate provides unparalleled expertise in matching companies and individuals seeking new New Jersey and Philadelphia office space, New Jersey and Philadelphia retail space, or New Jersey and Philadelphia industrial space with the New Jersey and Philadelphia commercial properties that best meets their needs.
As experts in both Philadelphia and New Jersey commercial real estate listings and services, the team at our commercial real estate brokerage firm provides ongoing detailed information about Philadelphia and New Jersey commercial properties to our clients and prospects to help them achieve their real estate goals. If you are looking for New Jersey or Philadelphia office space, Philadelphia or New Jersey retail space, or New Jersey or Philadelphia industrial space for sale or lease, Wolf Commercial Real Estate is the New Jersey and Philadelphia commercial real estate broker you need – a strategic partner who is fully invested in your long-term growth and success.
Please visit our websites for a full listing of South Jersey, Philadelphia, and New Jersey commercial properties for lease or sale through our Philadelphia commercial real estate brokerage firm.