Atlantic County Commercial Real Estate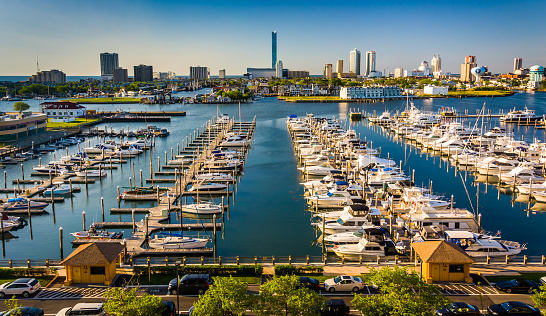 Known as "Scheyichbi" – "land bordering the sea" — Atlantic County traces its original inhabitants – the Absegami tribe of the Unalachtigo Lenape nation – to the sixth millennium B.C., — 81 centuries ago. Today, the residents of New Jersey's 3rd largest and 15th most populated county can be found on boardwalks, in pine forests, and on multiple tracts of commercial real estate.
The first European settlers of this region were Dutch, Swedish, and English practitioners of the Quaker religion who fled their homelands to seek freedom from persecution. In 1695, John Somers purchased 300 acres on Great Egg Harbor Bay from Philadelphia merchant John Budd, becoming the first resident of what would become Atlantic County. Somers operated a ferry service across the bay to Beesley's Point, a community in what's now Cape May County. In the early 1720s, John's son Richard built Somers Mansion overlooking the bay and harbor; it still stands today as Atlantic County's oldest existing home. A century and a half later, Somers Point would be named for John Somers.
Atlantic County was created in 1837 when it was carved out of neighboring Gloucester County. At 561 square miles, Atlantic County sits between New Jersey's 2nd largest county, Ocean, at 636 sq. mi. and Sussex, with 521 sq. mi. In population, Gloucester County ranks above Atlantic County as Atlantic County currently has 274,000 residents. This places it just behind Gloucester County with 288,000 and well head of 16th-place Cumberland County with 156,000. Notably, Atlantic County saw the third-fastest growth of any of New Jersey's 21 counties when it increased by 22,000 residents between 2000 and 2010 – a rate of 8.7 percent.
The first boardwalk in the United States was constructed in Atlantic City in 1870, solidifying the seaside resort's still-in-use-today nickname of "America's Playground." The four-mile boardwalk runs the entire length of Atlantic City, linking to a nearly two-mile long boardwalk in Ventnor and a quarter-mile stretch in Brigantine. The Brigantine boardwalk was much longer when originally built, but a storm in 1944 destroyed two-thirds of it.
The Pinelands, or Pine Barrens, is a 1.1-million acre nationally and internationally protected swath of environmentally sensitive land that cuts across seven New Jersey counties — including the 10 Atlantic County municipalities of Buena, Buena Vista, Egg Harbor City, Egg Harbor Township, Estelle Manor, Folsom, Galloway, Hammonton, Mullica, and Weymouth. Due to its unique ecosystem, the Pinelands was designated by Congress in 1978 as the nation's first Natural Reserve and in 1988 as an International Biosphere Reserve by the United Nations.
The region also is believed to be the home of the legendary Jersey Devil. According to local folklore, Pine Barrens' resident Jane Leeds, already the mother of 12, cursed her unborn 13th child and cried it would be the devil. When born, the child emerged with hooves, a goat's head, bat wings, and a forked tail. The creature is said to have killed the midwife and flown up the chimney, destined to haunt the Pinelands to this day. The three-time Stanley Cup champion New Jersey Devils National Hockey League team takes its name from the legend.
When you are in the market for Atlantic County commercial real estate, contact Wolf Commercial Real Estate a full-service CORFAC International brokerage and advisory firm. As the foremost Atlantic County commercial real estate broker, WCRE provides a full range of Atlantic County commercial real estate listings and services, property management services, and marketing commercial offices, medical properties, industrial properties, land properties, retail buildings and other Atlantic County commercial properties for buyers, tenants, investors and sellers.
Featured Atlantic County County New Jersey Towns Include: Atlantic City, Egg Harbor Township, Somers Point, Linwood, Hammonton, Galloway Township, Brigantine, Hamilton Township, Northfield,