Somers Point Commercial Real Estate
Somers Point – History, Crabs, and Popular Plots of Commercial Real Estate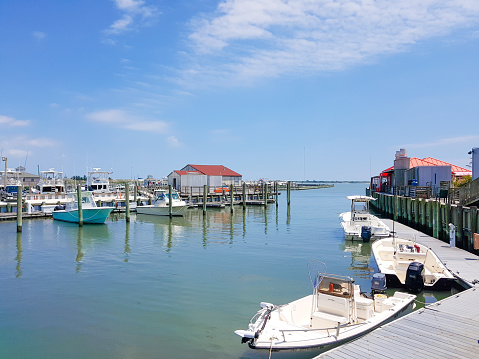 The City of Somers Point, home to one of the original settlements in southern New Jersey and host of the world's largest crabbing tournament, contains many excellent plots of commercial real estate.
John Somers, the man for whom the area would be named centuries later (1850), was born in 1623 in Worcester, England, a city which itself would become famous when, in 1837, the world-famous fermented liquid condiment Worcestershire Sauce was launched there. The year 1693, when John Somers turned 70, he purchased 3,000 acres along the northern edge of Great Egg Harbor Bay in the then-British colony of West Jersey, thus establishing the oldest European community in the region.
That same year, 1693, the area was designated as Egg Harbor Township, comprising the southeastern portion of Gloucester County. Somers, as the sole landowner at the time, called certain portions of the township Somerset Plantation and Somers Plantation. A third section was named Somers Ferry in 1695 when Somers began operation of the first ferry service across the Bay to Cape May County. In addition, John's son Richard constructed what he named Somers Mansion between the years 1720 and 1726; the structure still stands today as the county's oldest existing home.
Atlantic County broke away from the much-larger Gloucester County in 1837, taking Somers Point with it. Roughly five decades later, in 1886, Somers Point was incorporated as a borough by the state Legislature. This schism took place soon after a referendum in which a majority of the community's 48 registered voters declared their independence from Egg Harbor Township. In 1902, Somers Point reincorporated as a city.
Interestingly, Somers Point served as an official port of entry for the United States from 1791 – while still part of Egg Harbor Township – to 1915. A port of entry facility has border security staff that verify individuals legally can enter a country by sea, land, or air. These personnel check passports and visas and inspect luggage to assure that contraband is not imported. There currently are 328 ports or entry in the United States.
Since 2010, Somers Point has been the center of the crustacean universe for one weekend in June as The Assault on Patcong Creek – called the largest crabbing tournament in the country – takes to the water. Patcong Creek, an estuary that feeds Great Egg Harbor Bay, attracts crabbing enthusiasts and their families from as far away as Texas. The year 2017 is recognized as the largest "assault" to date as more than 70 boats and over 270 crabbers from twelve different states participated. In addition, more than 1,000 people are participated in the post-tournament "crab bake" that year, watching crab races and applauding the annual presentation of the coveted Largest Crab Trophy.
More than just an event where the goal is to trap 10-legged shelled delicacies, The Assault on Patcong Creek has been raising money for environmental causes right from the start. These efforts include covering tuition costs for children to attend NJ Fish & Wildlife's Sedge Island Summer camps, sponsoring educational trawling trips for Somers Point sixth graders and undertaking an annual Patcong Creek clean-up.
When you are in the market for Somers Point commercial real estate, contact Wolf Commercial Real Estate a full-service CORFAC International brokerage and advisory firm. As the foremost local commercial real estate broker, WCRE provides a full range of commercial real estate listings and services, property management services, and marketing commercial offices, medical properties, industrial properties, land properties, retail buildings and other Somers Point commercial properties for buyers, tenants, investors and sellers.
[column-group]
Somers Point Commercial Real Estate Listings
No Listings Found
Click Here to Expand Your Search Criteria