Tag Archives:
business
---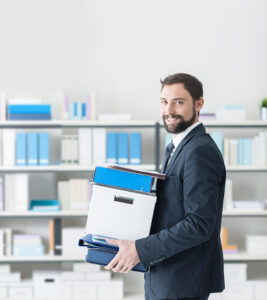 Selecting a move management company that's right for your business is critical for an office relocation and/or expanding business. Today, companies are so focused on moving into their new space they rarely look at their old or existing space and all the costs associated with it. Moving an office can be a huge undertaking, and move management often despises the thought of relocation due to the disruption and disorganization that often follows. In order to move an office successfully without unnecessary disruption to the daily flow of business, business owners and management should consider hiring a move management company.
Download Printable Atricle (PDF)
Too often companies don't have the manpower to dedicate to manage their office relocation. And they often don't have the time to evaluate the benefits of a move management company. Move management companies are professionals who specialize in office relocation and expansion – and these experts know how to make the process flow smoothly. They understand the process of moving in great detail, and they are able to organize the process effectively, and manage details, budgets, timelines, and people.
Selecting a move management company that's right for you is critical for an office relocation and/or expanding business. You'll want to select a company who has expertise in relocation and project management, outstanding planning services, and highly skilled team members to meet the client's ever changing needs. These experts will work with the client to determine what the office already has in place and what is needed in the new location. They will also implement the plans for specific designs and layout within your new office and set up the layout for your new location with relative ease. They will also handle all of the incidentals that often get put off or forgotten until after the move is complete.
Benefits of Hiring a Move Management Company
• Industry experts who can work with architecture/design firms and construction companies when needed
• Project planners who manage everything for you
• Time savings by avoiding unnecessary delays
• Cost savings
• Flexibility
• Employee satisfaction and productivity
KEEP IN MIND YOUR BOTTOM LINE
Before you decide to tackle your relocation, keep in mind your bottom line. This is the most important reason why you would want to hire a professional move management expert. You will save time and money in the long run which is always good for business.
FOR MORE INFORMATION, CONTACT:
Shawn O'Neil at 609-744-4112 or
Paul Sipera at 609-760-8312
ABOUT ARGOSY MANAGEMENT GROUP, LLC
Argosy Management Group (AMG) is a leader in office relocation and logistics project/move management. AMG services companies throughout the U.S. and worldwide. AMG delivers a wide range of comprehensive services: move management and transition planning, space planning and furniture needs, office and industrial relocation and liquidation, storage solutions and asset management, furniture disassembly and installation, and I.T./data center relocation.
visit www.argosymg.com
The Small Business Administration (SBA) is offering designated states and territories low-interest federal disaster loans for working capital to small businesses suffering substantial economic injury as a result of the Coronavirus (COVID-19). SBA will issue under its own authority, as provided by the Coronavirus Preparedness and Response Supplemental Appropriations Act that was recently signed by the President, an Economic Injury Disaster Loan declaration.
• Any such Economic Injury Disaster Loan assistance declaration issued by the SBA makes loans available to small businesses and private, non-profit organizations in designated areas of a state or territory to help alleviate economic injury caused by the Coronavirus (COVID-19).
• SBA's Office of Disaster Assistance will coordinate with the state's or territory's Governor to submit the request for Economic Injury Disaster Loan assistance.
• Once a declaration is made for designated areas within a state, the information on the application process for Economic Injury Disaster Loan assistance will be made available to all affected communities.
• SBA's Economic Injury Disaster Loans offer up to $2 million in assistance and can provide vital economic support to small businesses to help overcome the temporary loss of revenue they are experiencing.
• These loans may be used to pay fixed debts, payroll, accounts payable and other bills that can't be paid because of the disaster's impact. The interest rate is 3.75% for small businesses without credit available elsewhere; businesses with credit available elsewhere are not eligible. The interest rate for non-profits is 2.75%.
• SBA offers loans with long-term repayments in order to keep payments affordable, up to a maximum of 30 years. Terms are determined on a case-by-case basis, based upon each borrower's ability to repay.
• SBA's Economic Injury Disaster Loans are just one piece of the expanded focus of the federal government's coordinated response, and the SBA is strongly committed to providing the most effective and customer-focused response possible.
For additional information, please visit: https://www.sba.gov/page/guidance-businesses-employers-plan-respond-coronavirus-disease-2019-covid-19, contact the SBA disaster assistance customer service center, call 1-800-659-2955 (TTY: 1-800-877-8339)
or e-mail disastercustomerservice@sba.gov.
Once you go on the website you will click on economic disaster program and that is where you will apply.
For more information about The SBA Disaster Loan Program or about other commercial real estate questions, please contact WCRE, the premier Pennsylvania and New Jersey commercial real estate brokerage firm.
About Us
Wolf Commercial Real Estate is a Philadelphia commercial real estate broker that provides a full range of Philadelphia commercial real estate services, marketing commercial offices, medical properties, investment properties, industrial properties, land parcels and retail buildings for buyers, tenants, investors and sellers in the Greater Philadelphia area and beyond. Please visit our websites for information about our Philadelphia commercial real estate services for office space, retail space, medical space, investments, industrial space or land for sale or lease, or for information about other commercial real estate listings and commercial real estate services from Wolf Commercial Real Estate, the leading Philly commercial real estate broker.