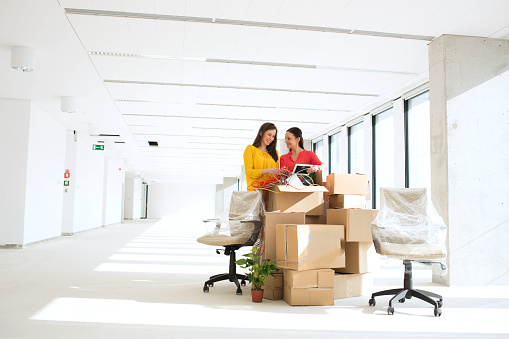 Your business is growing and you like your current location, so you've decided to renew your lease and either refresh or expand your space. GREAT!
Ready to expand your space? Did you call the movers yet?
That's right. Movers. And contractors. And space planners. And IT specialists. And a host of other vendors that you haven't even thought of yet. When you're staying in the same location, the reality is that the To Do list can seem almost as overwhelming as if you were pulling up stakes and starting all over in a new venue. Because you ARE starting in a new venue. The address may be the same, but how you utilize the space to maximize productivity is a rare opportunity you need to take full advantage of. You have two options: refresh or expand. To capitalize on either one of these options, you need a detailed staging and logistical plan to minimize downtime and keep your employees as close to 100% productivity while you update or expand.
So where do you start? You hire a professional logistics management team to shoulder the responsibility of planning and executing the project. No matter how big or small your space, here's what an experienced logistics management team brings to the table for each option…
OPTION #1: Refresh Your Space
Also called an office restacking, you need to look at this type of project as an employee retention tool. No doubt your business has markedly changed over the last 10 years, so your office environment needs to evolve to best support that shift in culture. Restacking changes and improves the look and feel of the work environment, and by redefining the space to include collaboration rooms/workspaces, you can change the corporate culture in the link of an eye to catch up with the times. A refresh re-energizes your employees, and shows you value their presence. New paint, carpeting, furniture, lighting, bathrooms, and more will make employees happier when they are at work, and warmly welcome new clients into your space when they visit. It's a win-win.
OPTION #2: Expand Your Space
Here the biggest opportunity is to redefine the space. Are you adding new employees? Consolidating employees
from another location? Expanding the space for client interaction? A space planner will help you understand how much new space you really need (square footage/head count), and how much you should allot to common areas, workstation areas, private office areas, client showrooms, product production space, etc. An experienced logistics management team knows exactly what questions to ask to make sure you have the most comprehensive staging and logistics plan possible, so no detail is overlooked and no opportunity is missed:
(1) Where are you going to temporarily move active files and personal contents during your office refresh or expansion?
(2) Does the furniture have to be removed (new carpet installation) or just lifted in place (carpet tile installation)?
(3) Should you upgrade the furniture, or re-use what you have?
(4) How can you maintain productivity when computers or data centers need to be disconnected, moved, and reconnected?
The bottom line is refreshing and/or expanding your office requires careful thought and planning to keep your business thriving. The right logistics management team will help you hit the ground running as you launch your business into its next growth stage!
About Argosy Management Group, LLC
Argosy Management Group (AMG) is a leader in office relocation and logistics project/move management. AMG services companies throughout the U.S. and worldwide. AMG delivers a wide range of comprehensive services: move management and transition planning, space planning and furniture needs, office and industrial relocation and liquidation, storage solutions and asset management, furniture disassembly and installation, IT/ data center relocation, and rigging.
For more information, contact: