Tag Archives:
moving
---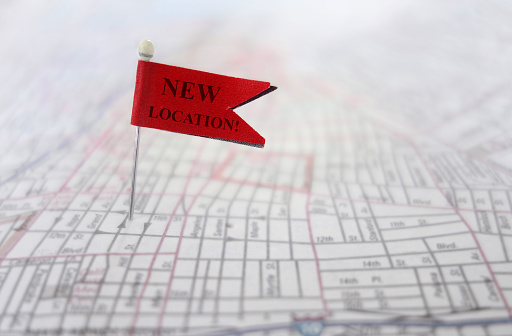 The daunting task of managing your office relocation project can be overwhelming, time consuming, and expensive. There are many questions you'll ask yourself when moving your company to a new office space. Here are a few keys areas you'll want to consider before you begin:
Download Printable Article (PDF) >>>
PLANNING
Are you moving across town? Are you reducing your footprint because your employees are now working from home? Or are you working with an architect on developing customized space?
BUDGETS & SCHEDULES
How far in advance should I plan for my company's move and how much should I budget? Who should I appoint as the leader for my relocation project? This individual will work with a relocation expert throughout the project and communicate updates to employees, schedule regular meetings, and ensure timelines and budgets are being met.
SPACE PLANNING & FURNITURE NEEDS
When should I decide what's moving and what's not? What is the most efficient and cost effective method for removing my company's old furniture? Can I donate it to charity? When should I purchase new furniture and plan out my company's new space?
PHONE & DATA MANAGEMENT
How do I plan my company's data center and I.T. relocation?
EMPLOYEE COMMUNICATION & PREPARATION
How can I minimize downtime and reduce anxiety for my employees? How can each employee prepare for packing his office/workstation?
Every company is different therefore every move is very different. Taking the following steps will help ensure a successful relocation and transition into your new space:
9-12 Months before Moving:
• Partner with an office relocation project and logistics project management company for a single-source operation. Obtain the necessary bids and establish your preliminary budget.
• Conduct a pre-move assessment, and decide what's moving and what's not.
• Work with your office relocation project management company to identify preliminary timelines, phases, and schedules. This will also minimize downtime and disruption to employees, and reduce expenses long term.
• Finalize your space plan.
6-9 Months before Moving:
• Review your furniture needs. Decide whether you require disposal of existing furniture or the purchase and layout of new furniture.
• Make decisions on existing phone system, security requirements, cabling, and I.T. data infrastructure. Order new services if needed.
3-6 Months before Moving:
• Acquire floor plans for both new and existing facilities.
• Determine move requirements, packing needs, and specialty equipment to be moved.
• Finalize on-site record of existing furniture and equipment, recycled items, and items to be disposed.
8-12 weeks before Moving:
• Update move schedule and communicate internally as needed.
• Verify your Certificates of Insurance are up-to-date, and re-check your insurance.
• Schedule a commercial cleaning service for both old and new spaces.
• Order new stationary and forms with your new address and phone numbers, and update your website.
2-8 weeks before Moving:
• Monitor and finalize move schedule.
• Notify vendors and clients of your move.
• Begin packing and purging.
• Create a move 'map' plan for new space.
• Obtain moving crates, cartons, etc.
• Confirm Certificate of Occupancy.
1-2 weeks before Moving:
• Ensure coordination of schedules is in agreement, and communicate expectations to employees.
• Back up computers!!!
• Pack desks, office contents and label.
Moving Day:
• Arrange staff to assist at both old and new spaces.
• Arrange furniture according to plans.
• Install/reconnect computers and equipment.
• Hang artwork in new space.
• Leave old space in 'broom swept' condition.
Once you've completed your move and have settled in to your new space, there are post move activities that still need to be done. You'll want to schedule a 'post move' walk through at both facilities, collect old keys and key cards, update service agreements, etc. Remember, it's all in the details! Having a detailed plan results in a more efficient and cost effective office relocation project, which is good for your company and your employees! But it's most important for your bottom line.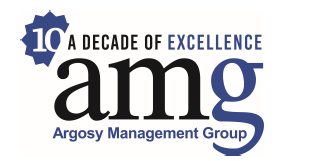 About Argosy Management Group, LLC:
Argosy Management Group (AMG) is a leader in office relocation and logistics project/move management. AMG services companies throughout the U.S. and worldwide. AMG delivers a wide range of comprehensive services: move management and transition planning, space planning and furniture needs, office and industrial relocation and liquidation, storage solutions and asset management, furniture disassembly and installation, and I.T./data center relocation. AMG also offers disinfection services for your office space to combat COVID-19 and other viruses.
For more information, contact: Shawn O'Neil at 609-744-4112 or visit www.argosymg.com.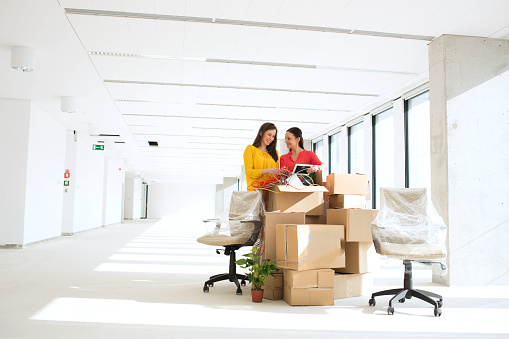 Your business is growing and you like your current location, so you've decided to renew your lease and either refresh or expand your space. GREAT!
Ready to expand your space? Did you call the movers yet?
That's right. Movers. And contractors. And space planners. And IT specialists. And a host of other vendors that you haven't even thought of yet. When you're staying in the same location, the reality is that the To Do list can seem almost as overwhelming as if you were pulling up stakes and starting all over in a new venue. Because you ARE starting in a new venue. The address may be the same, but how you utilize the space to maximize productivity is a rare opportunity you need to take full advantage of. You have two options: refresh or expand. To capitalize on either one of these options, you need a detailed staging and logistical plan to minimize downtime and keep your employees as close to 100% productivity while you update or expand.
So where do you start? You hire a professional logistics management team to shoulder the responsibility of planning and executing the project. No matter how big or small your space, here's what an experienced logistics management team brings to the table for each option…
OPTION #1: Refresh Your Space
Also called an office restacking, you need to look at this type of project as an employee retention tool. No doubt your business has markedly changed over the last 10 years, so your office environment needs to evolve to best support that shift in culture. Restacking changes and improves the look and feel of the work environment, and by redefining the space to include collaboration rooms/workspaces, you can change the corporate culture in the link of an eye to catch up with the times. A refresh re-energizes your employees, and shows you value their presence. New paint, carpeting, furniture, lighting, bathrooms, and more will make employees happier when they are at work, and warmly welcome new clients into your space when they visit. It's a win-win.
OPTION #2: Expand Your Space
Here the biggest opportunity is to redefine the space. Are you adding new employees? Consolidating employees
from another location? Expanding the space for client interaction? A space planner will help you understand how much new space you really need (square footage/head count), and how much you should allot to common areas, workstation areas, private office areas, client showrooms, product production space, etc. An experienced logistics management team knows exactly what questions to ask to make sure you have the most comprehensive staging and logistics plan possible, so no detail is overlooked and no opportunity is missed:
(1) Where are you going to temporarily move active files and personal contents during your office refresh or expansion?
(2) Does the furniture have to be removed (new carpet installation) or just lifted in place (carpet tile installation)?
(3) Should you upgrade the furniture, or re-use what you have?
(4) How can you maintain productivity when computers or data centers need to be disconnected, moved, and reconnected?
The bottom line is refreshing and/or expanding your office requires careful thought and planning to keep your business thriving. The right logistics management team will help you hit the ground running as you launch your business into its next growth stage!
About Argosy Management Group, LLC
Argosy Management Group (AMG) is a leader in office relocation and logistics project/move management. AMG services companies throughout the U.S. and worldwide. AMG delivers a wide range of comprehensive services: move management and transition planning, space planning and furniture needs, office and industrial relocation and liquidation, storage solutions and asset management, furniture disassembly and installation, IT/ data center relocation, and rigging.
For more information, contact: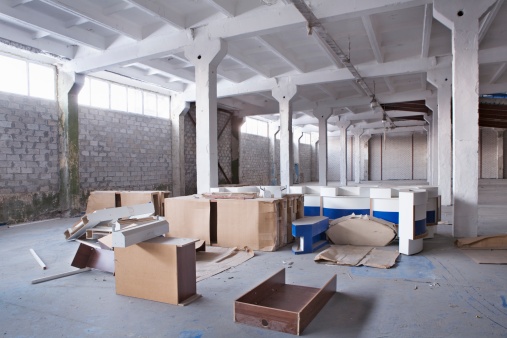 Considering office decommissioning and relocation? Here's a secret that no one ever tells you about moving – the bulk of your relocation costs are NOT transitioning your belongings to the new space. The fact is, office decommissioning is a significant factor in your budget, sometimes adding up to 3-5 times that of the actual relocation itself.
All too often, clients miss the not so obvious "other move" when it comes to their office relocation. Clients split their time and attention operating their core business while also focusing on the "new" space and the endless questions, details, and decisions that are required to get that space ready to unveil. The "old" space, as well as the furniture in it, is often overlooked. If you think you can just leave the furniture and the cleaning for the landlord, you are mistaken!
The problem is that neglecting to properly decommission the old office space leaves you exposed to a wealth of unnecessary costs. The majority of commercial leases contain very specific requirements as to how the old space needs to be turned back over to the landlord. If not, it's your deposit that hangs in the balance, just waiting to satisfy those obligations you signed off on in your original lease long ago. The removal of unwanted furniture and equipment can be an expensive undertaking, especially if not handled properly, and your landlord is well within his rights to apply your deposit to those costs.
Most commercial leases require that the occupied space be left "broom swept." This means that all contents, freestanding furniture, workstations, office/IT equipment, shelving, racking, etc., must be completely removed, and all floors left cleared of debris and vacuumed. That also means following through on tiny details like removing any data/IT cabling that you've added while in residence. Overall, you need to return the space back to its original condition prior to your occupancy. Your lease should spell out the specific requirements and standards you will be held to.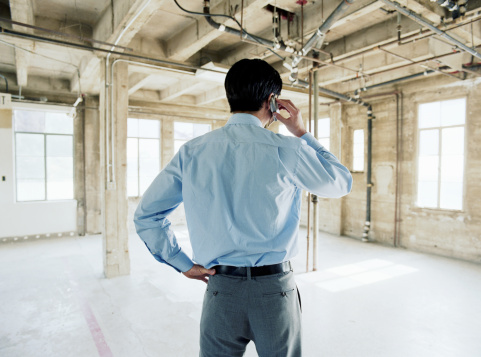 So how do you protect your deposit? You need a detailed plan and a schedule! The easiest way to satisfy your lease obligations and get your deposit back is to consult a professional who is well-versed in handling the office office decommissioning process. When you partner with the right commercial removal company or transition management company, they can help you properly navigate and negotiate your exit. Most standard moving companies aren't experienced enough to guide you through this process, and handling it yourself elevates your "soft cost exposure." Most people over value what they have, don't fully understand what they're required to do, and then end up running out of time. The reality is that there is a very tight timeline when you move and the space needs to be vacated. Why wait on a potential buyer to purchase unwanted assets, when it elevates your risk of exceeding that timeline and paying a costly penalty to your former landlord? You need to understand the cost of the distraction to your core business while focusing on something that is only likely to yield a marginal return.
When you value the assets you will not be moving to your new space, factor in the time it takes to liquidate them. It's often best to hire an expert to advocate for your bottom line, and help you sort it all out in an efficient and expeditious manner. There are three outcomes in an office decommissioning: net positive, net zero, and net negative. To achieve "net positive," the liquidation of furniture and/or equipment yields a positive cash return and is clearly the optimal outcome to strive for. To attain "net zero," you can choose to donate contents to a local charity for re-purpose, or have a third-party company remove them at no cost. While you don't make any money on the transaction, you save the potential cost of having to remove the contents yourself. For those items that simply don't have much or any value, and need to either be recycled or disposed, you'll find yourself in a "net negative" position. Although there's a nominal return for recycled items, the cost for disposing valueless items leaves you with a fee that an office decommissioning expert can help minimize. You don't want to incur unnecessary storage costs for assets that won't garner you a net positive return on that investment.
Quite frankly, there is an enormous difference between a transition management expert and a standard moving company. Before you sign with a relocation company, discuss with them the office decommissioning services that they provide. Pin down the price for the services that you need, and compare that cost with hiring various removal providers. Most commercial movers overlook office decommissioning, and this portion of the job can cost many times your relocation fee depending on how much of your existing furniture you will be taking to your new space.
Once you have the transition team in place, establish a facility decommissioning plan and lock in hard dates and deadlines. Make sure that the company is reliable, and that the personnel have the necessary skills to execute the plan. Often times, it is not worth the risk of going with the vendor with the lowest bid, as the cost for additional "buy back days" at your old space can quickly eclipse those cheap vendor savings.
So what is the takeaway from all of this? Simply that companies that focus all their time and effort on "hard costs" of relocation will be blindsided by the much more important "soft costs" of the move. A transition management expert minimizes your company's exposure to lost revenue by reducing the distraction to your core business and curtailing downtime. Consult with an expert, and the savings on the office decommissioning will more than likely pay for the actual relocation.

ABOUT ARGOSY MANAGEMENT GROUP, LLC
Argosy Management Group (AMG) is a leader in office relocation and logistics project/move management. AMG services companies throughout the U.S. and worldwide. AMG delivers a wide range of comprehensive services: move management and transition planning, space planning and furniture needs, office and industrial relocation and liquidation, storage solutions and asset management, furniture disassembly and installation, and I.T./data center relocation.
Visit www.argosymg.com