Myths About Tar Based Parking Lot Sealcoating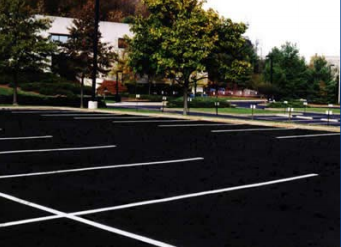 We are often approached about whether or not coal tar based parking lot sealcoating is toxic. There have been several articles written condemning these sealants stating they are hazardous and should not be used. We are going to try to dispel these myths for you.
Parking lot sealcoating applies a protective coating that works much like paint protects wood, metal and other surfaces. The tar based parking lot sealcoating applied to the pavement surface protects the asphalt binder from degradation caused by sunlight, chemical attack and water intrusion. Seal coating provides an added benefit because it is formulated to also provide wear resistance to vehicular traffic.
We use coal tar based pavement sealers to sealcoat parking lots. These sealers are made from a selectively refined fraction of crude oil. Recent claims describing sealers as "toxic waste" have been circulating online and in the press.
Why do some people claim parking lot sealcoating is toxic?
These sealants are under scrutiny because they contain PAHs (Polycyclic Aromatic Hydrocarbons). However, PAHs are everywhere. Sources include grilled, roasted, baked and fried foods, as well as bread, cereal, grain and certain vegetables. The USDA allows over-the-counter-sales of shampoos and ointments that contain coal tar to treat dandruff, eczema, psoriasis and dermatitis.
Neither OSHA nor the EPA classifies coal tar-based sealants as being hazardous. Independent studies have repeatedly concluded that coal-tar sealants pose little risk to health or the environment, particularly because they are INSOLUBLE in water, which means living organisms can't easily absorb them.
There is no scientific data that these products are hazardous or carcinogenic and we are confident that our employees are not at risk during the application process.
Driveways and especially large retail parking lots are capital investments that increase the value and
functionality of a property. Proper maintenance can extend the life of asphalt surfaces by as much as 300 percent. Sealcoating is still the best way to protect Pavement and is certainly a safe way to do it.
For more information, visit the PCTC (Pavement Coating technology council) website at www.pavementcouncil.org