Experienced Business Leader is Named Senior Advisor for Atlantic County Region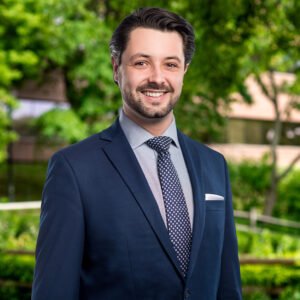 WCRE proudly announces the hiring of John Mazurie, who joins to handle the firm's growth in Atlantic County, NJ and the surrounding areas. Mazurie will focus on continuing the expansion of WCRE's services in the region, providing both tenant and landlord representation for commercial properties. Prior to joining WCRE, John worked with Keller Williams Realty and worked in several leadership capacities as a sales team leader, director of growth, and as a director of operations. John is a lifelong Jersey Shore native. He is a passionate real estate professional with a broad focus in commercial real estate and investments. With a background in the hospitality industry prior to real estate, customer service is second nature.
"We're excited to plant our flag in the Atlantic City & County market – we believe the area is poised for growth and new development in all sectors. As an Atlantic City resident, John has true insight on the market. Adding John to our team is going to provide a huge boost for both our current and future plans. His vast industry experience, community involvement, relationships and knowledge of the Atlantic County market is a perfect match for WCRE, and we could not be happier to have John join our team.", said Jason Wolf, Managing Principal at WCRE.
---
"WCRE is widely regarded as one of the most innovative and forward-looking commercial real estate brokerage and advisory firms in the area. I am honored to join their team of accomplished professionals and look forward to using my experience to grow the WCRE brand across the Atlantic County region.", said John Mazurie.
John is a versatile real estate professional and entrepreneur whose best assets are his strong negotiation, analytical, and ideation skills. Mazurie's new role comes amid WCRE's continuing expansion in the region, adding numerous seasoned brokers and increasing its activity in the Southern New Jersey, the Greater Philadelphia region, Southeastern Pennsylvania, Northeastern Pennsylvania and the Lehigh Valley. Mazurie attended Stockton University and holds a BS in Business Administration.
About WCRE
WCRE is a full-service commercial real estate brokerage and advisory firm specializing in office, retail, medical, industrial and investment properties in Southern New Jersey and the Philadelphia region. We provide a complete range of real estate services to commercial property owners, companies, banks, commercial loan servicers, and investors seeking the highest quality of service, proven expertise, and a total commitment to client-focused relationships. Through our intensive focus on our clients' business goals, our commitment to the community, and our highly personal approach to client service, WCRE is creating a new culture and a higher standard. We go well beyond helping with property transactions and serve as a strategic partner invested in your long-term growth and success.
Learn more about WCRE online at www.wolfcre.com, on Twitter & Instagram @WCRE1, and on Facebook at Wolf Commercial Real Estate, LLC. Visit our blog pages at www.southjerseyofficespace.com, www.southjerseyindustrialspace.com, www.southjerseymedicalspace.com, www.southjerseyretailspace.com, www.moorestownofficespace.com, www.moorestownmedicalspace.com, www.phillyofficespace.com, www.phillyindustrialspace.com, www.phillymedicalspace.com and www.phillyretailspace.com.