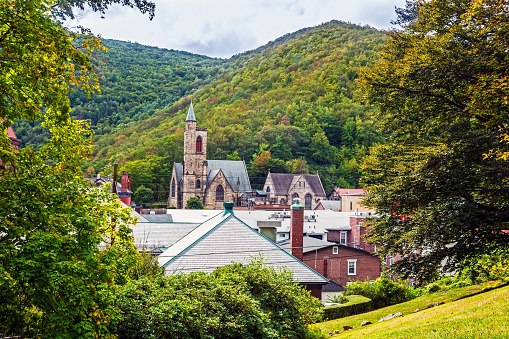 Lehigh Valley is the fastest growing region in Pennsylvania and the third-most-populous metropolitan area in the state – and it is a hotbed of business success. There is a wide variety of Lehigh Valley commercial real estate options available to smart investors and buyers, with attractive tracts of commercial real estate for sale or lease for businesses in every industry.
Officially known as the Allentown–Bethlehem–Easton Metropolitan Statistical Area, the Lehigh Valley consists of the counties of Carbon, Lehigh, and Northampton. As of the 2010 Census, the region had more than 821,000 residents, an increase of 11 percent from the 2000 number of nearly 740,000. It ranks behind only the Philadelphia and Pittsburgh metropolitan areas in population in the Keystone State.
One reason for this growth is the number of new and established corporations that have made their home in the Lehigh Valley, which sits a mere 90 minutes from both New York and Philadelphia. Among the largest, and most prestigious, of these firms are Amazon and Federal Express, both of which have major office and warehouse operations in the region.
Amazon's corporate leaders have consistently praised the region for its commitment to business investments and incentives. They cite the business-friendly environment in the Lehigh Valley as the main reason for the company's continued expansion and increased hiring. Similarly, Federal Express has selected the region as the site for its new FedEx Ground shipping terminal, a $335 million facility that, when it opens late in 2018, will be the largest of its kind in the country.
Many other well-known corporations – such as Air Products & Chemicals, BMW, Bridgestone, Coca-Cola, Crayola, Home Depot, J. C. Penney, Mack Trucks, Nestlé Purina, ShopRite, True Value, and Zulily have either headquarters, warehouse, or shipping operations in the Lehigh Valley. In addition, Ocean Spray produces 40 percent of its total national beverage volume in the area and, thanks to the lack of an excise tax on cigars, the region also is home to some of the United States' largest cigar distributors.
Also helping to fuel this economic growth is the strong educational background a number of prestigious Lehigh Valley four-year colleges provides to its residents. These include Muhlenberg College and Cedar Crest College in Allentown, Lehigh University and Moravian College in Bethlehem, Penn State Lehigh Valley and De Sales University in Center Valley, and Lafayette College in Easton. With a wide variety of top-ranked universities in the region, businesses have a pool of top rated talent to choose from for technical, medical and other skilled positions.
All this growth has attracted national attention as Site Selection magazine calls the Lehigh Valley the second-best performing region of its size for economic development in the United States, while Fortune places the three-county area among the top 10 best places in the U.S. to locate corporate finance and information technology offices.
A number of major business, entertainment, and sports figures also hail from the Lehigh Valley, including the father/son professional race car team of Mario and Michael Andretti; Star Trek: The Next Generation actor Jonathan Frakes; former heavyweight boxing champion Larry Holmes; actor and former professional wrestler Dwayne "The Rock" Johnson; fashion consultant and TV personality Carson Kressley; model and actress Amanda Seyfried; and the actress/wife of actor Ben Stiller, Christine Taylor.
With its proximity to New York and Philadelphia, while offering a serene and beautiful living and working atmosphere, you can't go wrong seeking commercial real estate in Lehigh Valley. Find out more about why so many people and businesses are choosing to make Lehigh Valley home.
Get Started Finding Your Ideal Commercial Real Estate in Lehigh Valley!
Are you looking to expand your business or set up shop in the beautiful Lehigh Valley region? When you are in the market for Lehigh Valley commercial real estate, contact Wolf Commercial Real Estate. WCRE, a full-service CORFAC International brokerage and advisory firm, is the foremost commercial real estate broker in the Eastern Pennsylvania region, and we offer a full range of listings, services, and property management.
WCRE specializes in marketing commercial offices, medical properties, industrial properties, land properties, retail buildings and other Lehigh Valley commercial properties for buyers, tenants, investors and sellers. Whether you are seeking to start or relocate your business here, or are seeking a solid investment, WCRE can help you find the ideal property and make it work for you!