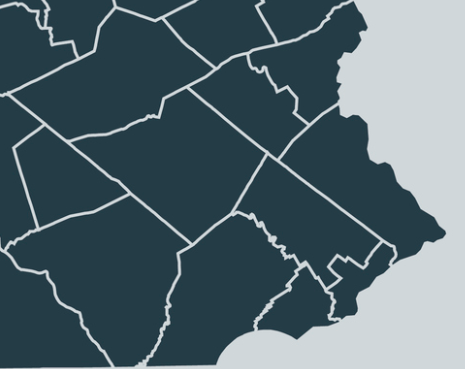 At WCRE, our team of professionals can help you find your ideal destination in southeastern Pennsylvania commercial real estate. We are real estate brokers who serve a wide variety of business owners throughout the Philadelphia area, including office, retail, medical and industrial firms.
Why choose Southeastern Pennsylvania as the home for your business? With the city of Philadelphia as the center of activity, the region is well-served by both major highways and public transportation. The region is home to several outstanding institutions of higher education, including Drexel, Villanova, Temple and others, making it much easier to locate top talent in any field.
Millions of people live and work in southeastern Pennsylvania, and it is home to several affluent communities, especially along the famous Main Line. Area residents love it here, from their proximity to the city and the Jersey Shore to the wealth of activities available in the area, including four major sports teams.
If you're becoming serious about a new start in Southeastern Pennsylvania or a relocation to the area, but aren't sure where to start, take the time to sign up for our newsletter and take a look at our quarterly reports to see the latest news for buyers and sellers in the area.
A Brief History of the Region
Throughout its history, the region has been bustling with activity, and it continues today. The four counties of Southeastern Pennsylvania surrounding Philadelphia – Bucks, Chester, Delaware, and Montgomery – contain nearly 2.5 million residents and cover slightly more than 2,000 square miles in area. Two of them, Bucks and Chester, share the distinction of being two of the three original counties – along with Philadelphia – that were created by William Penn in 1682. All four of them contain numerous tracts of commercial real estate that are ready for development.
England's King Charles II, in the latter part of his 36-year reign, made a series of land grants as forgiveness on debts the monarch owed to various benefactors and important subjects of the empire. Four of them were in the Americas and, over time, they ended up comprising the current USA states of Rhode Island, Connecticut, North and South Carolina, and Pennsylvania.
The Pennsylvania property was deeded to William Penn's father – Sir William Penn (an admiral in the Royal Navy and a 10-year member of the House of Commons), who gave the property to his son for colonization and commercialization.
Soon after his arrival in the New World, the younger Penn divided the grant into three counties – Philadelphia, Bucks, and Chester – with the names coming from various sources: Philadelphia from the Greek words "philos" (love or friendship) and "adelphos" (brother), reflecting Penn's devotion to the Quaker religion, known as the Society of Friends; Bucks from England's Buckingham County, and Chester from England's Cheshire County. After the U.S. War for Independence, Montgomery County – named for the Welsh county of Montgomery – was broken off from Philadelphia County in 1784 and Delaware County – named for the Delaware River that comprises its eastern border – was sliced from Chester County in 1789.
Southeastern Pennsylvania – Four Counties with Valuable Commercial Real Estate
Today, the four counties of Bucks, Chester, Delaware, and Montgomery form a northeast-to-southwest arc around the western edge of Philadelphia, which is one of the country's few geographic anomalies in that it is both a city and a county. Each of the four suburban counties has a thriving economy and boasts a popular portfolio of commercial real estate:
Bucks County is in the middle of period of rapid growth in the biotechnology field. This makes Southeastern Pennsylvania the second-largest biotech market in the United States, only behind Boston. It is predicted that, very soon, one of every four Bucks County residents will work in the field.
Chester County's largest business is agriculture, as its more than 1,700 farms create more than $600 million in annual revenue and providing an estimated $3 billion boost to the local economy. For example, Chester County produces more than half of all the mushrooms consumed in the United States.
Delaware County has an annual job growth rate of more than 1.5 percent with its 10-year job growth rate predicted to be close to 38 percent. The county per capital income – which includes all adults and children – is $33,539, while the median household income is $64,174.
Montgomery County also is a major employment center with large business parks in Blue Bell, Lansdale, Fort Washington, Horsham, and King of Prussia which attract thousands of workers from all over the region.
When you are in the market for Southeastern Pennsylvania commercial real estate, contact WCRE to get started on finding the ideal spot for your business. We are a full-service CORFAC International brokerage and advisory firm, and we're proud to be the foremost broker for listings, services and property management.See why so many businesses and non–profit entities trust us for the commercial real estate needs in the region…view testimonials from satisfied clients here and have a look at case studies here!
We specialize in marketing commercial offices, medical properties, industrial properties, land properties, retail buildings and other Southeastern Pennsylvania commercial properties, for buyers, tenants, investors and sellers.
Start your Southeastern Pennsylvania adventure today, and let us help! For great advice on listings in the area, be sure to follow us on Facebook, LinkedIn, Twitter, and YouTube!