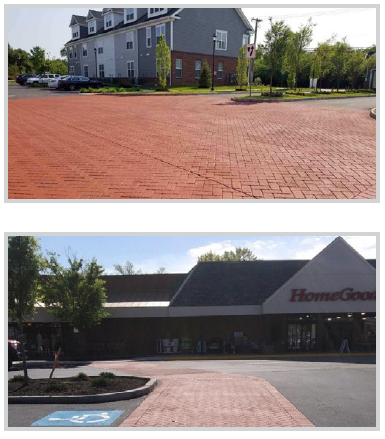 Stamped asphalt crosswalks and entrances can instantly enhance the appearance of your commercial or residential property. The stamping process is achieved by re-heating new or existing asphalt with an infrared process and using a steel cable template to imprint a pattern in the asphalt. A plate compactor is then used to press the pattern into the asphalt. After stamping, a polymer modified color coating is applied to the surface. A variety of patterns and colors are available. Commonly seen in South Jersey are both traditional brick and diagonal herringbone patterns, which are typically painted in a vibrant red color. This feature is a cost-effective way to increase the curb appeal of any property.
Download Printable Article (PDF) >>>
The Benefits of Stamped Asphalt Include:
• Aesthetics – Choose a pattern and color that complement your space. With numerous patterns and colors available, stamped asphalt crosswalks or entrances can provide an immediate upgrade to your property.
• Fast Installation – A crosswalk can typically be installed in just a few hours, which means minimum disruption to tenants, clients and residents. The area can be re-opened to traffic in a relatively short amount of time.
• Lower Installation Costs – Initial installation is less expensive than traditional brick or stone pavers. While traditional pavers are installed individually, the stamping process happens much more quickly, making it less labor-intensive.
• Lower Overall Maintenance Costs – stamped asphalt can last for years and is easily re-coated. The surface also resists changes in temperature better than pavers, which are prone to shifting during freeze-thaw cycles. There is also no need to remove vegetation that typically grows through the cracks of traditional brick.
• Safer Alternative – The paint adds a skid-resistant texture to the surface of the asphalt, so it is not slick when wet.
• Extend Asphalt Life – When exposed to the elements, asphalt dries out and cracks. The color coating applied after stamping protects the asphalt from harmful UV rays.