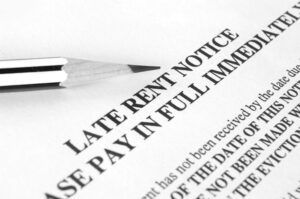 In a time already referred to as the "retail apocalypse", the novel coronavirus has brought much of the retail industry to its knees. With stores and restaurants shuttered by government mandate, many tenants unilaterally ceased or reduced rent paid in April and, with May rent now due, commercial landlords face difficult strategic decisions as defaults loom on the horizon.
Visit Our Friends at Hyland Levin for More Information >>>
Negotiating a Short-Term Solution: Deferments, Abatements and In-Between
Although landlords have the option of immediate strict enforcement of the lease upon a default, the current practical difficulties of strict enforcement (court shutdowns, difficulties of eviction, costs and time involved in finding a replacement tenant and the cost to repair and build out space for a new tenant) make negotiating a mutually agreeable workout with the tenant a more viable option.
Deferments are short-term agreements postponing, but not eliminating, the obligation to pay all or a portion of rent. Depending on the lease, this can include a forbearance of base rent only or base rent and additional rent items including taxes, insurance and common area maintenance expenses. Rent is not forgiven, but is repaid either in a lump sum on a given date, or over an agreed-upon period of time with or without interest.
Abatements are short-term agreements forgiving or tolling all or a portion of the rent due for a fixed period. Under an abatement, it is important for landlord and tenant to agree on a plan for resumption of tenant's obligations. As abatements directly impact the landlord's cash flow, abatements may also include an extension of the term to account for the missed payments.
In between are a number of hybrid solutions. The landlord may agree to a short-term reduction of rent, conversion of rent to a percentage rent, or scaling up rent over time. The landlord may also consider converting deferred rent into a loan to be amortized and repaid either with or without interest.
While an abatement is almost never the preferred choice for the landlord, the right solution depends on a thorough evaluation of the tenant's viability, past financial performance, analysis of the lease terms, and what assets (or new or additional collateral) may be available to the landlord in the event of subsequent default. Be prepared. Landlords may request bank statements, profit and loss statements, tax returns or other financial records to satisfy the landlord of tenant's financial stability. Landlords should consult with financial and tax professionals to addresses the consequences of the proposed solutions, as well as landlord's lender.
Absent a lease provision or state law to the contrary, commercial landlords are not required to offer any of these negotiated solutions to tenants. Most commercial leases, even those including robust force majeure clauses that suspend non-monetary covenants (such as continuous occupancy), require that the tenant nevertheless continue to honor its rent obligations. Nonetheless, the opportunity to enter into a short-term agreement with the tenant has certain advantages, including:
Strengthening the landlord-tenant relationship and increasing the chances of the tenant reopening and recommencing operations
Opportunity to, as part of the lease modification or short-term agreement:
Confirm obligations under the lease
Obtain an estoppel or release from the tenant
Eliminate burdensome landlord lease provisions, such as exclusivity or co-tenancy
Bolstering the landlord's remedies, including the right to recapture or to obtain a consent order for money judgment or possession (where enforceable)
Enhancing security for the obligations, including obtaining a guaranty, letter of credit or other collateral for landlord's security
Upon agreement, landlord and tenant should enter into a written agreement which memorializes the agreement of the parties. Consider including confidentiality provisions in the written agreements to insure that tenants do not use landlord's compromise with one tenant as leverage for another.
Termination, Eviction, Bankruptcy
A negotiated solution is not always possible where a tenant is insolvent or unwilling to work with the landlord. Termination of the lease, accompanied by the appropriate releases and negotiated agreement, may be the best solution in certain cases where the tenant has no assets and the landlord wants the ability to re-let the premises quickly. The termination agreement should address repossession conditions and keep the tenant liable for rent where a landlord is unable to re-lease the space, which it should be under no obligation to do so.
In other cases, eviction may be the only option where a tenant has defaulted and negotiations are fruitless. In that case, landlords should be sure counsel is engaged and monitoring the state of executive orders for the applicable jurisdiction. Many states have enacted eviction moratoriums or other rent-relief laws; careful compliance with such orders will be necessary to ensure that the landlord is able to re-take possession without exposing itself to other liability.
Finally, landlords faced with tenants who have filed for bankruptcy now enter a truly unique landscape. While bankrupt tenants have always been required by law to make post-petition rent payments to landlords in accordance with the bankruptcy code, bankruptcy courts around the country have been entertaining (and granting) requests by debtors to suspend cases and all obligations of the bankrupt tenant to pay rent. In the Modell's Sporting Goods bankruptcy, for instance, the United States Bankruptcy Court for the District of New Jersey has authorized a suspension of the case (and the requirement of Modell's to pay rent) through May 31, 2020. Likewise, in the Virginia bankruptcy case of Pier I Imports, Inc. the court also suspended the obligation of the debtor to pay post-petition rent. Whether this extraordinary relief will be available to debtors on a going-forward basis remains to be seen, however in the current landscape landlords are no longer assured timely post-petition rent.
The current outlook for commercial landlords with retail tenants is stark. Commercial landlords are being forced to bear the burden of closed and bankrupt tenants without, in many cases, having similar relief made available to them from their own lenders or federal stimulus funds.
As a result, it is essential that landlords be proactive and engage their legal, financial and management teams to maximize recoveries, future outlook and occupancy issues during this time of crisis.
---
If you have any questions or to discuss further, please contact Hyland Levin: