US Jobs Report Shatters Expectations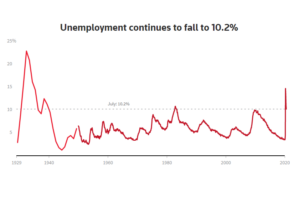 Two months of record-setting payroll growth slowed in July but was still better than Wall Street estimates even as a rise in coronavirus cases put a damper on the struggling U.S. economy.
Nonfarm payrolls increased 1.763 million for the month, the Labor Department reported Friday. The unemployment rate fell to 10.2% from its previous 11.1%, also better than the estimates from economists surveyed by Dow Jones.