Tag Archives:
ESA
---
How do you know if you have done Due Diligence for Commercial Properties? I hear statements like the one below all the time.
"I'm buying a commercial/industrial property; I need a Phase I Environmental Site Assessment (Phase I ESA)" or "I'm leasing a commercial/ industrial property; I don't need to worry about performing any due diligence because I'm not purchasing the property".
But is a Phase I ESA all you need, or is that too much? How much time do you have to perform your due diligence? How much money are you willing to spend? How much risk and potential liability are you willing to accept? These are all questions that you might want to consider as you proceed with your real estate transaction.
Download Printable Article (PDF) >>>
As I've discussed in an earlier article, when performing due diligence to obtain innocent purchase protection in New Jersey, one needs to perform both an ASTM Phase I ESA and a Preliminary Assessment (PA). But, is that really all you need as far as your due diligence is concerned? While a Phase I ESA or PA report helps provide protections against certain environmental liabilities, risks, and concerns – specifically, the federal Comprehensive Environmental Response, Compensation and Liability Act (CERCLA) or the New Jersey Spill Act, respectively – they don't protect against all liabilities, risks, and concerns. For example, these assessments typically don't include an evaluation for the presence of wetlands, asbestos, lead-based paint, or radon. Nor do they include an evaluation of the building's structural or mechanical condition, an evaluation of the building's energy use or waste management efficiency, or whether the facility operations are in current compliance with applicable state or federal regulations and requirements.
It's important to know which assessments you need, if any, because not all these due diligence concerns are necessarily your due diligence concerns. If you're only planning on leasing a facility, you may not be interested in determining the structural or mechanical integrity of the building envelope, since that would likely be the responsibility of the landlord. Or, if you're involved in litigation regarding the site, you may require a review of the historical conditions and regulatory status of the facility, but not necessarily need a comprehensive review of the current condition of the property. Perhaps you only need a limited scope of work now, such as a simple "desktop review", or a Phase I ESA for refinancing purposes, but you also plan on expanding the facility in the future; in this case, you may need to know if there are any restrictions to building construction, such as the presence of wetlands or engineering limitations at the site. It all depends on what you plan on doing at the site, both now and in the future.
So how do you know if you're paying too much for a due diligence assessment you don't necessarily need, or not performing enough due diligence to give you the protection you need and the comfort and peace of mind you expect?
Answer: Find a consultant whom you trust, and who specializes in environmental, engineering, and land use due diligence. Your consultant should be your advocate. Ask questions of your consultant, and expect your consultant to ask questions of you and what your current and future plans are for the property. If you don't feel comfortable or understand the answers, it may be best to discuss the matter further with other consultants to ensure you've made the best choice for your particular needs.
Here at Whitman, we have extensive experience in real estate due diligence. We work on many different types of projects with all types of clients, including individuals and corporations who want to buy a property, investors who want to sell their properties, banks that are overseeing a property refinance, companies that want to expand their operations, facilities that want to assess the efficiency and compliance of their current operations, businesses that want to rent a leasehold, attorneys who require historical information regarding former site operations, and the list goes on.
More than anything, we take pride in our commitment and dedication to our clients' best interests, and enjoy finding creative solutions for our clients' challenges. We look forward to helping you attain and then surpass your business goals.
To help you ascertain what level and amount of due diligence you may require, Whitman has designed a simple= "cheat sheet" that summarizes many of our due diligence services, and when you might consider utilizing them.
If you have any questions regarding real estate due diligence, would like a copy of the due diligence cheat sheet, or would like a quote for any of Whitman's wide selection of due diligence services, please contact Chemmie Sokolic, Whitman's Director of Due Diligence Services, at 732-390-5858 or csokolic@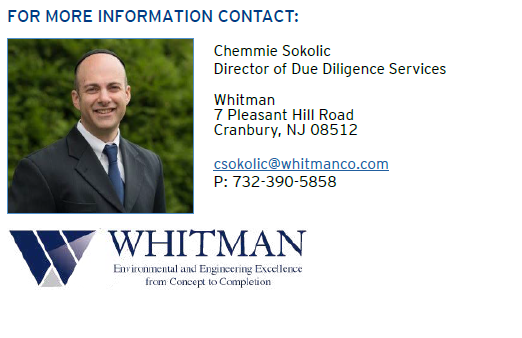 whitmanco.com.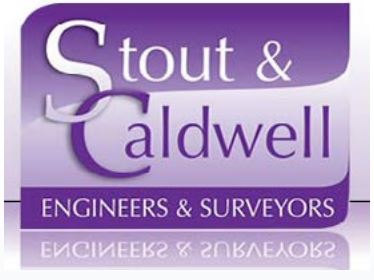 When buying property, A Phase One Environmental Site Assessment ESA is the first step in proper Due Diligence and is always recommended. It is important to avoid costly and time consuming issues further along in the process. A Phase One Environmental Site Assessment ESA is the first step in accomplishing this goal. Sometimes referred to as a Preliminary Site Assessment or Level One Environmental Site Assessment, the ESA is the initial screening process done on a property to identify potential or existing environmental health hazards or environmental liabilities. In today's world where every property is subject to potential environmental risk, an ESA can help to determine whether a property has been contaminated by previous or current activities. It is cheap insurance that allows a buyer to purchase an asset knowing that there are no environmental liabilities associated with it. It protects the buyer and limits their liability by discovering environmental concerns prior to the purchase of the property.
Creditors also often require an ESA, as this helps them determine if there are any environmental risks that could affect the value of the property or the borrower's finances. The ESA process involves an evaluation of both the physical improvements to a property as well as the underlying land. By evaluating past and current property use, surrounding land uses and consulting with various regulatory agencies, the environmental risk associated with a subject property can be quantified and recommendations made for further evaluation as warranted.
Download and Print this article (PDF)
3 Components of a Phase One Environmental Site Assessment
1. Site inspection is a thorough visual assessment of the property. It includes a comprehensive ocular inspection of the interior of any structures within the property, the exterior areas surrounding these structures and the property lines. It also includes observing and inspecting nearby or adjacent properties. The site inspection aims to discover and identify any evidence of previous activities that may have contributed to any incidence of soil or water contamination. The presence of gasoline stations, dry cleaning operations, industrial facilities, residential heating oil tanks and illegal garbage dumping within or around the property in question may be indicators of impending environmental issues.
2. Reviewing the regulatory records of the property brings its history to light, and may reveal any past instances of hazardous substances at or near the property, which may have contaminated the site. A property, for example, may be the present location of a business without any environmental
concerns, but perhaps years ago it may have been the site of an auto repair shop that may have allowed oil and other waste substances to leech out into the surrounding soil and water sources.
3. Interviews with former owners, tenants and workers may also be conducted. Having spent much of their time on the property, the first-hand experience of these people may prove valuable to any assessment, as they may also offer useful insights on the previous use and the current
state of the property.
DON'T LET PAST PROPERTY LIABILITIES BECOME YOURS.
Get a Phase One Environmental Site Assessment
KNOW BEFORE YOU BUY NOT AFTER!
About Dan Caldwell
Stout & Caldwell Engineers, LLC
Dan Caldwell is a Principal of Stout & Caldwell Engineers, LLC. He has over 15 years working in the environmental industry as a NJPDES permit compliance professional for a NJDEP Certified Testing Laboratory.
Visit http://www.stoutcaldwell.com to see how Dan and Stout & Caldwell Engineers can help you.