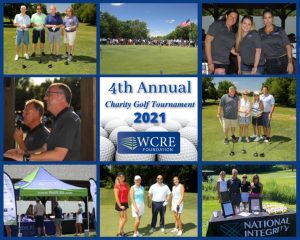 In its fourth year, built on the remarkable success of WCRE's community commitment and annual celebrity charity hockey events, The WCRE Foundation has successfully raised approximately $40,000 to be shared equally by 6 charitable causes within the Philadelphia and Southern New Jersey region. Over the past five years, The WCRE Foundation has now raised close to $430,000.
The Fourth Annual WCRE Celebrity Charity Golf Tournament which was held at Ramblewood Country Club in Mount Laurel this past Thursday afternoon, is the brainchild of Philadelphia Flyer legend and WCRE director of strategic relationships Brian Propp and WCRE's managing principal, Jason Wolf. WCRE welcomed 140 area business leaders and many guests to an afternoon of great golf, fun, competition and contests.
All proceeds from the event will be shared among the CARES Institute at Rowan University, the Jewish Federation of Southern New Jersey, Bancroft, the American Cancer Society, Susan G Komen-Philadelphia and Samaritan. Each of these organizations benefits from WCRE's long-standing practice of giving back to the communities where they serve.
Learn more about WCRE's community commitment at https://wolfcre.com/community-commitment/.
"This event was another successful gathering for The WCRE Foundation and our community partners. Special thanks to the entire WCRE team, our incredible sponsors, donors, golfers, friends and Ramblewood Country Club who all helped make our 2021 Celebrity Charity Golf Tournament a victory for 6 incredible non-profits in our community," said Jason M. Wolf, founding principal of WCRE. "It is a credit to our friends, neighbors, and business associates that we are able to come together to improve the lives of others."
Wolf Commercial Real Estate - 2020 Golf
About WCRE
WCRE is a full-service commercial real estate brokerage and advisory firm specializing in office, retail, medical, industrial and investment properties in Southern New Jersey and the Philadelphia region. We provide a complete range of real estate services to commercial property owners, companies, banks, commercial loan servicers, and investors seeking the highest quality of service, proven expertise, and a total commitment to client-focused relationships. Through our intensive focus on our clients' business goals, our commitment to the community, and our highly personal approach to client service, WCRE is creating a new culture and a higher standard. We go well beyond helping with property transactions and serve as a strategic partner invested in your long term growth and success.
Learn more about WCRE on Twitter & Instagram @WCRE1, and on Facebook at Wolf Commercial Real Estate, LLC.
Visit our blog pages at www.southjerseyofficespace.com, www.southjerseyindustrialspace.com, www.southjerseymedicalspace.com, www.southjerseyretailspace.com, www.phillyofficespace.com, www.phillyindustrialspace.com, www.phillymedicalspace.com and www.phillyretailspace.com