Tag Archives:
office space
---

New Assignments Bring Additional 113,000 Square Feet Under Firm's Control
March 1, 2018 – Marlton, NJ – Wolf Commercial Real Estate (WCRE) is pleased to announce that it has been appointed exclusive agent for 13 new projects in the Southern New Jersey and Philadelphia region.
WCRE continues to raise the bar with an aggressive marketing and branding strategy and has increased its South Jersey and Philly presence. WCRE will assume marketing, leasing and sale responsibilities for an additional 13 properties totaling approximately 113,000 SF.
The team at WCRE now oversees over 175 properties throughout the PA/NJ market encompassing over 4.2M square feet of office, retail, industrial, healthcare and investment real estate.
"We see endless possibility in the properties our clients have entrusted to WCRE, and we are excited to connect new prospects with these assets." said WCRE managing principal Jason Wolf.
The New Projects awarded to WCRE during the first two months of 2018 are as follows:
1140 White Horse Road, Voorhees, NJ (25,000 SF Retail Building)
1030 Auburn Road, Woolwich, NJ (4.2 Acres)
601 Route 130 North, West Collingswood, NJ (2,113 SF Commercial Building on .35 Acres)
605 Route 130 North, West Collingswood, NJ (1,200 SF Commercial Building on .27 Acres)
513 Centennial Drive, Voorhees, NJ (6,700 SF Office Building on 1.31 Acres)
1504 Blackwood Clementon Road, Blackwood, NJ (3,000 SF Office Building on .34 acres)
297 Easton Road, Horsham, PA (.62 Acres)
146 East Evesham Road, Cherry Hill, NJ (.92 Acres)
133-136 Route 73, Voorhees, NJ (25,000 SF Medical Office on 2.85 acres)
816 North Black Horse Pike, Gloucester Township, NJ (1.39 Acres)
162 West Cohawkin Road, East Greenwich, NJ (25,000 SF Retail Property on 2.5 Acres)
55-59 High Street, Mount Holly, NJ (13,000 SF Office Building on .12 acres)
735 Bethlehem Pike, Montgomeryville, PA (3,234 SF Retail Building on .39 acres)
700 W Browning Road, Collingswood, NJ (8,250 SF Retail Building)
A marketing brochure for each of these properties is available upon request.
About WCRE
WCRE is a full-service commercial real estate brokerage and advisory firm specializing in office, retail, medical, industrial and investment properties in Southern New Jersey and the Philadelphia region. We provide a complete range of real estate services to commercial property owners, companies, banks, commercial loan servicers, and investors seeking the highest quality of service, proven expertise, and a total commitment to client-focused relationships. Through our intensive focus on our clients' business goals, our commitment to the community, and our highly personal approach to client service, WCRE is creating a new culture and a higher standard. We go well beyond helping with property transactions and serve as a strategic partner invested in your long-term growth and success.
Learn more about WCRE online at www.wolfcre.com, on Twitter & Instagram @WCRE1, and on Facebook at Wolf Commercial Real Estate, LLC. Visit our blog pages at www.southjerseyofficespace.com, www.southjerseyindustrialspace.com, www.southjerseymedicalspace.com, www.southjerseyretailspace.com, www.moorestownofficespace.com, www.moorestownmedicalspace.com, www.phillyofficespace.com, www.phillyindustrialspace.com, www.phillymedicalspace.com and www.phillyretailspace.com.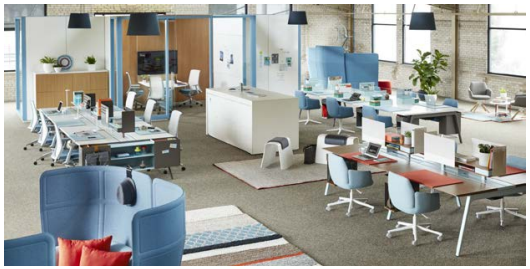 How can you increase the return on your investment by utilizing office space? When a business makes an investment, they expect to see a return on that investment. So it is important, that when making design decisions that you first establish the outcomes that you expect and that the interiors solution provider that you are working with knows how to use design to achieve those outcomes to help you
reach your corporate goals.
Utilizing Office Space for Employee Engagement
Each year, actively disengaged employees cost U.S. companies between $450-$550 billion in lost productivity. Making sure that employees are engaged in the job that they do, will have a big impact on your business. Not only will it make a work more meaningful for your employees, but it will employees will have a sense of purpose.
Incorporating flexibility and adaptability into an office creates a balance within the space. By using adaptable desks, lounges, phone areas and touchdown spaces, workspaces should contain different types of spaces within one space for employees to engage in collaboration or focused work. Designing your space to reflect your company's core values will consistently support employee engagement.
Utilizing Office Space for Retention and Recruitment
As employee engagement increases, so does retention rate. In fact, recent studies have found that strategic office design has a huge impact on the overall satisfaction of employees. By incorporating design features such as an natural lighting, adjustable and multi-use furniture and a variety of workspaces to supplement an open floor plan increases employee retention.
As far as recruitment goes, by 2020, 40% of the workforce will be millennials, and the new workforce wants to feel connected and engaged in the work that they do. In addition to the other design features mentioned, top talent is looking for flexibility when choosing a job, so why not allow for easy access to technology in your space. By having a state-of-the-art design in the workspace, not only will it optimize efficiency and productivity, but it will attract the best talent to your company.
Utilizing Office Space to the Max Per Square Foot
In order to maximize spatial efficiency, will keeps cost down and increase profit. So designing your workspace
to be flexible and adaptable leaves room for your business to grow and change as needed. For example, current
seating trends such as hoteling, benching and hot desking decrease the amount of square footage needed per
employee which will allow room in your workspace other needed areas like touchdown spaces, quiet areas,
collaborative spaces or meeting rooms.
Most businesses are pretty conservative when it comes to design spending, but when you strategically plan design investment to achieve certain outcomes, not only will you see a big return, but you will maximize productivity, increase competitiveness and achieve your corporate goals.
Bellia President, Anthony Bellia understands and values the importance of helping clients succeed by providing a seamless experience when furnishing commercial interiors. Bellia Workspace Solutions is a family owned and run business with over 40 years of experience and service to the community. Their clients' visions and goals are the motivation for probing into the culture, style and nature within workspaces. It is his mission to help companies within the Tri-state area be more magnetic to remain strong and continue to grow by attracting top talent, building spaces that provide flexibility in the future, and creating branded environments that support the company message.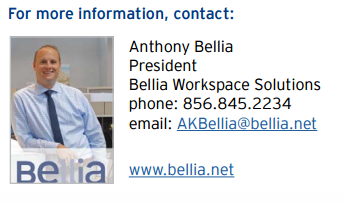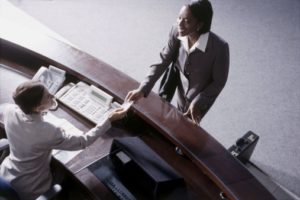 The reception area or waiting lobby plays an integral part of your office. It's the first impression that an individual makes and can either help or deter business from you. If you didn't know already, you spend a considerable amount of your day in your office. Being that your office is practically your home, your clients and potential clients will visit your home (office) frequently to conduct business and discuss other matters. Therefore, you must plan the architecture and interior of your office in such a way that promotes conversation and motivates you and your employees to achieve success.
The reception area or waiting lobby plays an integral part of your office. It's the first impression that an individual makes and can either help or deter business from you. We wanted to take this opportunity to discuss a few reasons as to why your reception area is important for your business:
Download Full Printable Article>>>
YOUR RECEPTION AREA SETS THE TONE FOR THE FUTURE
This is the first place where a visitor or client is received as he enters your office. By having a look at the reception area, a visitor can develop the first impression about how well managed is the organization. Since visitors are requested to wait in the reception area, there must be proper arrangements for their sitting and refreshments. Visitors sitting in the lobby are mostly alone, so they have ample amount of time to focus on their surroundings. Therefore, it is vital to keep everything in the lobby well arranged and in a proper shape. You should hire some dynamic individuals to manage your reception area efficiently.
IT AFFECTS THE VISITORS AND YOUR EMPLOYEES' MINDSET
Visitors come to your office from distant places. They may be a bit irritated due to traffic jams or a variety of other reasons. Therefore, your lobby should be designed and decorated in such a way that it provides comfort and relaxation to the visitor. Same is the case with your employees. They come to work daily with some or the other tension in their mind. So, the reception area should induce calmness and positivity in your employees.
IT HELPS IN IMPROVING BUSINESS RELATIONSHIPS
It is the first place where clients meet before proceeding to conference rooms. So, you should pay adequate attention to the level of comfort provided by the furniture placed in the reception area. You should make proper arrangements for air conditioning in this area and try to make the atmosphere vibrant. The talks held in this part of the office are really important and therefore its ambience can have a positive or negative effect on business relationships. The more comfortable the visitors are; the more fruitful is the communication.
HIRE A PROFESSIONAL RECEPTIONIST
You should appoint a competent receptionist to welcome the guests. He/she is the first person with whom the client has face to face interaction after entering your office. Hence, the receptionist should be soft spoken and well mannered. He/she should be an excellent communicator and be able to handle all the tasks carried on at the reception area. These tasks include maintaining visitors' list, scheduling appointments, receiving calls/emails and responding to them, prioritizing the tasks, etc.
Without question, the reception desk needs to be properly designed to help the receptionist perform all the activities comfortably. The reception desk should have ample space for storage to work. Designing a space with a reception area can be tricky, if you would like advice or input, be sure to think of the perfect balance between new and preowned office furniture.
FOR MORE INFORMATION CONTACT: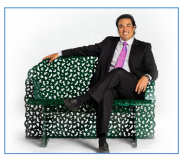 Josh Smargiassi: Principal
Boomerang, Inc.
P 856.582.0100
F 856.582.0104
www.boomerangofficefurniture.com