Tag Archives:
Whitman
---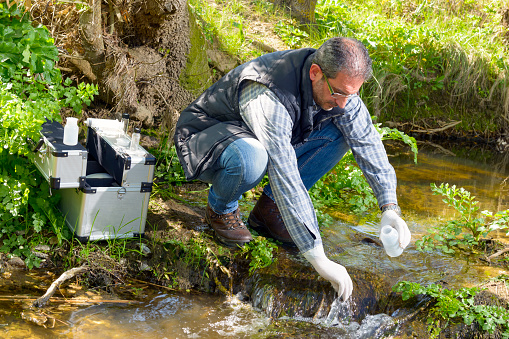 I'm buying a commercial or industrial property in New Jersey, and I've been told I need an ASTM Phase I Environmental Site Assessment (Phase I ESA). However, I've also been told I need a NJDEP Preliminary Assessment Report (PAR) as well? Do I really need both? Won't the Phase I ESA provide me adequate innocent purchaser protection?
Download Printable Article (PDF) >>>
SHORT ANSWER: NO. HERE'S WHY:
Chances are, you're conducting a Phase I ESA to satisfy one of the requirements to qualify for the innocent landowner, contiguous property owner, or bona fide prospective purchaser limitations on CERCLA liability (Comprehensive Environmental Response, Compensation and Liability Act (42 U.S.C. §9601)), and the Environmental Protection Agency (EPA) All Appropriate Inquiry (AAI) Rule, Subsection 312.10 of 40 Code of Federal Regulations 312 (40 CFR §312). However, CERCLA is a federal law, and provides landowner liability protections under that particular law. What a Phase I ESA does not necessarily do, however, and as is made clear in the Phase I standard itself (ASTM E 1527-13, section 1.1.4), is address requirements of state or local laws; users of a Phase I ESA are cautioned that federal, state, and local laws may impose environmental assessment obligations that are beyond the scope of [the Phase I standard itself].
Like many other states, New Jersey has enacted its own innocent purchaser defense that requires a property owner to demonstrate that, at the time they acquired the property, they did not know and had no reason to know that any hazardous substance had been discharged at the property, by performing an "all appropriate inquiry" prior to purchase of the property. As stated in the New Jersey Spill Compensation and Control Act (Spill Act), any person who owns real property acquired on or after September 14, 1993 on which there has been a discharge prior to the person's acquisition of that property and who knew or should have known that a hazardous substance had been discharged at the real property, shall be strictly liable, jointly and severally,
without regard to fault, for all cleanup and removal costs no matter by whom incurred [N.J.S.A. 58:10-23.11g(c)(3)].
However, contrary to most states, New Jersey has not adopted the federal All Appropriate Inquiries rule (which can be satisfied by performing a Phase I ESA) but instead has its own unique definition for satisfying "all appropriate inquiry." Under N.J.S.A. 58:10-23.11g(d)(2), an "all appropriate inquiry" is defined as the performance of a preliminary assessment, and site investigation, if the preliminary assessment indicated that a site investigation is necessary.
As was again made very clear during a January 14, 2016 court ruling, a party buying property in New Jersey after 1993 must obtain a PAR in accordance with NJDEP rules in order to have a chance of obtaining innocent purchaser protection in the state of New Jersey. The decision was affirmed regarding environmental contamination at the Accutherm mercury thermometer manufacturing property in Salem County, that later became a Kiddie Kollege daycare. DEP v. Navillus Group, App. Div. Dkt. No. A-4726-13T3. In this case, despite advice of counsel, the defendants merely relied on various environmental reports, instead of performing a PAR; thus, no innocent purchaser protection was afforded them under the Spill Act, and they were liable for the contamination identified at their property.
IN SUMMARY:
If you're performing real estate due diligence in New Jersey and want to qualify for both federal and state innocent purchaser liability protections, you need to perform both an ASTM Phase I ESA, as well as a NJDEP PAR.
Here at Whitman, in addition to standalone Phase I and Preliminary Assessment reports, we also provide our clients a single, combined PA/Phase I report that concurrently satisfies both federal and state innocent purchaser protections.
If you have any questions regarding real estate due diligence in New Jersey, or would like a quote for any of Whitman's wide selection of the due diligence services, please contact Chemmie Sokolic, Whitman's Director of Due Diligence Services, at 732-390-5858 or csokolic@whitmanco.com.
FOR MORE INFORMATION CONTACT: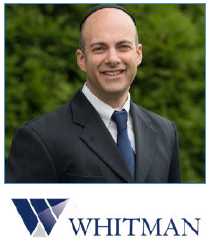 Chemmie Sokolic, Director
Whitman
7 Pleasant Hill Road
Cranbury, NJ 08512
(732) 390-5858 (phone)
(973) 931-2474 (cell)
(732) 390-9496 (fax)
How do you know if you have done Due Diligence for Commercial Properties? I hear statements like the one below all the time.
"I'm buying a commercial/industrial property; I need a Phase I Environmental Site Assessment (Phase I ESA)" or "I'm leasing a commercial/ industrial property; I don't need to worry about performing any due diligence because I'm not purchasing the property".
But is a Phase I ESA all you need, or is that too much? How much time do you have to perform your due diligence? How much money are you willing to spend? How much risk and potential liability are you willing to accept? These are all questions that you might want to consider as you proceed with your real estate transaction.
Download Printable Article (PDF) >>>
As I've discussed in an earlier article, when performing due diligence to obtain innocent purchase protection in New Jersey, one needs to perform both an ASTM Phase I ESA and a Preliminary Assessment (PA). But, is that really all you need as far as your due diligence is concerned? While a Phase I ESA or PA report helps provide protections against certain environmental liabilities, risks, and concerns – specifically, the federal Comprehensive Environmental Response, Compensation and Liability Act (CERCLA) or the New Jersey Spill Act, respectively – they don't protect against all liabilities, risks, and concerns. For example, these assessments typically don't include an evaluation for the presence of wetlands, asbestos, lead-based paint, or radon. Nor do they include an evaluation of the building's structural or mechanical condition, an evaluation of the building's energy use or waste management efficiency, or whether the facility operations are in current compliance with applicable state or federal regulations and requirements.
It's important to know which assessments you need, if any, because not all these due diligence concerns are necessarily your due diligence concerns. If you're only planning on leasing a facility, you may not be interested in determining the structural or mechanical integrity of the building envelope, since that would likely be the responsibility of the landlord. Or, if you're involved in litigation regarding the site, you may require a review of the historical conditions and regulatory status of the facility, but not necessarily need a comprehensive review of the current condition of the property. Perhaps you only need a limited scope of work now, such as a simple "desktop review", or a Phase I ESA for refinancing purposes, but you also plan on expanding the facility in the future; in this case, you may need to know if there are any restrictions to building construction, such as the presence of wetlands or engineering limitations at the site. It all depends on what you plan on doing at the site, both now and in the future.
So how do you know if you're paying too much for a due diligence assessment you don't necessarily need, or not performing enough due diligence to give you the protection you need and the comfort and peace of mind you expect?
Answer: Find a consultant whom you trust, and who specializes in environmental, engineering, and land use due diligence. Your consultant should be your advocate. Ask questions of your consultant, and expect your consultant to ask questions of you and what your current and future plans are for the property. If you don't feel comfortable or understand the answers, it may be best to discuss the matter further with other consultants to ensure you've made the best choice for your particular needs.
Here at Whitman, we have extensive experience in real estate due diligence. We work on many different types of projects with all types of clients, including individuals and corporations who want to buy a property, investors who want to sell their properties, banks that are overseeing a property refinance, companies that want to expand their operations, facilities that want to assess the efficiency and compliance of their current operations, businesses that want to rent a leasehold, attorneys who require historical information regarding former site operations, and the list goes on.
More than anything, we take pride in our commitment and dedication to our clients' best interests, and enjoy finding creative solutions for our clients' challenges. We look forward to helping you attain and then surpass your business goals.
To help you ascertain what level and amount of due diligence you may require, Whitman has designed a simple= "cheat sheet" that summarizes many of our due diligence services, and when you might consider utilizing them.
If you have any questions regarding real estate due diligence, would like a copy of the due diligence cheat sheet, or would like a quote for any of Whitman's wide selection of due diligence services, please contact Chemmie Sokolic, Whitman's Director of Due Diligence Services, at 732-390-5858 or csokolic@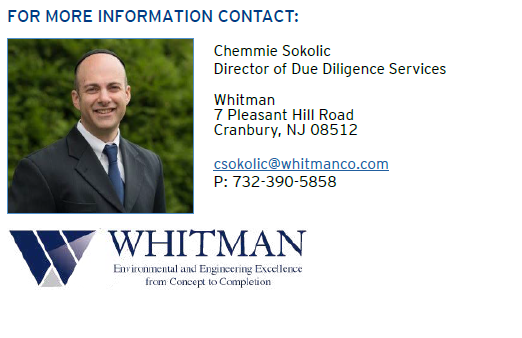 whitmanco.com.
Solar powers largest growth period in New Jersey was in 2011 and 2012 with many roof top installations being installed. These installations were constructed prior to the adoption of the most recent code (National Electric Code NEC 2014) and most likely were not designed with the newly required arc/ground fault specifications.
Download Printable PDF Article >>>
SO, WHAT DOES THAT MEAN FOR YOU?
Most likely, nothing if your system is well maintained on a monthly basis. But there are no guarantees that a fault might not occur even on a well-maintained system. Chances are that the solar panel system was designed and installed in accordance with the code at the time of the installation and the system is safely operating. But with the adoption of the new code came new requirements that has added levels of protection that can detect faults in the system. In addition, code changes added a rapid shut down system that acts as a panic button and can disconnect certain parts of the solar array to provide a better and safer system and help avoid potential roof fires that could lead to structure fires and extensive damage.
DO YOU NEED TO UPGRADE YOUR SYSTEM NOW?
It's not currently code-required, but if you want that comfort level of knowing that there is more protection, it may warrant an upgrade. But upgrades do not come cheap; some of the hurdles that one may face can range from replacing inverters and associated wires and strings, to just swapping out combiner boxes. Many previously-installed solar panel arrays are typically 600-volt systems using a 600-volt inverter. Unfortunately, many of the inverter manufacturers do not currently offer a line of 600-volts inverters because systems have generally been increased to 1000-volts and 1500-volts. Therefore, if the system would require an inverter change, selections may be limited and an alternate design might be required.
IN SUMMARY
If your building has an older solar array built prior to the new electric code, chances are that arc/ground fault protections may not be in place; however, the system may be able to be modified to provide some or all of the new protections. Whitman has experience in reviewing and designing upgrades to existing arrays and provides full turnkey design and support services. Whitman has more than 270-megawatts of solar design experience
in multiple States, that's about 43,200 houses.
If you have any questions regarding solar panel systems or would like a quote to review an existing solar array, please contact Carey Ruetsch, Vice President of Engineering at 732-390-5858, or cruetsch@whitmanco.com.