Tag Archives:
Solar
---
Solar powers largest growth period in New Jersey was in 2011 and 2012 with many roof top installations being installed. These installations were constructed prior to the adoption of the most recent code (National Electric Code NEC 2014) and most likely were not designed with the newly required arc/ground fault specifications.
Download Printable PDF Article >>>
SO, WHAT DOES THAT MEAN FOR YOU?
Most likely, nothing if your system is well maintained on a monthly basis. But there are no guarantees that a fault might not occur even on a well-maintained system. Chances are that the solar panel system was designed and installed in accordance with the code at the time of the installation and the system is safely operating. But with the adoption of the new code came new requirements that has added levels of protection that can detect faults in the system. In addition, code changes added a rapid shut down system that acts as a panic button and can disconnect certain parts of the solar array to provide a better and safer system and help avoid potential roof fires that could lead to structure fires and extensive damage.
DO YOU NEED TO UPGRADE YOUR SYSTEM NOW?
It's not currently code-required, but if you want that comfort level of knowing that there is more protection, it may warrant an upgrade. But upgrades do not come cheap; some of the hurdles that one may face can range from replacing inverters and associated wires and strings, to just swapping out combiner boxes. Many previously-installed solar panel arrays are typically 600-volt systems using a 600-volt inverter. Unfortunately, many of the inverter manufacturers do not currently offer a line of 600-volts inverters because systems have generally been increased to 1000-volts and 1500-volts. Therefore, if the system would require an inverter change, selections may be limited and an alternate design might be required.
IN SUMMARY
If your building has an older solar array built prior to the new electric code, chances are that arc/ground fault protections may not be in place; however, the system may be able to be modified to provide some or all of the new protections. Whitman has experience in reviewing and designing upgrades to existing arrays and provides full turnkey design and support services. Whitman has more than 270-megawatts of solar design experience
in multiple States, that's about 43,200 houses.
If you have any questions regarding solar panel systems or would like a quote to review an existing solar array, please contact Carey Ruetsch, Vice President of Engineering at 732-390-5858, or cruetsch@whitmanco.com.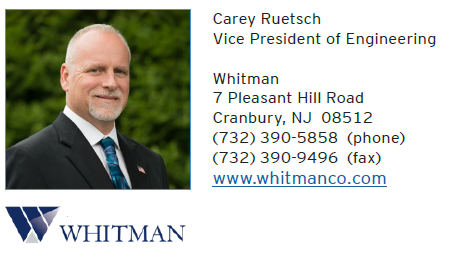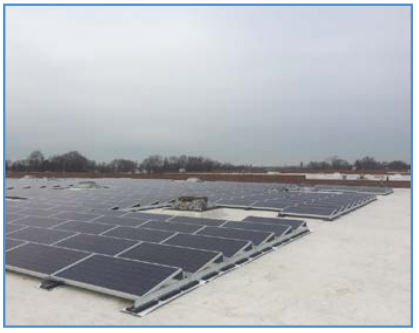 As we look towards 2017 in New Jersey, we are confident that commercial solar will continue to generate strong returns for landlords. In New Jersey, over 5,000 commercial properties have already adopted solar energy. Many more commercial property owners have considered solar energy. In addition, solar can help to differentiate a property and retain or attract tenants.
Reasons to be Optimistic about NJ Commercial Solar
1. Costs are Down
2. 30% ITC was Extended
3. Depreciation (Bonus MACRS) was Extended
4. SREC is Stable
5. Safety is Improved
1) COSTS
Solar panel costs have declined 30% – in just the last 12 months. As the global solar manufacturing industry grows, manufacturing improvements and scale efficiencies continue to drive down the cost of a solar panel. If you received a quote for a commercial solar installation more than 6 months ago, it might be time to refresh that quote.
2) 30% ITC
The ITC or Investment Tax Credit is a 30% tax credit on the cost of a commercial solar project. So, if a solar project costs $1 million, then you are entitled to a tax credit of $300,000. This credit is not a deduction, but is a full credit against tax liability due to the IRS. The 30% ITC was extended by Congress in December 2015 and now extends through December 31, 2019.
3) DEPRECIATION (BONUS MACRS)
In addition to the 30% ITC, the IRS allows an accelerated depreciation schedule for solar – almost 70% of the project cost can be deducted in the first two years. Solar projects completed in 2017 still qualify for this 50% bonus. This benefit was extended by Congress in 2015 and greatly enhances the tax advantages from a solar installation.
4) SREC
The SREC is another source of income from a commercial solar project. The value of the NJ SRECs (Solar Renewable Energy Certificates) continues to support strong returns on investment (ROI). There are many strategies to secure stable SREC pricing for the long-term. Your solar developer/installer should establish the optimal SREC strategy for your project before starting construction.
5) SAFETY
New technologies allow for much safer commercial solar installations. Solar panels can now be monitored and shut down individually. This allows solar companies to de-energize the panels when personnel operate on the roof. In addition, monitoring each individual panel maximizes output and increases income generated. This safety configuration will become more common in 2017 and should be considered on every commercial installation. Again, if your commercial solar proposal is over 6 months old, it might be time to request a refreshed quote from an experienced solar installer that now includes these solar panel optimizers.
ABOUT US
Keith Peltzman is president and founder of Independence Solar with offices in Cherry Hill, NJ and Boston, MA. Independence Solar is a turnkey installer of commercial solar energy. Since 2007, the team
has developed and built over $200 million of solar projects, including the largest rooftop solar array (9 MW) in North America at the Gloucester Marine Terminal in NJ. Independence Solar forges long-term partnerships to maximize returns on our customers' commercial solar energy investments.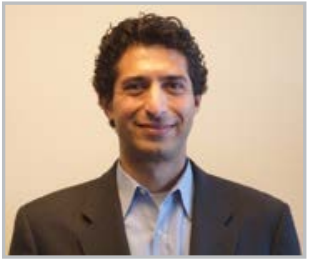 Keith Peltzman
President & Founder
1008 Astoria Boulevard
Suite E
Cherry Hill, NJ 08003
856.393.1250
This article explores the solar resurgence in New Jersey based on SREC prices and increased financing opportunities. Special thanks to Keith Peltzman, President of Independence Solar for writing this article for Wolf Commercial Real Estate.
SOLAR RESURGENCE IN NJ: SRECS & FINANCING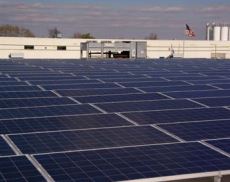 The economic return for solar energy in NJ has experienced cycles of highs and lows. Currently, the NJ state incentive for solar (the SREC), is at a 4-year high – approaching almost $300. At this SREC value, the annual return on investment (ROI) for solar is 15 – 25%. In addition, sophisticated new financing structures allow for solar with no upfront cost that can generate $2 per square foot in incremental operating income. With high SREC values and financing, solar is experiencing a resurgence in NJ. If you own property or are a tenant, this would be the ideal time to review the numbers for solar energy at your property. There are now almost 50,000 solar installations in NJ and many of your neighbors are already reaping these financial benefits.
Top reasons for solar resurgence in New Jersey:
A) SREC Pricing
Due to an undersupply of solar projects in NJ in 2015, the SREC price has increased above $200 and has even recently approached $300. In addition, long-term SREC pricing can be secured via forward contracts for 3-10 years. This strategy removes long-term SREC pricing volatility from a solar investment and supports financing. This chart illustrates recent trends in NJ SREC pricing: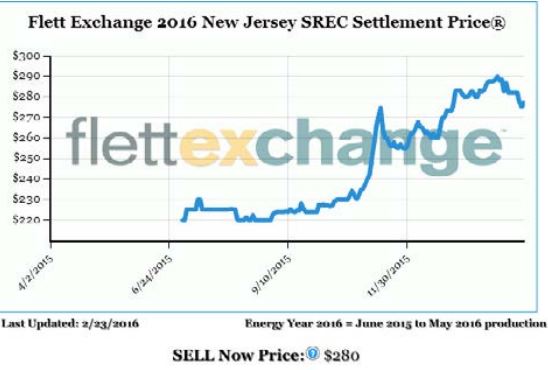 B) Financing Structures
There are now multiple financing structures that allow for solar with no upfront investment. With financing in place, solar generates net positive operating income from day one. In many cases, solar would create $2 per square foot in incremental operating income after debt repayment. Some of these financing structures are outlined below. The most appropriate structure will be a function of your:
1) tax position and 2) balance sheet and credit. I would recommend consulting with an experienced commercial solar company and your tax advisor to determine which approach would make the most sense.
1. Line of Credit
• Leverage existing banking relationship
• 3-5% interest rate
• Minimal fees
2. Project-Specific Loan
• Create new solar-specific LLC
• No recourse back to company
• Tax benefits accrue
• Cash flows of solar project support debt payments
• 5-8% interest rate
3. Operating / Tax Lease
• If unable to monetize tax credits
• Lender absorbs tax benefits
• Borrow 100%, but repay only 60 – 70%
4. 3rd-Party Ownership ("PPA")
•Investor owns solar on your property
•In return, receive rent or discounted price for electricity
•10-20 year contract to purchase solar electricity ("PPA")
For more information on the solar resurgence in New Jersey, please contact: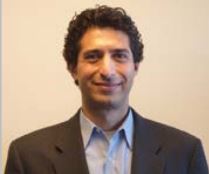 Keith Peltzman President & Founder
1008 Astoria Boulevard
Suite E
Cherry Hill, NJ 08003
856.393.1250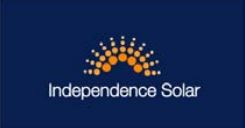 About Independence Solar
Keith Peltzman is president and founder of Independence Solar with offices in Cherry Hill, NJ and Boston, MA. Independence Solar is a turnkey installer of commercial solar energy. Since 2007, the team has developed and built over $200 million of solar projects, including the largest rooftop solar array (9 MW) in North America at the Gloucester Marine Terminal in NJ. Independence Solar forges long-term partnerships to maximize returns on our customers' solar energy investments. Keith Peltzman President & Founder 1008 Astoria Boulevard Suite E Cherry Hill, NJ 08003 856.393.1250