Tag Archives:
office design trends
---
There has recently been a shift in commercial office design trends to incorporate more residential and hospitality elements. The office of the last 30 years reflected the 'organizational office' structure with the Boss in the best corner windowed office, his/her associates situated next door, support staff seated in cubicles, and the lunch room in the interior. Your rank was determined by office size and amount of windows. There was a separation of decision makers from the workers.
The onset of the computer started to change these office design trends in which all employees regardless of hierarchy could type their own work. The relationship of support staff and decision makers started to adapt. You see this reflected in the ratio of support staff to executives. In corporate law firms what used to be a 1-1 ratio can now be as many as a 5-1 ratio.
Download Full Printable Article (PDF)>>>
Office Design Trends Pushed by Millennials
Over 75 million millennials aged 18 to 35 have entered the workplace in which they challenge autonomy, flexible hours, and ample options on where and how to work. Today's technology has pushed us far from traditional office operations and caused a large impact on the office design trends. The staff has become unfettered from their desks and has the ability to work freely within or out of the workplace.
This along with the rising cost of real estate has made the once standard large office of 300 square feet almost disappear. Our electronic-dependent work creates a need for more diverse spaces to work. The amount of drywall partitions changed and open plan work stations with low panels prevailed.
The integration of technology is no longer limited to a conference room or a work surface. It has become readily available throughout the break out spaces which allow for better and faster communications.
Interior glass is now a prominent element in the work place to welcome natural light and creates openness in the office that engages executives and support staff alike. Staff is spending much more time in the office therefore they want it to feel more like home. This has forced a collapse of the boundaries between staff and work associated spaces. More creative environments are being designed. Elements from hotel and residential interiors are being introduced in to the office. There are café's instead of lunch rooms, wellness centers, living room- like meeting spaces, and conference rooms with top shelf food & beverage opportunities. Many offices use their reception areas as entertainment spaces for their clients. Suburban office parks are re-visioning their public space and large lobbies are now incorporating break areas and food opportunities Due to new office design trends we recommend companies create an audit to see how they can improve the office dynamic and create a nourishing space. This can be accomplished by asking these simple questions:
Office Design Trends #1. Generic standards vs. actual needs
Can you reduce the rentable square footage by understanding exactly what each staff group needs to feel comfortable in t heir job?
Office Design Trends #2 Support of how different people work
Does the staff have adequate access to private and collaborative spaces as their job requires and as each individual can be most productive?
Office Design Trends #3 Occupying a healthy environment
• Does the HVAC properly vent heat and cool?
• Are the lights LED which are closer to natural light or are they artificial light (florescent)?
• Is there exposure to natural light?
• Is there visually stimulating color and patterns?
• Are vending machines filled with healthy enriching snacks or sugar and carbohydrates?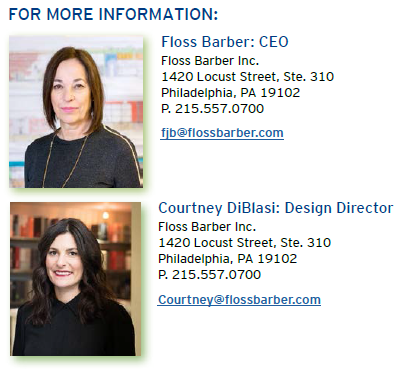 *All Images Shown are of Floss Barber, Inc. Projects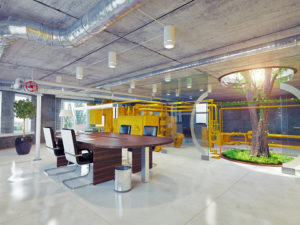 Lets explore office design trends for 2017. With the developing workforce becoming more mobile, it's important to make your working place inspiring and fun to be inside of. With large organizations like Google, Linkedin, Facebook, and Snapchat, the modern workplace is always a topic of conversation that we see when initially designing our client's space. Even with the popular modern style that our clients want, it's important to make sure that your team can work more effectively and efficiently.
As a result of this, 2017 could be the year that will begin a revolution in workplace design. Here's why:
Office Design Trends in Interchangable Layouts
In today's world, technology is rapidly changing to keep pace with the dynamic work environment. It is of utmost importance that the workplace is customizable and changes according to the task being done. Work Stations should be easily able to adapt to the changing work conditions and it the most important aspect which will be considered for designing office space in 2017. To design a workplace which works efficiently in future, you need to take some radical and unique decisions while choosing your office furniture.
Office Design Trends for Supporting Future Growth
For developing flexible layouts, you need to have furniture which will serve the demands of the new and changing workforce. You need to make smart choices which will help you to support an employee friendly, well-designed, and at the same time flexible workplace.
Office Design Trends for Integrated Technoology
You need to design your workplace so that can integrate with technology seamlessly. There is also the need to transform the workplace according to the modern trends such as cloud computing and wireless charging.
Office Design Trends for Development
In the recent times, modern architects and designers alike have promoted induced well-being as an integral part of the workplace design. As the health and increased productivity of the employees is of utmost importance, this sort of design will aid in the holistic development of the workforce at your office. Such innovations in workplace design make sure that the productivity of your staff is very high.
Office Design Trends to Bring In the Outdoors
You need to create a workplace which brings in all the benefits of the outdoor environment into your place of work. Every office worker spends more than eight hours a day inside the four walls of your office. Hence, you need to bring the benefits of the natural environment into the workplace so that the employees do not feel cut off from the outside world. One such innovation is be living walls which add a part of nature to your workplace as a result of which there is increased air purity, freshness, and cleanliness in the office space.
Work-Based Office Design Trends
This technique combines two vital factors – The need for more privacy sometimes and improved collaboration during other times together in the same space. Some work places have open offices which promote teamwork among workers and at the same time maintains their privacy. For this reason, pods which are small, brightly colored cubicles have been introduced which help in removing background noise and prevent others from disturbing you.
For more information about Boomerang Office Furniture: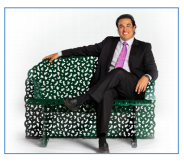 Josh Smargiassi: Principal
Boomerang, Inc.
6950 Sherman Lane
Pennsauken, NJ 08110
P. 856.582.0100
F. 856.582.0104
www.boomerangofficefurniture.com