Tag Archives:
Hutchinson Heating and Air
---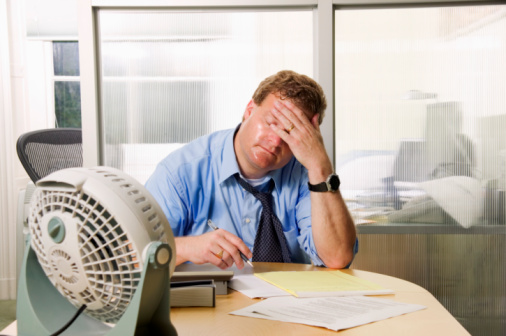 2017 Commercial HVAC tips. The June 21 Summer Solstice marked the official start of summer! And with that comes fun times at the shore, BBQs… and hot and humid weather! But don't sweat, with a little planning, you can ensure a comfortable working environment in your office.
Hutchinson, a leading energy services and mechanical services contractor serving the Tri-State Region's commercial customers, offers tips to help add life to HVAC systems, keep you feeling comfortable, and improve the bottom line.
Get an AC inspection and tune up.
Hutchinson's certificated technicians will test the HVAC system to determine if any repairs are needed. Preventive maintenance will keep the system running smooth and efficiently, and extend its service life, too.
Change filters.
It's a new season, which means it's time to change your filter. As a rule of thumb, change filters every quarter or as needed.
Install programmable controls.
Get peace of mind knowing your AC is set just right – not too low and not too high – with a 21st century control system. It provides greater efficiency and can be controlled from a mobile device. Plus, Hutchinson's Honeywell Web Certified technicians can access temperature controls online, and quickly monitor and repair any heating or cooling issues remotely.
Get ductwork inspected and cleaned.
Leaks or cracks can reduce energy efficiency in HVAC systems and result in higher utility bills. A duct system that's properly cleaned and sealed can save businesses money and promote wellness and comfort.
Keep outdoor areas clear.
Check out your exterior HVAC unit. Is it clear from brush and debris? Make sure plants or branches aren't blocking or touching the unit. A good rule of thumb is to have two feet of clearance around the unit.
To learn more about Hutchinson and its energy service offerings, contact Dicoordinator@hutchbiz.com or call 888-777-4501 to schedule an energy assessment.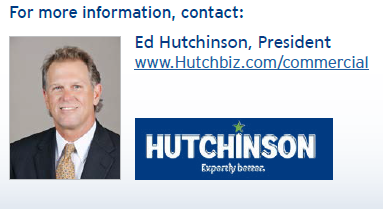 Is your commercial HVAC system winter ready? Whether your system needs an upgrade or a tune-up, Hutchinson Mechanical Services is the region's "go-to" provider of commercial HVAC services for commercial properties. Check out these HVAC tips to help add life to your system, enhance comfort and improve your bottom line.
COMMERCIAL PROPERTY WINTER HVAC MAINTENANCE TIPS (PDF)
By Ed Hutchinson, President Hutchinson Mechanical Services
1. Use Energy Star Portfolio Manager
Use Energy Star Portfolio Manager to see how your building rates with other similar buildings. If you rate low, there are many things you can do to improve the operation of your building.
2. Check HVAC settings to get maximum efficiency.
Set your thermostat at 68°during the day and at 60° at night. You can save approximately 3% on heating costs for every degree under 70.
3. Conduct daytime/nighttime audits.
Check to see if the lights are on. Is the building comfortable?
4. Install a programmable thermostat.
A web and cloud based control system offers peace of mind by keeping settings maintained during and after office hours.
5. Establish a preventive maintenance program.
• Change or clean all air filters, preferably every month.
• Repair leaks in piping, air ducts, coils, fittings and at the unit(s).
• Replace defective equipment insulation, ducting and piping.
• Install/upgrade HVAC controls to include new energy management systems technologies.
6. Clean Heating Ducts
Heating ducts should be cleaned periodically to allow efficient heating and provide fresh, clean air. Also check to make sure the ducts are properly insulated.
7. Take Advantage of Energy Efficient Programs
Hutchinson has once again been named a designated contractor of Direct Install, a program offered by New Jersey Office of Clean Energy that pays up to 70% of energy upgrades, including lighting and HVAC equipment. Instead of pumping money into your outdated, inefficient units, why not upgrade to a new,
state-of the-art energy-efficient system?
Contact Hutchinson at 888-777-4501 to schedule an energy assessment appointment.

Ed Hutchinson, President
Hutchinson Heating and Air
T: 888-777-4501