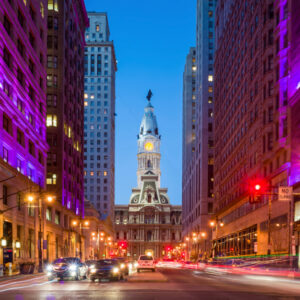 The Philadelphia commercial real estate market is among one of the largest in the nation. The market continues to grow, even after taking a hit with the pandemic. If you have an interest in a commercial property in Philadelphia or the region, let WCRE be your guide…we have a wealth of knowledge and experience in the area, and we know how to find you the ideal location for your business, office space, or property investment.
Philadelphia, the sixth-largest city in the United States as measured by population, serves as a cornerstone of American and Native American history, a mecca for area fans of professional sports, and as the home to numerous attractive Philadelphia commercial real estate listings. It's become home to major corporations of every type, including Comcast, Duane Morris, Nutrisystem, Sunoco, Vanguard and many more.
Why invest in commercial real estate in Philadelphia? The city is, and continues to be, a thriving destination for businesses. The city is widely diverse in its demographics, and has a suburban population that reaches well into eastern Pennsylvania and South Jersey. Public transportation serves the city well, especially from the suburbs, but it's not terribly difficult to access by car either, with several bridges and major highways offering access.
Businesses come to Philadelphia because people love living in the area. While there is plenty of excitement and energy in the city itself, the city still offers a much slower, more relaxed pace than New York City 90 miles away. Philadelphia offers beautiful areas to live in both in and outside of the city, and the Jersey Shore just over an hour away is a favorite vacation spot for locals. In addition, the city and region are served by some of the most prestigious education institutions in the country, including Villanova, Temple, Rutgers, St. Joseph's and many others.
The city is also a first rate food destination. While it is well-known for the fabulous cheesesteaks at iconic places such as Pat's, Gino's, Jim's and Tony Luke's, Philadelphia is hardly a one-trick pony when it comes to culinary delights. The Reading Terminal market alone could easily provide visitors and employees with first class meals of every cuisine imaginable each day. For an upscale evening, there's no shortage of fine dining…the city is home to Le Bec Fin, The Prime Rib, Lacroix and many more.
Philadelphians are proud of their city…and they love their sports teams. It is one of just 11 U.S. cities that has teams in all four major sports – the Phillies of Major League Baseball, the Eagles of the National Football League, the 76ers of the National Basketball Association, and the Flyers of the National Hockey League. Among these four, the Eagles are the most recent world champions in their sport, winning the Super Bowl in 2018. The sports complex is a major part of what defines this city…Philadelphia sports fans are passionate, show up for games and consider their teams a part of their identity.
While the 2010 U.S. Census reported Philadelphia as the fifth-most populous city with 1,526,000 people, its position was usurped by formerly sixth-place Phoenix (1,445,000 residents in 2010) in 2016 when the government issued its mid-term update. Those new numbers reported 11.7 percent growth in the Phoenix population versus just 2.7 percent growth in Philadelphia. In raw numbers, that resulted in a population of 1,615,000 for Phoenix and of 1,567,000 for Philadelphia. An important factor in this shift is that Phoenix, at 517 square miles in area, is nearly four times (3.85 times) larger than the 134-square-mile City of Brotherly Love.
Philadelphia also has a history that people from all walks of life can appreciate. The city that now bears the name Philadelphia – literally from the Greek "philos" (love or friendship) and "adelphos" (brother) – was known as Shackamaxon by the original residents of the Lenni Lenape Native American Nation. As a harbinger of the events that would lead to the creation of the United States of America, Shackamaxon – which itself means "make a chief place" – is where multiple generations of Lenni Lenape "sakima" (chief) or "kitakima" (big or clan chief) received investiture.
In addition to its importance in Native American history, Philadelphia played a major role in the creation of our country, going back to its late 17th Century days as a Quaker settlement. William Penn, the founder of Philadelphia who eventually would lend his name to the colony and the state, wanted the city to be a place of tolerance, where residents could worship as they please. This is what's believed to have led to Philadelphia's rapid growth and its position as America's most important city of that time.
That importance is reinforced by all the "firsts" credited to Philadelphia. Not only was the city the first capital of the United States, but also was the birthplace of the United States Marine Corps as well as the first library, first hospital, first medical school, first business school; first stock exchange, and first zoo. It's also the only World Heritage City in the United States (a designation held by fewer than 250 cities worldwide).
As you can see, there are opportunities of every kind for a commercial real estate investment in the city of Philadelphia and the region…whatever your type of business, with the right location and planning, it can prosper and provide a return on your investment!
When you are in the market for Philadelphia commercial real estate, contact Wolf Commercial Real Estate. WCRE is the foremost broker in the region, and we provide a full range of Philadelphia commercial real estate listings and services, property management services. We specialize in marketing commercial offices, medical properties, industrial properties, land properties, retail buildings and other Philadelphia commercial properties for buyers, tenants, investors and sellers.
In addition to Philadelphia, WCRE services the surrounding suburbs of Bucks County, Montgomery County, Delaware County, Chester County, Berks County and places like: Bala Cynwyd, Trevose, Blue Bell, West Chester, Conshohocken, Malvern, Newtown, Ardmore, King of Prussia and Phoenixville
You can view all of our properties online or follow us on social media to see new properties as we add them. We are very active on Facebook, Instagram and Twitter.
Explore Greater Philadelphia Commercial Real Estate:
Philadelphia Listings:
1760 Market Street
Philadelphia, PA 19103

First Class Office Sublease in Philadelphia

Property Type: Office

Space Available:

+/- 5,636 SF

For More Information Contact

Rodin Place
2000 Hamilton Street
Philadelphia, PA 19130

Unique Opportunity at Rodin Place

Property Type: Medical, Office

For More Information Contact

6741 Essington Ave
Philadelphia, PA 19153

Industrial Building Available for Sale

Property Type: Industrial, Retail

Space Available:

+/- 4,182 SF

For More Information Contact

1200 Locust Street
Philadelphia, PA 19107

Premier Philly Medical Office Building For Sale

Property Type: Medical, Office

Space Available:

+/- 7,045 SF

For More Information Contact

1804-1808 East Passyunk Avenue
Philadelphia, PA 19148

Premier Retail Space Available For Lease

Property Type: Retail

Space Available:

900-2800 SF

Skip to content