Bucks County Commercial Real Estate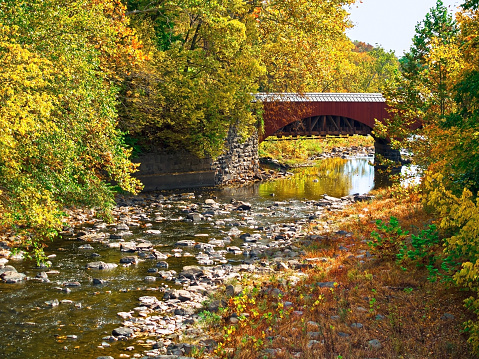 Bucks County Commercial Real Estate Offers A Historic, Creative Past with Future Commercial Real Estate Possibilities
Bucks County, one of the original Pennsylvania counties established by William Penn, has been, and still is, home to many well-known artist and writers, and contains numerous tracts of commercial real estate for sale or lease.
Penn received a royal charter from England's King Charles II on March 4, 1681 for the land that currently makes up the states of Pennsylvania and Delaware in exchange for forgiveness on debts the king owed to Penn's father. The king's gift to Penn was one of four major land grants he made during his reign (1649-1685); the other three were the Province of Carolina (North and South Carolina), the Colony of Rhode Island and Providence Plantation, and the Connecticut Colony.
In the Province of Pennsylvania, Bucks County was one of the first administrative segments into which Penn divided his land, along with Chester, Montgomery, and Northumberland counties as well as the city/county of Philadelphia. Over the years, Bucks County was sliced and diced to create six other Pennsylvania counties – Carbon, Lehigh, Monroe, Northampton, Schuylkill, and Wayne.
Penn named the County after the county in which he and his father lived in England – Buckinghamshire – and he also chose to build a country estate in the county, in Falls Township, that he named Pennsbury Manor. Several other names were imported by Penn and used in Bucks County. These include the municipality of Buckingham Township, Chalfont Borough, to honor Chalfont St. Giles, the name of the home parish of Penn's first wife's Gulielma; along with Solebury Township and the community of Wycombe in Wrightstown Township.
Bucks County played a key role in the fight for American independence in the late 18th Century. Gen. George Washington's troops left their camp in McKonkey's Ferry and crossed the Delaware River on the morning of December 26, 1776 on their way to winning the Battle of Trenton against the mercenary Hessian soldiers fighting on the British side of the war. That victory is widely acclaimed as a turning point in the conflict and, as a result, the Bucks County town of Washington Crossing, Pa., and the adjacent Washington Crossing Historic Park were named to commemorate the event.
Many nationally and internationally famous artists and writers have lived and worked, or currently live and work, in Bucks County; quite a few in picturesque stretch that runs from the county seat of Doylestown Borough to New Hope and then along the Delaware River. A partial list of such luminaries includes Pearl S. Buck, Oscar Hammerstein II, Stephen Sondheim, Charlie Parker, Moss Hart, Dorothy Parker, and James Michener, whose novel The Fires of Spring takes place in and around Bucks County.
Three of M. Night Shyamalan's movies were filed and take place in Bucks County. The 2002 flick Signs, starring Mel Gibson, was shot in Newtown Borough, Morrisville Borough, Doylestown Township, and Bensalem Township. His 2006 film Lady in the Water was shot in Bristol Township and the 2008 film The Happening was produced in Plumstead Township.
As of the 2010 census, the population of Bucks County was 625,249, making it the fourth-most populous county in Pennsylvania. When you are in the market for Bucks County commercial real estate, contact Wolf Commercial Real Estate. WCRE, a full-service CORFAC International brokerage and advisory firm, is the foremost Bucks County commercial real estate broker that provides a full range of Bucks County commercial real estate listings and services, property management services, and marketing commercial offices, medical properties, industrial properties, land properties, retail buildings and other Bucks County commercial properties for buyers, tenants, investors and sellers.