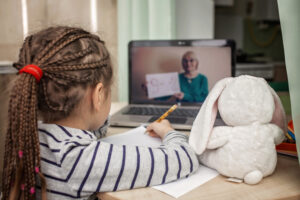 The Department of Education will provide guidance later this week for parents that will allow them to opt for all-remote learning for their children this fall.
The Murphy administration needs to meet and deal with "a lot of moving parts with this," the governor said.
"This is about as complex a step as we will take or as any American state will take and we want to get it right, Murphy said.
Murphy said he still favors having in-person learning during the fall, but he has not ruled out shifting entirely to remote learning if there's an uptick in cases.
Parents and teachers, however, have called for having some sort of online system available, and a number of educators and parents have said they won't participate in in-person education.
"We want to do it responsibly. We want to respect public health but we also want to do everything we can to try to recapture that magic of some semblance of in-person education that no state does like New Jersey," he said.
Murphy said having a number of students opt for remote learning will address "capacity and density" concerns that teachers and parents have, and how many desire to have smaller, socially distant classrooms.
Murphy has issued a list of rules and guidelines for reopening schools this fall amid the coronavirus outbreak. Read more: Gov. Murphy Issues NJ School Reopening Rules Amid Coronavirus
New Jersey teachers, meanwhile, have developed what may be considered a strict set of possible ground rules for getting kids back to school in the fall. Read more: NJ Teachers Develop Possible Back-To-School Coronavirus Rules
Murphy said he's still expecting to have in-person learning in some form, and many districts are supposed to have plans released by early August.
New Jersey's numbers continue to decline, he noted, and the state's single-day death toll hit its lowest number on Monday since March 23.