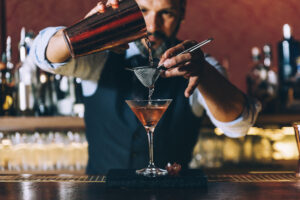 Governor Tom Wolf has signed a bill Thursday which allows the temporary sale of cocktails-to-go from bars, restaurants, or hotels with a liquor license. Act 21 of 2020 takes effect immediately.
"This new temporary rule creates more business for bars and restaurants when they need it, helps to meet customer demand and supports social distancing," Wolf said in a release from his office. "As we approach the holiday weekend, I encourage all Pennsylvanians to remember to drink responsibly."
The governor's office said the law applies to bars, restaurants and hotels that have lost 25 percent of average monthly total sales during the COVID-19 emergency.
The prepared beverages and mixed drinks must be sold in containers with a secure lid in quantities from 4 oz. to 64 oz. An additional seal is required on the straw opening of a lid.
Establishments can sell the drinks from 7 a.m. to 11 p.m., Monday through Saturday, and from 9 a.m. to 11 p.m. on Sundays, if they have a Sunday Sales Permit. Payment may occur at curbside.