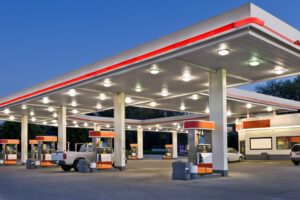 Seven & i Holdings Co., the world's largest convenience store retailer and parent of 7-Eleven stores, is bulking up with a $21 billion cash purchase of Speedway gas stations, a deal made during a deep decline in gas sales because of the coronavirus pandemic.
Betting that consumers will get back behind the wheel in due time, the Japan-based parent that operates 69,000 stores worldwide purchased Speedway's 3,800 stores in the United State and Canada from Marathon Petroleum as part of a growth strategy. The company's North American subsidiary 7-Eleven was the buyer.
The 7-Eleven franchise chain, known for its iconic Slurpee, Big Bite and Big Gulp brands, has been around in some form since its founding in Dallas in 1927. It originally was an icehouse storefront selling bread, milk and eggs called Tote-m Stores because the goods were carried out.
It changed its name to 7-Eleven in 1946 to reflect the extended hours of 7 a.m. to 11 p.m., seven days a week — an unheard of concept then. Since 1971, stores have been open around the clock.
In July, the company hit what it called a significant milestone when it opened its 71,100th 7-Eleven store in Seoul, South Korea. "The company got its start because an entrepreneurial ice dock employee saw his customers had a need and came up with a creative way to serve them," Joe DePinto, 7-Eleven's chief executive, said in a statement then. "A lot has changed in how, when and where 7‑Eleven does business."
The company claims it was the first convenience store to sell gas and to offer ATM services. It also was the first to sell to-go coffee and claims bragging rights to the phrase "BrainFreeze," which it trademarked, to describe the head-pain reaction to drinking its familiar frozen beverages too quickly. Over the years, it has expanded into fresh food and more groceries.
"This is a historic first step as we seek to become a global retailer," Seven & i CEO Ryuichi Isaka said on a conference call with investors and analysts Monday.
When the deal is completed early next year, 7-Eleven's already wide North American footprint will expand to more than 14,000 with a presence in 47 of the top 50 metropolitan areas, "positioning the company as a clear industry leader in a fragmented industry with favorable macroeconomic trends," according to a statement.
"This acquisition is the largest in our company's history and will allow us to continue to grow and diversify our presence in the U.S., particularly in the Midwest and East Coast," DePinto said in a statement.
Seven & i reported that 7-Eleven's sales in North America generated 40% of its total revenue, up from a third only five years ago. Speedway broke off its long-standing convenience store relationship with coffee and doughnut chain Dunkin' earlier this year.
Marathon, like other fuel makers, has been shedding its retail components and shutting down refineries in recent months as fuel demand has plunged as consumers have worked from home and mostly stayed close to their neighborhoods. At the same time, jet fuel demand has plummeted as fewer travelers take to the skies, pressuring both ends of the industry.
Marathon also had been bullied by shareholder activist groups last year to get rid of the retail component. The Wall Street Journal reported initial talks between Marathon and Seven & i Holdings fell apart in March as the pandemic was gaining hold but talks got back on track in June.
"This transaction marks a milestone on the strategic priorities we outlined earlier this year," Marathon CEO Michael Hennigan said in a statement. "Our announcement crystalizes the significant value of the Speedway business, creates certainty around value realization and delivers on our commitment to unlock the value of our assets."
Marathon said the transaction is expected to generate $16.5 billion after taxes that it will use to pay down debt and return capital to shareholders. The company expects to supply 7-Eleven with about 7.7 billion gallons of gas over the next 15 years, according to the deal.