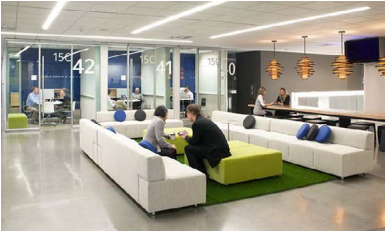 In the world of corporate interiors, collaborative work space is becoming more and more popular. The idea of working anywhere within an office has become a reality. The collaborative space has proven to be a central hub in an office allowing employees to meet, work and socialize at any given time.
Meeting around the water cooler is no longer the norm. This trend has effectively caused former office dwellers to engage more with their colleges. Recent studies have shown an uptick in productivity within corporations that have adopted this practice. Open space is effective, efficient and can help companies with their construction budgets when building new or expanding an office. A&D firms have been looking to manufacturers for ideas with space planning to help incorporate the look and feel for the 21st Century worker.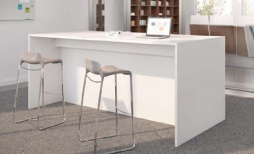 Collaborative work space can be designed to fit within any type of office and in any location. Kitchen nooks, gaming spaces and lounge areas are just some examples of collaborative space. One of the most popular furniture products is the Hub table. The hub table is simple yet effective, allowing employees to open a lap top or have a quick group meeting. These tables can be powered and loaded with technology features depending on the requirement.
These products and many more are offered by Innovative Commercial Interior, a furniture dealer based in Central New Jersey and servicing the greater Delaware Valley Region. For more information on collaborative space and new products which enhance productivity and help make formerly unusable space effective please contact us at:
www.icifurniture.com