Jason M. Wolf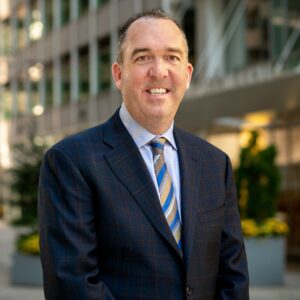 EDUCATION
BS | Business Administration
Temple University, Fox School of Business & Management
Real Estate and Business Law- Dual Major
PROFESSIONAL ACCOMPLISHMENTS
February 2012-Present
Managing Principal & Founder | Wolf Commercial Real Estate (WCRE)
A full-service Southern New Jersey and Philadelphia based commercial real estate brokerage, management and advisory firm that provides a complete range of real estate services to commercial property owners, tenants, investors, developers, banks, commercial loan servicers and companies seeking high level, client-focused relationships.
June 1995-January 2012
Senior Vice President | Principal Colliers International
Jason Wolf began his career at Colliers International as a salesperson. During his tenure with Colliers, Jason earned four promotions and was made a shareholder of the company.
AREAS OF EXPERTISE
Jason Wolf has 28 years of Landlord, Tenant and Corporate representation experience specializing in office, retail, medical, industrial and investment properties in Southern New Jersey and the Philadelphia region. Jason also has extensive corporate services experience representing Fortune 500 and mid-size companies throughout the U.S.
AWARDS
2018 Outstanding Corporation- Awarded by Association of Fundraising Professionals Southern New Jersey Chapter
Costar Power Broker Award- Recognized by CoStar Group (NASDAQ: CSGP) as one of the region's "Top 20 Leasing/Sales Brokers". Won in 2005, 2011, 2013, 2014, 2015, 2016 and 2017.
Colliers Multi-City Assignment Award (MCA) – Received for most multi-city business closed within Colliers. Won twelve consecutive years 2000-2011.
Colliers Everest Sales Volume Award – Highest sales volume within the office specialty division at Colliers. Won twelve consecutive years 2000-2011.
Liberty Property Trust (NYSE: LRY) 2011 Largest Office Lease and Office Disposition/Investment Sale Award Recipient for Southern New Jersey.
AFFILIATIONS
New Jersey and Pennsylvania Broker of Record for real estate practices
Member, National Association of Realtors
Member, International Council of Shopping Centers (ICSC)
Dean's Executive Advisory Board, Stockton University
Advisory Council, Columbia Bank
Member, Jefferson Health New Jersey Business Council
Board Member, Samaritan New Jersey
Board Member, Bancroft
Board Member, Jefferson Health New Jersey Foundation
Board Member, Jefferson Health New Jersey Foundation
Board Member, Samost Jewish Family & Children Service (JFCS) of Southern New Jersey
TENANT CLIENTS SERVED
American Water Company, Aerotek, Inc., Bally Gaming, Carlisle & Associates, Continuum Health Alliance, Cooper Health System, ExamOne Worldwide, Freedom Mortgage Corporation, Hair Club for Men, Henderson Engineers, Inc., LabCorp, Law Offices of Mark J. Udren, Pennoni Associates, Phillips & Cohen Associates, Quest Diagnostics Incorporated, Traveler's Insurance, Trion, Inc, Baratz & Associates, P.A., Kitchen & Associates, Farmers Insurance, Capital Wealth Advisors, Advocare, Bala Financial Group, Jewish Federation of Southern New Jersey, Weisman Children's Rehabilitation, YALE Schools, GBA Mattress, UTRS, SUN National Bank, Evesham Board of Education, Westampton Friends Academy, Hyland Levin LLP, Mand Marblestone, Virtua, Samaritan NJ, BioReference Labs
LANDLORD CLIENTS SERVED
Brandywine Realty Trust, Liberty Property Trust, Needleman Management Company, NFI Real Estate, LEVCO Enterprises, Davis Enterprises, Veritas Real Estate Investment, The Quaker Group, Tequesta Properties, Fentell Corporation, Kaiserman Management, Rothman Institute, J & R Investments, Gramercy Capital Corporation, Behringer Harvard, Somerset Properties, Greenfield Partners, Endurance Real Estate Group, Whitesell, Bloom Organization, ARC Properties, LEVCO Enterprises, New York Community Bank, Antebi Properties, Dugan Construction, Onyx Equities, Urban Edge Properties. PSDC, The Jemstone Group, Pennmark Management, Zamir Equities, Welltower REIT, Nassimi Realty, Nessel Development
CONTACT DETAILS
P 856 857 6300
D 856 857 6301
F 856 283 3950
M 215 588 8800