Colwick Business Center, 53 Haddonfield Rd., Cherry Hill, NJ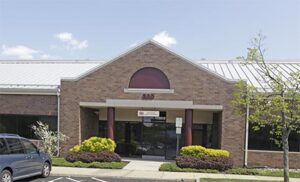 WCRE is proud to have successfully represented Colwick Property, LLC (an affiliate of Endurance Real Estate Group) in the leasing and marketing of approximately 10,000 square feet of office space at The Colwick Business Center in Cherry Hill, NJ to High Focus Centers.
High Focus Centers is New Jersey's premier provider of structured outpatient substance abuse and psychiatric treatment programs.
Colwick Business Center is located just west of the Cherry Hill Mall on a stretch of Haddonfield Road that has recently undergone a substantial redevelopment renaissance. The area features affluent residential communities, retail centers, hotels, and other amenities attractive to office tenants. The mall has undergone a complete overhaul in the last few years with the opening of Nordstrom and many other high end retail stores and restaurants. The retail corridor in the vicinity continue to expand, and the Garden State Towne Center, home to Wegman's, Best Buy, Home Depot, Dick's Sporting Goods, and other high-end retailers, is conveniently located a short distance away.
Available remaining suites at Colwick Business Center range from 2,850 to 61,694 square feet (divisible), and include one of a very few premier vacancies over 60,000 SF in the area. A marketing brochure and tenant information package is available upon request.
Jason Wolf, Managing Principal and Leor Hemo, Executive Vice President of WCRE exclusively represented the landlord in this transaction.