222 Haddon Ave., Westmont, NJ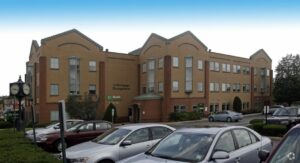 WCRE is proud to have successfully represented FMP Properties in the exclusive leasing and marketing of an approximately 4,000 square foot office lease located at 222 Haddon Avenue in Westmont, New Jersey to Forensic Solutions LLC.

222 Haddon Avenue is located in the heart of the quickly growing Haddon Township business corridor. This 28,000 square foot, three-story elevator-served office building shares a parking lot with PATCO Westmont speed line station and is within minutes from Philadelphia, Pennsylvania.

FMP Properties purchased and renovated this building in 2016 and maintains its headquarters there. The ownership of 222 Haddon Avenue is committed to best-in-class customer service and is seeking to make aggressive lease deals. The building features highly efficient office suite layouts and within immediate proximity to many desirable retail amenities.
This multi-tenanted office building has 5,300 square feet remaining for lease.

Chris Henderson, Vice President of WCRE exclusively represented the Landlord in this transaction.