The Shoppes at Renaissance Square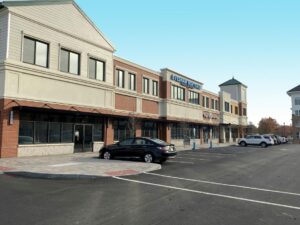 WCRE is proud to have exclusively represented Renaissance Shoppes Urban Renewal, LLC d/b/a RD Management in the marketing and leasing of 4,987 square feet of office space located at The Shoppes & Residences at Renaissance Square in Marlton, New Jersey to RM Realty Associates of Medford, LLC d/b/a Keller Williams Real Estate.
The Shoppes & Residences at Renaissance Square is a 127,024 square foot newly constructed state of the art commercial mixed-use property located on Route 70 of Evesham Township in Burlington County. Situated in a prime location, an average traffic count of 37,560 cars pass the property each day.
Major tenants include Virtua Medical Group, Evesham Mortgage, and Children of America. The complex plays also plays home to 380 Residential Apartments along with retail occupiers including Dunkin, Gaetano's Pizzeria and Mani Pedi.
Anchor and in-line retail spaces ranging in size from 992 to 6,387 square feet are available for immediate occupancy and 10,779-39,720 square feet of office space is available for lease.
Chris Henderson, Vice President and Principal of WCRE exclusively represented the Landlord in this transaction.