930 Town Center Drive, Langhorne, PA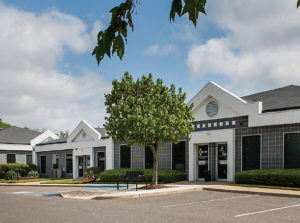 WCRE is proud to have successfully represented Sky Oxford, LP d/b/a Sky Management Services in the exclusive leasing and marketing of an approximately 3,148 square foot office suite in the Oxford Court Business Center located at 930 Town Center Drive, Langhorne, Pennsylvania to North American Spine and Pain Consultants.
The Oxford Court Business Center is a +/-155,000 square foot office park in Langhorne, Pennsylvania, directly adjacent to Sesame Place and Oxford Valley Mall.
Sky Management completely renovated Oxford Court in 2016. The business park is located directly off U.S. 1 & I-295. Along with being adjacent to the Oxford Valley Mall, the complex is within close proximity to Jefferson Health, Bucks Campus and various other medical offices. This will well located office campus is situated in the heavily populated portion of Lower Bucks County that is currently one of the fastest growing communities in Pennsylvania and serves as the commercial hub for Lower Bucks County.
The complex's retail visibility enables a variety of tenants from traditional retail use to office users and is primed for medical users along with laboratories as well.
North American Spine and Pain Consultants has over 10 regional offices dedicated to providing spine and pain care through their clinical excellence and community education programs. Their mission is to continue to strive towards delivering outstanding spine and pain care, providing clinical excellence, community based education programs and research endeavors to enhance the quality of life of all our patients.
Ty Martin, Associate and Mitch Russell, Senior Associate of WCRE exclusively represented the Landlord in this transaction.