930 Harvest Drive, Blue Bell, PA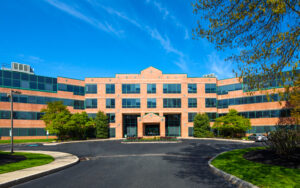 WCRE is proud to have successfully represented 930 Harvest Drive, LLC d/b/a Balashine Properties in the exclusive leasing and marketing of an approximately 4,024 square foot office suite located at 930 Harvest Drive in Blue Bell, Pennsylvania to Dytrix, LLC.
Dytrix operates contact centers that support major banks, handling highly sensitive transaction information that require 3rd party verification. The first floor space was ideal, adjacent to the building amenity center, and featured a great window line, custom ceiling and furniture ideal for Dytrix.
Balashine has been successful in signing multiple leases during the pandemic while simultaneously completing multiple fit outs for tenants that had signed prior to the lockdowns.
930 Harvest Drive, located in the Union Meeting Corporate Center, is a 118,004 square foot, four-story, elevator served office building located in the Plymouth Meeting/Blue Bell submarket. The property is minutes from the Pennsylvania Turnpike, with ample parking and SEPTA service to Plymouth Meeting and the Norristown Transportation Center.
Balashine Properties renovated this building in 2015 and maintains its headquarters there. Among many desirable attributes, the building features highly efficient suite layouts, a full-service 24/7 café, a tenant only conference center, and an on-site day porter and building engineer.
Todd Monahan, Executive Vice President & Managing Director of WCRE exclusively represented the Landlord and Tenant in this transaction.