57 Haddonfield Rd., Cherry Hill, NJ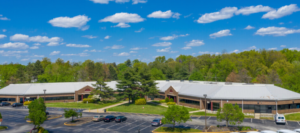 WCRE is proud to have successfully represented Haddonfield Partners Holdings, LLC d/b/a Golden Gate Management in the exclusive leasing of approximately 2,700 square feet of premier office space to Where Families Thrive, Inc. for their new office location at the Colwick Business Park, 57 Haddonfield Road, Cherry Hill, New Jersey.
Where Families Thrive provides wraparound, outpatient & consulting services for children & adolescents using play therapy & more.
Colwick Business Center is located just west of the Cherry Hill Mall on a stretch of Haddonfield Road that has recently undergone a massive redevelopment renaissance. The area features affluent residential communities, retail centers, hotels, and other amenities attractive to office tenants.
Among many desirable attributes, Colwick Business Center features highly efficient suite layouts, private 24/7 access to each tenant suite, and ample parking. Available suites range in size from 2,500 to 29,475 square feet.
John Mozzillo, Executive Vice President and Bethany Brown, Vice President of WCRE exclusively represented the Landlord in this transaction.