4A Eves Drive, Marlton, NJ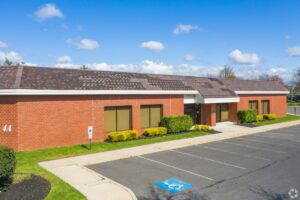 WCRE is proud to have successfully represented Evesham Corporate Center, LLC in the exclusive leasing of approximately 10,650 square feet of premier office space located at 4A Eves Drive, Marlton, New Jersey, to BizMilestone, LLC for the new headquarters and dance studio of Sports Administration, Inc.
Sports Administration, Inc provides universal, equitable, and inclusive athletic programs for people of all ages and abilities to improve confidence, healthy self-perception, foster creativity, and engage with the community.
The Evesham Corporate Center is conveniently situated just off Route 73, only two miles from the New Jersey Turnpike, I-295, and Route 70. The area features immediate access to local restaurants, retail shopping, hotels, and other amenities attractive to office tenants.
Among many desirable attributes, Evesham Corporate Center features highly efficient suite layouts, private 24/7 access to each tenant suite, and ample parking. Available suites range in size from 2,000 to 10,000 square feet.
WCRE's Bethany Brown, Vice President represented the landlord and WCRE's Phil Costa, Vice President represented the tenant in this lease transaction.