400 Fellowship Road, Mt. Laurel, NJ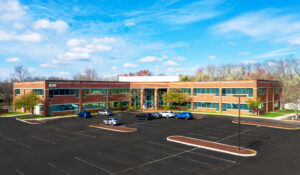 WCRE is proud to announce the successful completion of a major lease transaction. WCRE represented Triumvirate Investment, LLC in securing a lease for approximately 16,375 square feet of prime office space to US Radiology Specialists, Inc located at 400 Fellowship Road in Mount Laurel, New Jersey.
Positioned with exceptional access to key transportation routes including the New Jersey Turnpike, I-295, and Routes 73 and 38, 400 Fellowship Road offers an ideal location for businesses seeking convenience and connectivity. Beyond its strategic location, the Class 'A' office building boasts a range of amenities that appeal to discerning office tenants.
400 Fellowship Road is 95% occupied with 2,200 square feet of premium office space that remains available for lease, offering businesses an opportunity to secure their presence in this highly sought-after location.
This lease marks another significant milestone for WCRE as they continue to connect leading businesses with top-tier commercial real estate opportunities in the Greater Philadelphia and South Jersey regions.
Bethany Brown, Vice President at WCRE, served as the exclusive representative for the landlord during this lease negotiation.