330 Fellowship Rd., Mt. Laurel, NJ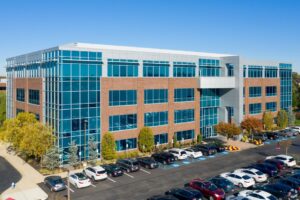 WCRE is proud to have successfully represented Nessel Development d/b/a ND XLI LLC in the exclusive leasing of approximately 11,962 square feet of premier office space to PMA (Pennsylvania Manufacturer's Association Insurance Company) located at Fellowship Corporate Center, 330 Fellowship Road, Suite 200, in Mount Laurel, New Jersey.
PMA is a national property and casualty insurance company that has been servicing the United States for 100 years.
330 Fellowship Road is owned by Nessel Development. Nessel Development employs value-add investment approach that involves creative leasing strategies and strategic development.
Fellowship Corporate Center is within close proximity from the New Jersey Turnpike, I-295, and Routes 73 and 38 and provides easy access to local restaurants, retailers, hotels, and other amenities attractive to office tenants. This class 'A' office building features high ceilings, a walking path and direct entry suites.
WCRE's Erin Warwick, Executive Vice President, represented the landlord in this lease transaction.