2 Aquarium Drive, Camden, NJ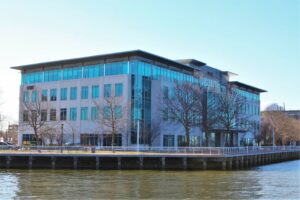 WCRE is proud to have exclusively represented Sporttrade Inc., in the leasing of 8,781 square feet of premier office space at the Ferry Terminal Building, 2 Aquarium Drive, Camden, New Jersey.
Sporttrade selected the Ferry Terminal Building as their new South Jersey office because of its unparalleled waterfront views and convenience and proximity to Center City Philadelphia.
Sporttrade is a Philadelphia-based sports betting and trading company poised to disrupt the sports betting industry with the first legal sports betting exchange in United States history. Built just like a financial exchange, their platform allows customers to trade on sports outcomes by buying and selling contracts, just like trading stocks.
Ferry Terminal building is a class A office building offering a premier waterfront location with picturesque views of the City of Philadelphia. The property has direct access to Route 676 and Ben Franklin Bridge, as well as immediate public transportation via PATCO, River Line and NJ Transit.
Bethany Brown, Vice President at WCRE exclusively represented the tenant in this transaction.