1945 Route 70 E., Cherry Hill, NJ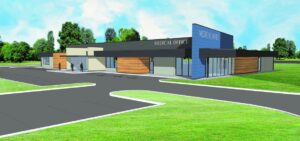 WCRE is proud to have successfully represented JJN Real Estate Holdings, LLC in the exclusive leasing and marketing of approximately 4,245 square feet of medical office space located at 1945 Route 70 East in Cherry Hill, New Jersey to Wellbound of Cherry Hill, LLC d/b/a Satellite Wellbound.
Satellite Wellbound is the first healthcare services company to focus on personalized self-care training for home dialysis patients. Their home therapy expert staff tailors dialysis treatments to individual needs. Wellbound's specialty-certified nurses personally train each patient to perform their own treatments at home.
1945 Route 70 East is situated along the heavily traveled Route 70 "Healthcare Corridor" in Cherry Hill's Central Business District. This premier Class "A" Medical building offers convenient access to area shopping, hotels, restaurants and offers immediate access to I-295, providing for convenient North/South access.
This 17,500 square foot multi-tenanted medical office complex offers on-site ownership and local management. 1,500-8,750 square feet is remaining for lease.
Jason Wolf, Managing Principal and Tammi Coppinger, Executive Property Manager at WCRE exclusively represented the Landlord in this transaction. Christopher Henderson, Vice President & Principal at WCRE exclusively represented the Tenant.