150 Monument Road, Bala Cynwyd, PA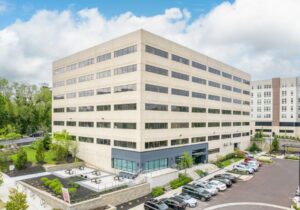 WCRE is proud to have exclusively represented Waga Energy, in the leasing of 7,600 square-feet of office space, located at 150 Monument Rd, Bala Cynwyd, PA from STARR 150 BALA, LLC. This ten (10) year lease is for Waga Energy's North American Headquarters as their global HQ is in France.
Waga Energy developed a breakthrough technology, the WAGABOX®, to upgrade landfill gas into grid-compliant Renewable Natural Gas (RNG). The RNG generated is injected directly into the gas grid to supply individuals and businesses, providing a substitute for fossil-based natural gas. This technology has a double impact to help fight climate change: it incentives landfill owners to capture landfills gas, a major source of greenhouse gas emissions, and produces a renewable substitute for fossil-based natural gas. Each new WAGABOX® unit marks additional progress toward a true energy transition and toward protecting our environment.
Waga Energy finances, builds, owns and operates the WAGABOX® units under long-term contracts from the landfill owners for the supply of raw biogas, and generates income by selling the RNG it generated or by offering upgrading service. By upgrading landfill gas, a waste-management by-product, Waga Energy provides energy utilities and private off-takers with competitively priced RNG.
Waga Energy operates fifteen WAGABOX® units in France, representing an installed capacity of 1,500,000 MMBtu. They have already injected 58 million cubic meters of RNG into the gas grid since the commissioning of the first unit in 2017, and have avoided the emission of 100,000 tons of CO2 into the atmosphere by substituting fossil-based natural gas.
A first WAGABOX® unit is currently under construction in Bath, New York, and four more in Canada. Nine more WAGABOX® units are also under construction in Europe.
Waga Energy has been listed since October, 2021, on Euronext Paris.
150 Monument Rd is a six story 126,756 sf first class office building in Bala Cynwyd, PA, which is less than a mile to Septa's Bala Train Station and less than a mile to the Schuylkill Expressway, Lincoln Drive and Kelly Drive. 150 Monument renovated it's lobbies, elevator cabs and common area hallways in 2020 with first class finishes. 150 Monument also has a new four (4) story 300 space structured parking garage with a total of over 480 parking spaces for the building. 150 Monument also features first class ownership and property management.
Todd Monahan, Executive Vice President & Managing Director at WCRE exclusively represented the tenant in this transaction.