229 Market Street, Philadelphia, PA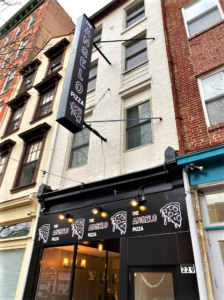 WCRE is proud to have represented The Angelo Pizza in the lease of their first pizza shop located at 229 Market Street in Philadelphia, PA from BF Market St Property LLC.
The Angelo Pizza's leased a +/- 1,000 square foot storefront retail space at 229 Market Street, a mixed use property. The property is located in Old City and is in close proximity of Independence Hall and Penn's Landing. Market Street boasts a number of other businesses and amenities.
The Angelo Pizza is a new venture founded by Angelo P Pizza, who's business received an 8.1 rating on a Barstool Pizza Review from Founder Dave Portnoy. After making and shipping out frozen pies from his kitchen in Manayunk, Angelo opened his first storefront. Since opening, Angelo has drawn the attention of local media outlets such as The Philadelphia Inquirer, WIP, and more.
Ty Martin, Sales Associate, of WCRE exclusively represented The Angelo Pizza in this transaction.