Luke Majewski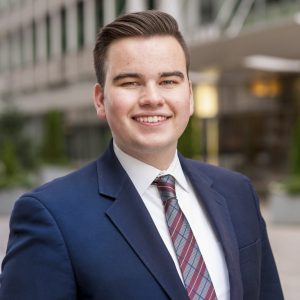 Education
BA in History, Rowan University
Professional Accomplishments
Luke Majewski is WCRE's Advisor and Executive Operations Coordinator, focusing on the Southern New Jersey Market. Luke specializes in landlord, tenant, seller, and buyer representation.
Prior to becoming a sales associate for the firm, Luke was hired as an intern in the summer of 2018, and went on to be promoted to the position of Executive Operations Coordinator in 2021.
Prior to working at WCRE, Luke interned at Metro Commercial Real Estate, where he worked with the marketing and administrative departments.
Experience
1/21 – Present – Advisor and Executive Operations Coordinator, Wolf Commercial Real Estate
Responsibilities include but not limited to listing processing, contract preparation, invoicing, and FMV analysis
1/19 – 2/20 – Sales Team Coordinator, Wolf Commercial Real Estate
6/18 – 1/19 – Intern, Wolf Commercial Real Estate
5/16 – 8/16 – Intern, Metro Commercial Real Estate
Contact Details
P 856 857 6300
F 856 283 3950
M 609 410 1700
luke.majewski@wolfcre.com