South Jersey Commercial Real Estate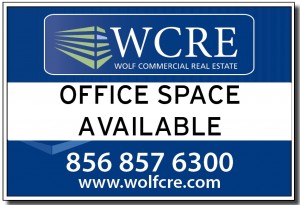 WCRE is the fastest growing South Jersey commercial real estate brokerage firm. We have grown exponentially in only four short years. We credit our success to our passion for real estate and a commitment to our clients. While our team is small, our reach is great. We have the unique advantage of being a small local South Jersey commercial real estate brokerage firm that also lists a very large inventory of commercial properties. Our commitment to personal service is creating a new culture in local commercial real estate.
Our property listings include office, retail, medical, industrial and investment properties throughout South Jersey and Greater Philadelphia. You can view all of our properties online or follow us on social media to see new properties as we add them. We are very active on Facebook, Instagram and Twitter.
Search our South Jersey commercial real estate listings:
Sagemore Corporate Center
Marlton, NJ 08053

Premier Investment Opportunity

Property Type: Investment

Space Available:

Five-building portfolio totaling +\- 168,462 SF

Situated on +/- 19 Acres

For More Information Contact

400 Fellowship Road
Mount Laurel, NJ 08054

Premier Mount Laurel Office For Lease

Property Type: Office, Medical

For More Information Contact

One Holtec Drive
Marlton, NJ 08053

Premier "Class A" Marlton Office Space Available For Lease

Property Type: Featured Listings, Office

For More Information Contact

553 Foundry Road
Norristown, PA 19403

Premier Norristown Flex Building For Lease

Property Type: Office, Industrial

Space Available:

+/- 4,000 SF

For More Information Contact

500 E. Township Line Road
Havertown, PA 19083

Highly Visible Office Building Available for Sale or Lease

Property Type: Retail, Office, Medical

Space Available:

+/- 12,000 Total SF

+/- 2,400 SF Retail End Cap Available

For More Information Contact

Evesham Corporate Center
2 Eves Drive
Marlton, NJ 08053

Marlton Professional Office Space For Lease

Property Type: Office

For More Information Contact

Colwick Business Center
53 Haddonfield Road
Cherry Hill, NJ 08002

Premier Cherry Hill Office Space Available For Lease

Property Type: Office

Space Available:

11,000 – 24,000 SF (Divisible)

For More Information Contact

Colwick Business Center
57 Haddonfield Road
Cherry Hill, NJ 08002

Premier Cherry Hill Office Space Available For Lease

Property Type: Office

Space Available:

3,500 – 9,000 SF

For More Information Contact

3163 Marne Highway
Mount Laurel , NJ 08054

Mount Laurel Office Space Available For Lease

Property Type: Office

For More Information Contact

Greentree North Corporate Center
16000 Commerce Parkway
Mount Laurel , NJ 08054

Mount Laurel Office Space Available For Lease

Property Type: Office

For More Information Contact

326 S. Wade Blvd.
Millville, NJ 08332

Premier 34,000 SF Warehouse Building For Sale

Property Type: Industrial

For More Information Contact

1720 Harding Highway
Newfield, NJ 08322

Premier +/- 30 Acre Land Development Opportunity

Property Type: Land

For More Information Contact

Evesham Corporate Center
5 Eves Drive
Marlton, NJ 08053

Highly Visible Professional Office/Medical Space For Lease

Property Type: Featured Listings, Office, Medical

For More Information Contact

Evesham Corporate Center
4A & 4B Eves Drive
Marlton, NJ 08053

Premier Marlton Office Buildings For Lease

Property Type: Office

For More Information Contact

2 Surrey Lane
Cinnaminson, NJ 08077

Newly Renovated Industrial Building Available For Sale - Under Agreement

Property Type: Industrial

Space Available:

+/- 22,000 SF

For More Information Contact

2546 General Armistead Boulevard
Norristown, PA 19403

Premier Norristown Flex Building Available for Sale-SOLD!

Property Type: Featured Listings, Industrial

For More Information Contact

1200 Locust Street
Philadelphia, PA 19107

Premier Philly Medical Office Building For Sale

Property Type: Office, Medical

Space Available:

+/- 7,045 SF

For More Information Contact

2091 Springdale Road
Cherry Hill, NJ 08003

Premier Cherry Hill Light Industrial Building For Lease

Property Type: Industrial

Space Available:

4,705 SF (Divisible)

For More Information Contact

3340 Street Road
Bensalem, PA 19020

Retail Property For Lease

Property Type: Retail

For More Information Contact

4268 South Black Horse Pike
Williamstown , NJ 08094

Premier +/- 7 Acre Land Development Opportunity

Property Type: Land

For More Information Contact

146 S. Lakeview Drive
Unit 203
Gibbsboro, NJ 08026

Highly Sought After Professional Office Condo For Sale - Under Agreement!

Property Type: Office

For More Information Contact

1249 Glen Avenue
Moorestown, NJ 08057

Premier Moorestown Flex Property Available For Sale or Lease

Property Type: Office, Industrial

For More Information Contact

601 N. Main Street
Glassboro, NJ 08028

Medical Office Building for Sale or Lease

Property Type: Medical

Space Available:

+/- 9,664 SF

For More Information Contact

146 S. Lakeview Drive
Unit 202
Gibbsboro, NJ 08026

Highly Sought After Medical Office Condo For Sale

Property Type: Medical

For More Information Contact

6 Earlin Avenue
Browns Mills, NJ 08015

Premier Medical Office Space Available For Lease

Property Type: Office, Medical

Space Available:

1,000-20,000 SF (Divisible)

For More Information Contact

171 N. White Horse Pike
Hammonton, NJ 08037

Highly Visible Commercial Land For Sale

Property Type: Land

Space Available:

2.3 acres of the commercial land

For More Information Contact

18 North Virginia Avenue
Penns Grove, NJ 08069

25,000 SF Penns Grove Industrial Property Available For Sale

Property Type: Industrial

Space Available:

25,000 SF

For More Information Contact

65-67 Old Kings Highway
Maple Shade, NJ 08052

Light Industrial Maple Shade Property For Lease

Property Type: Industrial

Space Available:

34,061 SF

For More Information Contact

77 Old Kings Highway
Maple Shade, NJ 08052

Highly Visible Light Industrial Building For Lease

Property Type: Industrial

Space Available:

22,680 SF

For More Information Contact

1110-1114 Wynwood Avenue
Cherry Hill, NJ 08002

Highly Visible Cherry Hill Office Property Available For Sale or Lease

Property Type: Office

Space Available:

2 Buildings: +/- 12,000 SF

For More Information Contact

612 Station Ave
Haddon Heights , NJ 08035

Premier Multi-Family Investment Opportunity - SOLD!

Property Type: Investment

Space Available:

Studio Apartment

2 Bed 1 Bath Apartment

Retail Store Front

For More Information Contact

1035 North Black Horse Pike, Suite 6
Williamstown, NJ 08094

Highly Visible Professional Office Unit For Lease - FULLY LEASED!

Property Type: Office

Space Available:

+/- 1675 SF

For More Information Contact

302 Crescent Boulevard
Brooklawn, NJ 08030

Highly Visible South Jersey Retail/Warehouse Property - SOLD!

Property Type: Retail

Space Available:

+/- 7,400 SF

(+/-2,400 SF Retail and +/- 5,000 SF Warehouse)

For More Information Contact

1555 Bustard Road
Lansdale, PA 19446

+/- 13,094 SF Plug-And-Play Office Leasing Opportunity

Property Type: Office

Space Available:

+/- 13,094 SF

For More Information Contact

1117 E. Landis Avenue
Vineland, NJ 08360

Highly Visible Vineland Properties Available For Sale

Property Type: Office

For More Information Contact

131 South 2nd Road
Hammonton, NJ 08037

13,000 SF Flex/Industrial Property Available For Sale

Property Type: Industrial

Space Available:

+/-13,000 SF

For More Information Contact

2631-2635 Westfield Avenue
Camden, NJ 08105

Camden Retail/Multi-Family Investment Opportunity

Property Type: Retail

Space Available:

+/- 7,700 SF

For More Information Contact

460 North Black Horse Pike
Blackwood, NJ 08012

+/-23,000 SF Blackwood Property Available For Sale or Lease

Property Type: Retail, Office, Medical, Industrial

Space Available:

+/- 23,000sf

For More Information Contact

1 Britton Place
Suite 2
Voorhees, NJ 08043

Professional/Medical Office Unit For Sale

Property Type: Office, Medical

For More Information Contact

121 West Church Street
Blackwood, NJ 08012

17,730 SF School Property Available For Sale

Property Type: School

Space Available:

+/- 17,730 SF

For More Information Contact

3163 Marne Highway
Mount Laurel, NJ 08054

Mount Laurel Retail/Medical Leasing Opportunity

Property Type: Retail

Space Available:

1,200 – 4,000 SF

For More Information Contact

101 Red Lion Road
Southampton, NJ 08088

+/- 5,000 SF Southampton Restaurant for Sale

Property Type: Retail

Space Available:

+/-5,000 SF

For More Information Contact

108 Route 70
Medford, NJ 08055

Medford Flex Property Available for Sale - SOLD!

Property Type: Office, Industrial

Space Available:

2,400 SF – Front Office Building
7,200 SF – Rear Industrial Building
Situated on +/- 8 Acres

For More Information Contact

217 Route 130 North
Bordentown, NJ 08505

Bordentown Office Property Available For Sale

Property Type: Office, Investment

Space Available:

10,000 SF (5,000 SF/Floor)

For More Information Contact

2096 Springdale Road
Cherry Hill, NJ 08003

Premier Cherry Hill 25,200 SF Flex Building Investment Opportunity

Property Type: Office, Industrial, Investment

For More Information Contact

108 North Gold Drive
Robbinsville, NJ 08691

Industrial Property Available For Sale

Property Type: Industrial

For More Information Contact

1577 Hurfville Road
Sewell, NJ 08080

Premier Sewell Land Site Available for Sale

Property Type: Land

Space Available:

+/- 12 Acres

For More Information Contact

2605 Route 130
Cinnaminson, NJ 08077

Professional Office Space Available For Lease

Property Type: Office

Space Available:

600-1,200 SF

For More Information Contact

Pinelands Recovery Center
283-287 OLD MARLTON PIKE
Medford, NJ 08055

NNN INVESTMENT OPPORTUNITY: HEALTHCARE CAMPUS LEASE

Property Type: Medical, Investment

Space Available:

3 Buildings Totaling 40,000 SF
Situated on +/- 45 Acres

For More Information Contact

Florence L. Walther Elementary School
56 Chestnut Street
Lumberton, NJ 08048

Lumberton Elementary School Available for Sale or Lease - FULLE LEASED!!

Property Type: School

For More Information Contact

925-927 South 9th Street
Philadelphia, PA 19147

Premier Italian Market Retail Location-FULLY LEASED!

Property Type: Retail

For More Information Contact

422 West Broad Street
Gibbstown, NJ 08027

Unique Mixed Use Opportunity

Property Type: Retail, Industrial

Space Available:

+/- 18,748 SF

For More Information Contact

7 Carnegie Plaza
Cherry Hill, NJ 08003

Premier Cherry Hill Office Space Available For Lease

Property Type: Office

For More Information Contact

Concorde Professional Building
390 North Broadway
Pennsville, NJ 08070

Professional Office/Medical Space Available For Lease

Property Type: Office, Medical

For More Information Contact

240 Taunton Lake Road
Marlton, NJ 08053

1.6 Acre Marlton Land Site Available For Sale

Property Type: Land

Space Available:

1.6 Acres

For More Information Contact

127 Red Lion Road
Southampton, NJ 08088

Flex Property Available for Sale-SOLD!

Property Type: Office

For More Information Contact

410 Jersey Avenue
Gloucester City, NJ 08030

+/- 32,000 SF Industrial Building Available For Sale

Property Type: Industrial

For More Information Contact

820 South White Horse Pike
Hammonton, NJ 08037

10,000 SF Professional Office Building For Sale

Property Type: Office, Medical

Space Available:

+/-10,000 SF (2 Floors)

For More Information Contact

1804-1808 East Passyunk Avenue
Philadelphia, PA 19148

Premier Retail Space Available For Lease

Property Type: Retail

Space Available:

900-2800 SF

1223 West Lincoln Highway
Langhorne, PA 19047

Retail/Flex Property Available For Sale-SOLD!!!!!

Property Type: Retail, Industrial

Space Available:

11,196 SF

For More Information Contact

457-459 Pleasant Valley Way
West Orange, NJ 07052

West Orange Retail & Office Space Available For Lease

Property Type: Retail, Office

For More Information Contact

591 Route 73 North
Berlin, NJ 08091

Premier 1.33 Acre Site Available For Sale

Property Type: Retail, Land

Space Available:

+/- 1.33 Acres

For More Information Contact

541 Harding Highway
Carneys Point, NJ 08069

25,000 Square Foot Cold Storage Facility Available For Sale or Lease

Property Type: Industrial

Space Available:

+/- 25,000 SF Building
+/- 14,400 SF of Dry Warehouse Area

+/- 7,600 of Cooler and Freezer Storage
+/- 3,000 SF Office
Situated on +/- 3.58 Acres

For More Information Contact

Evergreen Plaza
1710 Route 38
Mount Holly, NJ 08060

Premier Mount Holly Retail Space Available For Lease

Property Type: Retail

Space Available:

1,200-16,915 SF

For More Information Contact

60 Landis Avenue
Bridgeton, NJ 08302

Medical/Office Property Available For Sale

Property Type: Office, Medical

Space Available:

+/- 4,732 SF

For More Information Contact

501 North Black Horse Pike
Blackwood, NJ 08012

35,000 SF Multi-Purpose Property Available for Sale -SOLD!

Property Type: Retail

Space Available:

+/-35,000 SF

+/-5 Acres

875 Kings Highway
West Deptford, NJ 08096

Professional Office Space Available For Lease

Property Type: Office, Medical

For More Information Contact

Peach Tree Professional Center
877 Kings Highway
West Deptford, NJ 08096

Professional Office Space Available For Lease

Property Type: Office, Medical

For More Information Contact

1 Pointers Auburn Road
Salem, NJ 08079

Professional Office Property Available For Sale - SOLD!

Property Type: Office, Medical

Space Available:

+/-2,400 SF

For More Information Contact

1432 Marlton Pike East
Cherry Hill, NJ 08034

35,000 SF Multi-Purpose Property Available for Sale

Property Type: Retail, Medical, Industrial

Space Available:

35,000 SF

545 Route 73
Berlin, NJ 08091

35,000 SF Multi-Purpose Property Available for Sale

Property Type: Retail, Medical

Space Available:

35,000 SF

268 Hurfville Cross Keys Road
Sewell, NJ 08080

Premier Land Site Available for Sale - UNDER AGREEMENT!

Property Type: Retail, Land

Space Available:

+/-4.82 Acres

For More Information Contact

707 Water Street
Gloucester, NJ 08030

Premier Land Site Available for Sale

Property Type: Land

Space Available:

10.5 Acre Site

For More Information Contact

401 Community Road
Brooklawn, NJ 08030

Special Purpose Property Situated on +/-2.011 Acres

Property Type: Office, Land, School

Space Available:

7,013 SF situated on 2.011 Acres

For More Information Contact

Sheffield Gate
201 Egg Harbor Road
Sewell, NJ 08080

Premier Sewell Retail Space Available for Lease

Property Type: Retail

Space Available:

3,595 SF
1,045 SF
1,000 SF
4,146 SF

For More Information Contact

100 Bromley Boulevard

Burlington, NJ 08016

Premier 1+ Acre Burlington Retail Pad Site Available for Sale - PRICE REDUCED!!!

Property Type: Retail, Land

Space Available:

1.01 Acres

For More Information Contact

1 Terri Lane
Burlington, NJ 08016

Premier Burlington Land Site Available For Sale - SOLD!!!

Property Type: Land

Space Available:

+/- 9 Acres

For More Information Contact

612 Gravelly Hollow Road
Medford, NJ 08055

Flex Property Available for Sale-SOLD!

Property Type: Industrial

Space Available:

16,542 SF

For More Information Contact

1125 South Black Horse Pike
Blackwood, NJ 08012

1.588 Acre Development Opportunity Available For Sale

Property Type: Retail, Land

Space Available:

Site Plan
+/-4,600 SF Former School Building
Situated on +/-1.588 Acre Site

1675 Whitehorse Mercerville Road
Hamilton, NJ 08619

Multi-Tenanted Professional Office Building Available For Lease

Property Type: Office, Medical, Investment

For More Information Contact

1862 East Lincoln Highway
Langhorne, PA 19047

Highly Visible Langhorne Land For Lease

Property Type: Land

Space Available:

1 Acre (Leveled and Paved Lot)

For More Information Contact

1806 Springdale Road
Cherry Hill, NJ 08003

Highly Visible Cherry Hill Professional Office Property Available For Sale - SOLD!

Property Type: Office

Space Available:

2,352 SF On Two Levels

For More Information Contact

1905 North Mill Road
Vineland, NJ 08360

+/- 56.1 Acres Development Site Available For Sale

Property Type: Land

Space Available:

+/-56 Acres

For More Information Contact

945 Bridgeton Pike
Mantua Township, NJ 08030

Mantua Development Opportunity Site Available For Sale

Property Type: Land

For More Information Contact

28 Maple Avenue
Cedarville, NJ 08311

Industrial Property Available For Sale - SOLD!

Property Type: Industrial

Space Available:

+/-55,781 SF
Situated on +/-8.85 Acres

For More Information Contact

707 South Central Avenue
Buena, NJ 08341

Professional Office/Retail Property Available For Sale

Property Type: Retail, Office

Space Available:

+/- 3,350 SF

For More Information Contact

178 West Cohawkin Road
Clarksboro, NJ 08020

Clarksboro Land Opportunity Available for Sale

Property Type: Land

Space Available:

+/-2 Acres

For More Information Contact

123 West Clements Bridge Road
Runnemede, NJ 08078

Runnemede Retail Space Available for Lease

Property Type: Retail

Space Available:

+/-1,000 SF

For More Information Contact

1951 Haddonfield Berlin Road
Cherry Hill, NJ 08003

Cherry Hill Development Opportunity Available For Sale or Lease

Property Type: Office, Medical, Land

Space Available:

1.3 Acres
Development plans for a +/-12,500 two story office building

For More Information Contact

830 Lambs Road
Mullica Hill, NJ 08062

Premier Mullica Hill Land Site Available for Sale-SOLD!

Property Type: Land

Space Available:

.85 Acres

For More Information Contact

1230 Brace Road
Cherry Hill, NJ 08034

Cherry Hill Professional Office Property Available For Sale

Property Type: Office

Space Available:

+/-3,844 SF

For More Information Contact

10 Schultz Drive
Delano, PA 18220

+/-69,300 SF Industrial Space Available For Lease

Property Type: Industrial

Space Available:

+/-69,300 SF

For More Information Contact

Route 130 North & Jacksonville Road
Burlington , NJ 08016

Highly Visible Burlington Land Site Available For Sale

Property Type: Land

Space Available:

+/- 9 Acre Site

For More Information Contact

151 Porchtown Road
Newfield, NJ 08344

Industrial Investment Opportunity Available for Sale - SOLD!

Property Type: Industrial

Space Available:

Unit 1: 4,833 SF

Unit 2: 5,600 SF

For More Information Contact

2733 Nottingham Way
Hamilton, NJ 08619

Professional Hamilton Office Property Available For Lease

Property Type: Office, Medical, Investment

Space Available:

9 Available Office Suites:
Ranging from +/- 185 SF – +/- 585 SF
Multiple Opportunities

For More Information Contact

373 Poplar Road
Honey Brook, PA 19344

Industrial Property Available For Sale or Lease-SOLD!!

Property Type: Industrial

Space Available:

+/- 47,000 SF

For More Information Contact

496 North Kings Highway
Cherry Hill, NJ 08034

Cherry Hill Professional Office Space Available For Lease

Property Type: Office, Medical

Space Available:

Available 1st Floor:
+/- 1,053 SF
+/- 1,165 SF
Available 2nd Floor:
+/- 310 SF
+/- 325 SF
+/- 794 SF
+/- 2,000 SF

For More Information Contact

County Line Road, Feasterville-Trevose, PA 19053
Feasterville, PA 19053

Premier Land Site Available For Sale

Property Type: Land

Space Available:

+/- 6.33 Acres

For More Information Contact

1830 East High Street
Pottstown, PA 19464

Former Bank Branch Available For Sale - SOLD!

Property Type: Office, Medical

2460 Bristol Road
Bensalem, PA 19020

Former Bank Branch Available For Sale-SOLD!!

Property Type: Retail, Office, Medical

For More Information Contact

Willow Ridge Executive Office Park
750 Route 73 South
Suites 104 A & B
Marlton, NJ 08053

Professional Office Condominium Property Available For Sale-PRICE REDUCED!!

Property Type: Office, Medical

Space Available:

+/-2,200 SF

For More Information Contact

18 Cross Keys Road
Berlin, NJ 08009

Highly Visible Berlin Property Available For Sale-Price Reduced!!

Property Type: Retail, Office, Medical

For More Information Contact

American Surgical Arts
199 Mullica Hill Road
Mullica Hill, NJ 08062

Premier Mullica Hill Medical Office Space Available For Lease-FULLY LEASED!!

Property Type: Medical

For More Information Contact

The Shoppes and Offices at Renaissance Square, Marlton, New Jersey
Route 70 & North Locust Avenue
Marlton, NJ 08053

Newly Constructed Marlton Retail/Office Leasing Opportunity

Property Type: Retail, Office, Medical

Space Available:

Retail: 992 – 6,387 SF
Office: 10,779-39,720 SF

For More Information Contact

323 North White Horse Pike
Laurel Springs, NJ 08021

Professional Office Property Available For Sale-PRICE REDUCED!!

Property Type: Office, Medical

Space Available:

+/-6,600 SF

For More Information Contact

1285 Route 38
Hainesport, NJ 08036

Premier Hainesport Route 38 Development Opportunity for Sale-PRICE REDUCED!!

Property Type: Retail, Office, Medical, Land

Space Available:

Three (3) existing mix use buildings:
Retail: +/- 5,304; Dwelling: +/- 2,020; Shop & Storage: +/- 2,310
.89 Acre Site
1285 Route 38 Survey

For More Information Contact

332 Haddon Avenue
Westmont, NJ 08108

Professional Office Property Available For Sale-SOLD!!

Property Type: Office, Investment

For More Information Contact

3655 South Delsea Drive
Vineland, NJ 08360

Premier Vineland Retail Property Available for Sale or Lease

Property Type: Retail, Medical

For More Information Contact

1003 Tilton Road
Northfield, NJ 08225

Premier Northfield Retail Property Available for Sale or Lease

Property Type: Retail, Medical

For More Information Contact

25 Liberty Street
Hometown, PA 18252

+/-86,000 SF Industrial Building Available For Lease-FULLY LEASED!!

Property Type: Industrial

Space Available:

+/- 86,000 SF (Divisible)-FULLY LEASED!!

For More Information Contact

Mainline Shopping Center
1210 Route 130 North
Cinnaminson, NJ 08077

Premier Cinnaminson Retail Space & Pad Site Available For Lease

Property Type: Retail

Space Available:

2,000-3,600 SF

Corner Pad Site Available For Lease

Liberty Bell Plaza
2075-2077 Route 70 East
Cherry Hill, NJ 08003

Premier Route 70 Retail Space For Lease

Property Type: Retail

1740 East Oak Road
Vineland, NJ 08361

31,400 SF Flex/Warehouse Building Available For Sale-SOLD!!!

Property Type: Industrial

Space Available:

31,400 SF situated on +/- 3.1 acres

For More Information Contact

Black Horse Pike & Malaga Road
Williamstown, NJ 08094

Premier Williamstown +/- 8.13 Acre Retail Site Available For Sale

Property Type: Retail, Land

Space Available:

+/- 8.13 Acres

Black Horse Pike & Karen Drive
Williamstown, NJ 08094

Premier Williamstown +/- 5.71 Acre Retail Site Available For Sale

Property Type: Retail, Land

Space Available:

+/- 5.71 Acres

Black Horse Pike & Karen Drive
Williamstown, NJ 08094

Premier Williamstown +/- .77 Acre Retail Site Available For Sale

Property Type: Retail, Land

Space Available:

+/- .77 Acres

For More Information Contact

Black Horse Pike & Malaga Road
Williamstown, NJ 08094

Premier Williamstown +/- 1.26 Acre Retail Site Available For Sale

Property Type: Retail, Land

Space Available:

+/- 1.26 Acres

Black Horse Pike & Malaga Road
Williamstown, NJ 08094

Premier Williamstown +/- 1.55 Acre Retail Site Available for Sale

Property Type: Retail, Land

Space Available:

+/- 1.55 Acres

Williamstown Place
Black Horse Pike and Corkery Lane
Williamstown, NJ 08094

Premier Williamstown +/- 61 Acre Retail Site Available for Sale

Property Type: Retail, Land

Space Available:

+/- 61 Acres

1288 Route 38
Hainesport, NJ 08036

Premier Route 38 Hainesport Pad-Site & Development Opportunity

Property Type: Retail, Office, Medical, Land

Space Available:

+/- 7.10 Acres

For More Information Contact

103 Fairway Terrace
Mount Laurel, NJ 08054

Professional Office Property Available For Sale-SOLD!!!!

Property Type: Office, Medical

Space Available:

+/-3,400 SF

415 North 9th Street
Camden, NJ 08102

Premier Camden Property Available For Sale

Property Type: Office, School, Opportunity Zone

For More Information Contact

1011 East Evesham Road
Voorhees, NJ 08043

Premier Voorhees Medical/Professional Office Building Opportunity

Property Type: Office, Medical

Space Available:

+/-3,668 SF

For More Information Contact

250 Haddonfield Berlin Road
Gibbsboro, NJ 08043

Premier Professional Office Building Available For Sale or Lease - UNDER AGREEMENT!

Property Type: Office, Medical

Space Available:

50,000 SF (Divisible)

For More Information Contact

The Shoppes at Limerick
196 West Ridge Pike
Limerick, PA 19468

Premier Retail Leasing Opportunity

Property Type: Retail, Office, Medical

Space Available:

1,000-8,000 SF

For More Information Contact

244 Route 38 West
Moorestown, NJ 08057

Premier Moorestown School Property Available for Sale! UNDER AGREEMENT!!!

Property Type: Office, Medical, School

Space Available:

33,000 SF

3014 Bridgeboro Road
Delran, NJ 08075

Former Bank Branch Available For Sale-SOLD!!!

Property Type: Retail, Office, Medical

Space Available:

+/-2958 SF

For More Information Contact

1361 East Chestnut Avenue
Block 4305, Lot 1
Vineland, NJ 08361

Premier Development Site For Sale

Property Type: Retail, Land

Space Available:

+/-.48 Acres
+/- 1,012 SF Building

For More Information Contact

Lee Newman Plaza
2076 Route 70 East
Cherry Hill, NJ 08003

Premier Route 70 Retail Leasing Opportunity

Property Type: Retail

Space Available:

+/-2,000 – 4,000 SF

For More Information Contact

1945 East Route 70
Cherry Hill, NJ 08003

Premier Route 70 Class "A" Medical/Professional Office Space For Lease-FULLY LEASED!!

Property Type: Office, Medical

For More Information Contact

1140 White Horse Road
Voorhees, NJ 08043

Premier Retail Leasing Opportunity-FULLY LEASED!!

Property Type: Retail, Medical

735 Bethlehem Pike
Montgomeryville, PA 18936

Highly Visible Property For Sale or Lease

Property Type: Retail, Office, Medical

Space Available:

+/-3,234 SF

For More Information Contact

Voorhees Medical Center
134-136 Route 73
Voorhees, NJ 08043

Premier Class "A" Medical & Professional Office Space For Lease-UNDER NEW OWNERSHIP!!

Property Type: Office, Medical

Space Available:

2,000 – 24,000 SF

For More Information Contact

297 Easton Road
Horsham, PA 19044

Premier Land Site Available For Sale

Property Type: Land

For More Information Contact

New Britain Business Park
101 Independence Lane
Chalfont, PA 18914

Premier Land Site Available For Sale

Property Type: Land

Space Available:

+/-7.071 Acres

For More Information Contact

162 West Cohawkin Road
East Greenwich, NJ 08020

Premier Retail Leasing Opportunity

Property Type: Retail

Space Available:

+/- 1,500 –17,000 SF

For More Information Contact

816 North Black Horse Pike
Blackwood, NJ 08012

Premier Land Site Available For Lease

Property Type: Retail, Medical, Land

Space Available:

+/- 1.39 Acres

For More Information Contact

Burlington Professional Campus
1900 Burlington Mount Holly Road
Burlington, NJ 08106

Professional Office/Medical Space for Lease

Property Type: Office, Medical

Space Available:

Building 300 – 5,200 SF Available immediately
Building 700 – 6,800 SF Available for Build to Suit
Building 800 – 6,800 SF Available for Build to Suit
Building 900 – 6,800 SF Available for Build to Suit

For More Information Contact

504 Route 130
Cinnaminson, NJ 08077

FULLY LEASED

Property Type: Office

Space Available:

1st Floor: 2,500 sf
2nd Floor: 120 sf – 1,250 sf

1202 Haddonfield Berlin Road
1202 Route 561
Voorhees, NJ 08043

Voorhees Flex Property Available For Sale or Lease

Property Type: Retail, Office, Industrial

Space Available:

1,900 SF Flex (approximately 1,600 SF warehouse & 300 SF office)
3,800 SF (3,100 Warehouse & 700 SF office)

For More Information Contact

Diamond Plaza Shopping Center
1390 Route 38
Hainesport, NJ 08036

Join Pep Boys! FULLY LEASED!!!!

Property Type: Retail, Medical

Space Available:

2,100-6,300 SF

270 North Delsea Drive
Vineland, NJ 08360

Premier Land Site Available Ground Lease

Property Type: Retail, Office, Medical, Land

Space Available:

+/-2.5 Acres

For More Information Contact

Kingsway Plaza
300 South Lenola Road
Maple Shade, NJ 08052

Premier Retail Leasing Opportunity

Property Type: Retail, Medical

For More Information Contact

1345 Route 38
Hainesport, NJ 08036

PREMIER OFFICE BUILDING SALE OPPORTUNITY! SOLD!!!!!

Property Type: Office, Medical

Space Available:

10,000 SF

109 East Laurel Road
Stratford, NJ 08084

PREMIER OFFICE BUILDING - SALE OR LEASE OPPORTUNITY!

Property Type: Office, Medical

Space Available:

1st Floor: 4,400 SF
2nd Floor: 3,300 SF
LL Floor 3,300 SF

For More Information Contact

19 West Cuthbert Boulevard
Collingswood, NJ 08108

Fully approved veterinary clinic built to suit construction

Property Type: Office, Land

For More Information Contact

600 Cuthbert Boulevard
Westmont, NJ 08108

Property Type: Retail, Office, Medical

For More Information Contact

220 South Lenola Road (***Closest legal address***)
Block 172 - Lot 4.07, Maple Shade, New Jersey
Maple Shade, NJ 08052

PREMIER DEVELOPMENT OPPORTUNITY-UNCER AGREEMENT!!

Property Type: Land

Space Available:

+/- 1.33 Acres

1101 White Horse Road
Voorhees, NJ 08043

Premier Leasing Opportunity-FULLY LEASED!!

Property Type: Retail, Office, Medical

For More Information Contact

801 Haddonfield Berlin Road
Voorhees, NJ 08043

PREMIER JV DEVELOPMENT and/or GROUND LEASE OPPORTUNITY-UNDER AGREEMENT!!!!

Property Type: Retail, Medical, Land

For More Information Contact

32 Industrial Road
Frackville, PA 17931

SOLD!!!

Property Type: Industrial

Space Available:

+/- 137,500 sf (Includes office area +/- 12,500 sf)

For More Information Contact

14 City Shirt Road
Frackville, PA 17937

SOLD!!!!

Property Type: Industrial

Space Available:

+/- 80,000 sf ( Office +/- 5,000 sf )

For More Information Contact

219 South Burnt Mill Road
Voorhees, NJ 0803

Property Type: Retail, Office, Medical

Space Available:

15,070 SF (Divisible)

F.V. Evans Elementary School
400 Route 73
Marlton, NJ 08053

Premier School Property Available for Lease-Fully Leased!!!

Property Type: Office, Medical, School

Space Available:

21,848 SF
Situated on an approximate 11.86 acre site
Bus drop off area
87 parking spaces
Multiple ball fields and play areas

For More Information Contact

930 Harvest Drive
Blue Bell, PA 19422

Premier Class "A" Office Space For Lease

Property Type: Office, Medical

For More Information Contact

Evergreen Plaza
600-624 White Horse Pike
Somerdale, NJ 08083

Prime Retail Opportunity

Property Type: Retail

Space Available:

Unit 5: +/- 1,400 SF
Unit 6: +/- 1,477 SF
Unit 7: +/-1,377 SF

For More Information Contact

236 West Route 38
Moorestown, NJ 08057

Premier Moorestown Office Location

Property Type: Office, Medical

For More Information Contact

Berlin Cross Keys Road Block 101 Lot 7
Williamstown, NJ 08094

Prime Retail Pad Site Opportunity

Property Type: Retail, Land, Investment

Space Available:

Lot 3.07 Pad Site – 1.84 Acres

For More Information Contact

79 East Main Street
Marlton, NJ 08053

Property Type: Office

1949 Marlton Pike East
Cherry Hill, NJ 08003

Property Type: Office, Medical

Space Available:

914 SF (2nd Floor)

For More Information Contact

326 Route 73
Voorhees, NJ 08043

Premier Medical Office Building & Land For Sale

Property Type: Office, Medical, Land

Space Available:

6,862 SF
Approved 10,000 SF pad site

For More Information Contact

Cherry Hill Office Center
950 North Kings Highway
Cherry Hill, NJ 08034

PREMIER OFFICE BUILDING - INVESTMENT SALE OPPORTUNITY-SOLD!!!

Property Type: Office, Investment

Space Available:

1st Floor-2,400 SF
3rd Floor-1,400 SF

For More Information Contact

9 Schultz Drive
Delano, PA 18220

+/-64,300 SF Industrial Space Available - SOLD!!!

Property Type: Industrial

Space Available:

+/- 64,300 SF

For More Information Contact

1047 North Park Road
Wyomissing, PA 19610

SOLD!!!!

Property Type: Office, Land, Investment

Space Available:

43,000 SF Building
Situated on +/-5.49 Acres

For More Information Contact

424 White Horse Pike
Magnolia, NJ

SOLD

Property Type: Retail

Space Available:

+/- 7,000 SF

900 Haddon Avenue
Collingswood, NJ

Property Type: Office, Medical

Space Available:

302-16,758 SF

For More Information Contact

1223 Haddonfield Berlin Road
Voorhees, NJ

Property Type: Land

Space Available:

+/-8.12 Acres

For More Information Contact

Pep Boys Plaza
202 Route 130 North
Cinnaminson, NJ 08077

Property Type: Retail, Medical

For More Information Contact

593 Rt 73 North
West Berlin, NJ

SOLD

Property Type: Land

Space Available:

3.75 Acres

500 Grove Street
Haddon Heights, NJ 08035

PREMIER OFFICE SPACE LEASING OPPORTUNITY!

Property Type: Office, Medical, Investment

For More Information Contact

515 Grove Street
Haddon Heights, NJ

***6 MONTHS FREE RENT*** (5 Year Term)

Property Type: Office, Medical

For More Information Contact

135 South Broad Street
Woodbury, NJ

Property Type: Office

Space Available:

600 SF-Office

5,000 SF- Storage

1173 E. Landis Ave.
Vineland, NJ

Property Type: Office

Space Available:

1,100 SF
1,120 SF
1,600 SF

For More Information Contact

808 Market Street
Camden, NJ

FULLY LEASED!!!!

Property Type: Office, Opportunity Zone

For More Information Contact