Ty Martin, MBA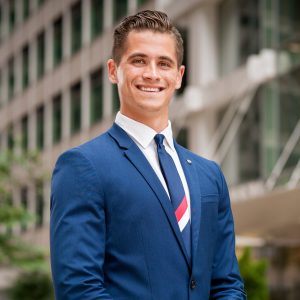 Education
MBA in Finance, Saint Joseph's University
BS in Marketing, Lynn University
Professional Accomplishments
Ty Martin is a sales associate at WCRE and hosts WCRE's Broad Street Brokers podcast. He will help WCRE continue to build successful relationships in the Pennsylvania markets, with a primary focus on Philadelphia and the surrounding suburbs. He will specialize in sales and leasing, tenant and landlord representation, investment sales, and multi-family dwellings.
Before embarking upon a real estate career, Ty spent his last 5 years with Holman Enterprises in South Jersey, most recently in new business development with ARI in the fleet management industry. Ty's responsibilities included prospective clients in the Midwest territory, where he would arrange meetings and webcasts with accounting managers, procurement professionals, all the way up to C-Suite executives.
In addition to his work in the fleet management industry, Ty also is a member of the Hungarian National Lacrosse Team, with whom he competed in the World Lacrosse Championship in Israel last summer. He was a member of Lynn University's lacrosse team in his time in college, where as a full-time student athlete he was able to graduate a full year early. Ty then earned his MBA from Saint Joseph's University in May with a concentration in Finance.
Experience
08/16 – 01/19
Acquisition Specialist / New Business Development Rep for ARI
o Began on the Supply Chain side of the business negotiating pricing with dealers for vehicle delivery costs.
o Transitioned to the Sales team to work alongside VPs and District Sales Managers in prospecting new clients in the Mid-West Region
o Built relationships with prospects and clients in a variety of industries to drive savings and efficient behavior in their fleets of vehicles.
05/14– 08/15
Accounting Clerk / Sales & Marketing Intern for Holman BMW of Mt. Laurel
o Started with Holman in a Summer Accounting position helping to mitigate risk and keep financials secure in case of audit.
o Returned the following Summer as a Sales & Marketing Intern, assisting the sales team during their busiest season by taking clients on test drives, working the floor to provide information, and building relationships with clients
Affiliations
Hungarian National Lacrosse Team – Attackman
Cherry Hill East High School – Varsity Assistant Coach
SouthShore Lacrosse – Assistant Coach – Fall, Winter, Summer
Princeton Lacrosse Club – Head Coach – Spring
CONTACT DETAILS
P (215) 799-6900
D (215) 799-6144
F (856) 283-3950
M (609) 440-9428
Ty.Martin@wolfcre.com